Telangana ministers eat chicken as coronavirus rumors impact poultry sales
Telangana ministers eat chicken as coronavirus rumors impact poultry sales
Written by
Siddhant Pandey
Feb 29, 2020, 06:05 pm
2 min read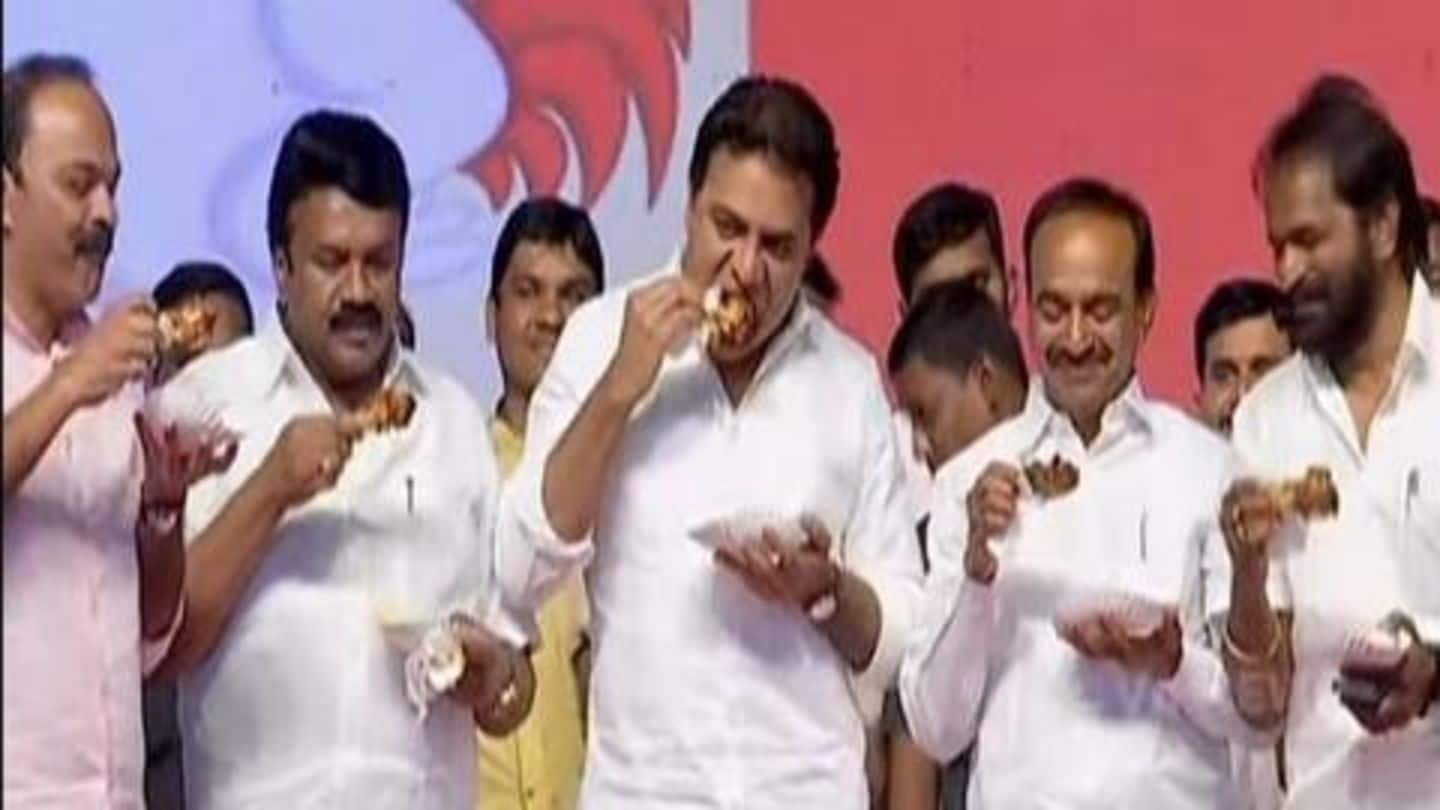 In a bid to quell rumors about the novel coronavirus outbreak, Telangana ministers ate chicken on stage at an event spreading awareness about the disease in Hyderabad. The event, Chicken and Egg Mela, was organized at People's Plaza, Necklace Road on Friday. In recent times, coronavirus scares about chicken and eggs circulating on social media have negatively impacted the poultry industry.
Poultry associations organized event; served egg, chicken for free
According to The Hindu, the event was organized by the Telangana Poultry Federation, Telangana Poultry Breeders Association, National Egg Coordination Committee and All India Poultry Development and Service Pvt Ltd. At the event, around 6,000 kg of chicken items were prepared and served to 25,000 visitors for free. Around 20,000 boiled eggs were also served at the event, the report added.
Why was the event organized?
Recently, viral posts cautioning people against eating chicken have gone viral. Some of the posts even feature images of a sick chicken. Such viral posts have caused the poultry industry to take a hit. According to the Bangalore Mirror, poultry sales fell by 30% as fears grew. Further, the prices of chicken also fell from Rs. 80 per kg to Rs. 40 per kg.
Public figures attended event; Ministers ate chicken on stage
Reportedly, several public figures, including film star Rashmika, TV anchor Shiva Jyothi, playback singer Anudeep, et al., attended the Chicken and Egg Mela. At the event, Telangana ministers KT Rama Rao, Etela Rajender, Talasani Srinivas Yadav ate chicken on stage to dispel rumors about the disease. To further allay fears, Rao said that he and his family eat chicken and eggs regularly.
Telangana Today quoted Rao as saying, "No other food gives such protein and vitamin like chicken and that too at such cheap cost." Rao added, "Not only chicken, even mutton, fish or any other meat will not be affected by coronavirus. In India, we cook food at high temperature and under such conditions, no virus will survive in the food."
The current coronavirus outbreak involves a new strain, SARS-CoV-2, which is said to have originated from a seafood market in China's Wuhan. The virus has since spread to over 47 countries, killing 2,933 and sickening over 85,000. To prevent the virus from further spreading, the World Health Organization issued guidelines asking people to maintain proper hygiene, and cooking meat and eggs thoroughly before consumption.