Telangana bus tragedy: Man at wheel recently presented 'best-driver' award
Telangana bus tragedy: Man at wheel recently presented 'best-driver' award
Sep 12, 2018, 05:58 pm
2 min read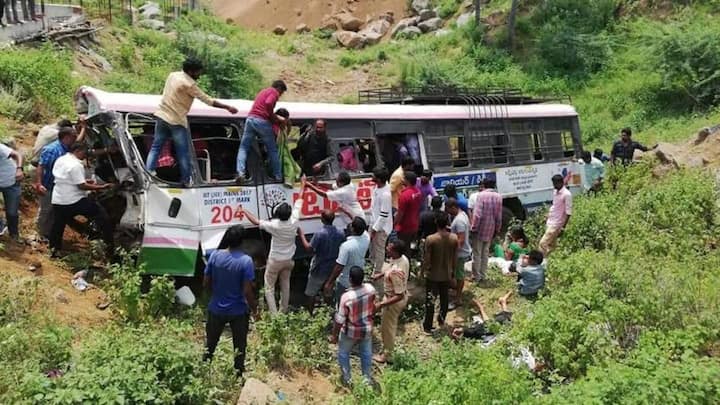 The driver of the bus that plunged into a ravine in Telangana killing 57 people was conferred the best driver award by the government only last month, officials said today. The overcrowded state-run bus had swerved off the road and hurtled down a hillside into a gorge yesterday, killing 57 people and injuring 28 others in one of the worst highway tragedies. Here's more.
What was the reason behind accident?
The accident involving the Telangana State Road Transport Corporation (TSRTC) bus occurred on the ghat section of the road near Shanivarapet village, some 200km from Hyderabad. The preliminary report indicated that the accident happened when the driver, who was also killed, either lost control while trying to avoid a collision with an oncoming vehicle or negotiating a sharp downhill curve, a corporation official said.
Death toll up to 58 with woman succumbing to injuries
A cop said the number of those killed rose to 58 today as another victim succumbed to her injuries during treatment. 27 people are still undergoing treatment in hospitals in Jagtial and Karimnagar districts and the condition of at least three is serious. All the bodies were identified and handed over to the families after post-mortem and inquest, said Venkat Ramana, DSP, Jagtial.
Experts will examine the vehicle to ascertain cause of accident
A case has been registered and an investigation is on, Ramana said. He said experts will examine the vehicle to ascertain the exact cause of the accident. The bus depot manager was suspended yesterday, TSRTC official said. He dismissed media reports that the driver had taken the dodgy shortcut to save fuel, insisting "it is the regular route, and the driver was also regular".
Driver was also rewarded for best fuel efficiency
The official said the bus driver Srinivas wasn't only presented the best driver award but was also earlier rewarded for best fuel efficiency, which indicated his impeccable driving skills. The officer ruled out the possibility of brake failure being the cause of the accident.