#SabarimalaRow: Trupti Desai stopped by protesters, eats breakfast inside Kochi-airport
#SabarimalaRow: Trupti Desai stopped by protesters, eats breakfast inside Kochi-airport
Nov 16, 2018, 11:52 am
3 min read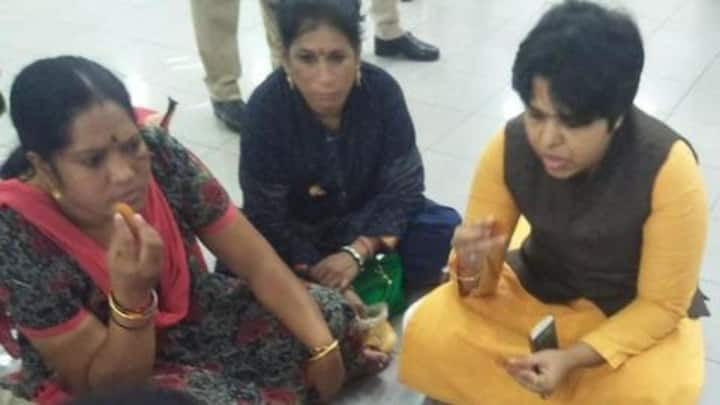 Pune-based activist Trupti Desai faced angry protesters on reaching Kochi Airport in Kerala early Friday morning. Desai intends to enter the Sabarimala Temple in the state and flew from Pune for the same. However, she has not been allowed to leave the airport due to protests. Visuals showed Desai and her aides having breakfast inside the airport itself as police personnel provided security.
Protesters ask police to take Desai 'over their bodies'
Reportedly, Desai asked the police to arrange a taxi for her to go to Pambha, the base camp from where the trek to the hilltop shrine begins. However, taxi drivers refused to take her. Police tried to take Desai to a hotel but in vain. Protesters laid on the road and told the police they can take Desai 'over their bodies'.
Will return only after visiting temple, says Desai
Despite the threats, Desai (who heads the Bhumata Ranragini Brigade) said she will not return without 'darshan' of Lord Ayyappa. She said police tried to find a way for her from another gate as well but failed. "Does this mean protesters are scared that we'll reach #Sabarimala once we reach Nilakkal, or, are they trying to scare us?" Desai told ANI.
Till now, no woman has been able to enter
The shrine is all set to open at 5 PM today amid high security. Section 144 of CrPC has been imposed in Nilakkal, Pamba, and Sannidhanam. When the temple opened for a few days in October, no woman was allowed to enter it, despite huge security. Protesters blocked the paths and didn't pay heed to pleas of senior officers, forcing women to return.
Right-wing groups and BJP don't stand with verdict
The Supreme Court had in September lifted a centuries-old ban which prohibited women of menstruating age to enter the temple. This verdict garnered criticism from devotees of the Lord, who claimed the rights of the deity were ignored. Right-wing groups have been staunchly protesting the verdict with BJP President Amit Shah asking why was Kerala government so keen in 'forcing' the decision.
Pinarayi Vijayan has said state government is duty-bound
Meanwhile, the Pinarayi Vijayan led government failed to reach a nexus after an all-party meet. At the meeting on Thursday, Congress and BJP staged a walkout. But Vijayan has said the state government is duty-bound to implement the order. The Travancore Devasom Board, which is responsible for the temple, is planning to approach the Supreme Court and ask more time for implementing the order.