These 8 men allegedly assaulted Swami Agnivesh in Jharkhand
These 8 men allegedly assaulted Swami Agnivesh in Jharkhand
Jul 24, 2018, 10:22 am
3 min read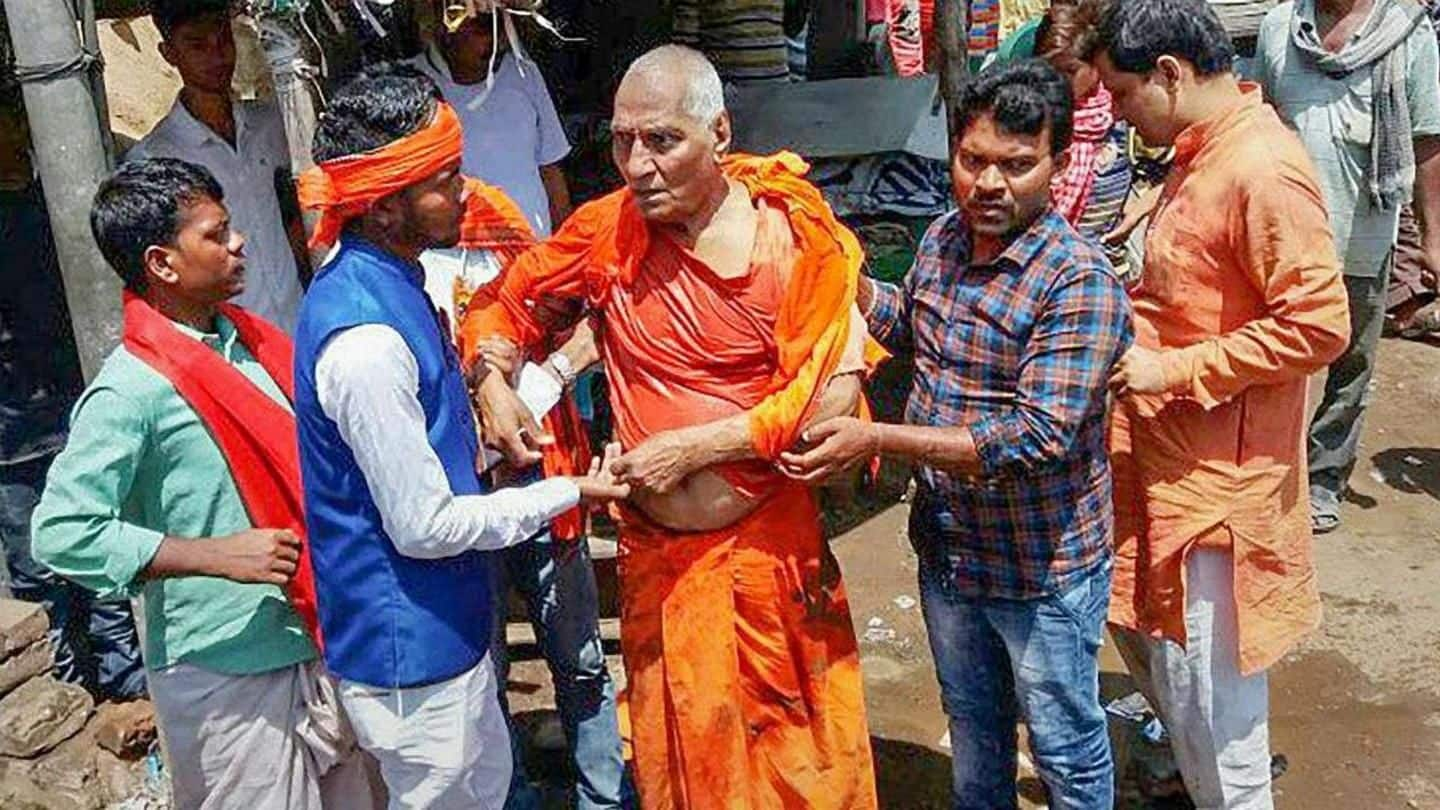 Last Tuesday (July 17), as activist and former minister Swami Agnivesh left a tribal rally in Jharkhand's Pakur, a group of "100-150" men pounced on him and started assaulting him. The FIR named eight people directly linked to the BJP-RSS and their affiliates, and 92 unnamed others. IE talked to some of the accused to find out what triggered the anger. Here's what it found.
The attack was caught on video
Swami Agnivesh attacked by mob in Jharkhand. Blames BJP youth wing for the attack. BJYM alleges that he was inciting tribals. pic.twitter.com/JxsqJvSEq8

— Aadesh Rawal (@AadeshRawal) July 17, 2018
'Agnivesh had come to instigate tribals at the Church's behest'
One of the eight is Prasann Mishra, Pakur chief of the Bharatiya Janata Yuva Morcha (BJYM). He has been associated to the RSS since childhood, runs a medical supply business, and is on the Senate of the state-run Siddo-Kanhu Murmu University. "Agnivesh issues statements against the true spirit of nationalism. He supports Naxals (and) patthalgarhi. He had come here to instigate tribals at the behest of the Church."
'Agnivesh's supporters orchestrated the incident'
Then there's Ashok Prasad, who was recently elected ward councillor in Pakur. He has denied being present at the spot of the assault. "We were carrying black flags, not sticks or rods. The problem started when people, armed with bows and arrows, arrived to take Agnivesh to the function. They started to push and pull." "We believe Agnivesh's supporters orchestrated the incident."
The others are directly or indirectly linked to BJP-RSS
Only few details of the other six are known. Anand Tiwari, BJP's Kisan Morcha member, runs an NGO. Pintu Dubey, district convenor of the Bajrang Dal, runs a small business. Gopi Dubey, the district BJP secretary, is involved in civil contract work. BJP worker Balram Dubey also works as a civil contractor. Badal Mandal and Shiv Kumar, RSS members, aren't involved in active politics.
Local BJP unit backs members, blames Agnivesh and supporters
Local leaders associated to the outfits have denied these people's involvement. Sudip Trivedi, BJP's district media in-charge, asserted Badal and Shiv weren't present at the spot. "Agnivesh and his supporters created a situation where Sangh Parivar associates could be accused of assaulting him," he alleged.
Tribal body alleges their members were assaulted too
Baijnath Paharia, Vice-President of Akhil Bharatiya Adim Janjati Sabha, the function's organizer, dismissed the aforementioned claims. "Some of our boys had gone to bring Swami Agnivesh to Littipara when this occurred. Our boys sustained injuries too," he said. He denied their program was political or religious. Shiv Charan Malto, Sabha secretary, said group member Jai Malto, who was also beaten up, had filed the FIR.
Probe on, police recording statements of witnesses
The attack was unprovoked and without warning, Agnivesh said, by people unhappy with his "anti-Hindu" stance. Manohar Manav, Agnivesh's associate, alleged it was pre-planned by the government: the attackers continued for 10 minutes and then demonstrated at the spot for 1.5 hours without being arrested. Police arrested the aforementioned eight briefly before releasing them the same day. Currently, statements are being recorded.