Mumbai: Former DD anchor dies after tree topples on her
Mumbai: Former DD anchor dies after tree topples on her
Jul 23, 2017, 12:08 pm
2 min read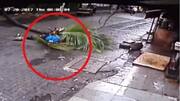 In a shocking incident, a former Doordarshan anchor Kanchan Nath, succumbed to death after a coconut tree feel on her in Chembur on Thursday. Nath was taking a morning walk near a road close to her housing society when the mishap occurred. The incident was captured by a CCTV camera installed at a nearby shop and the video went viral on Saturday.
Kanchan Nath succumbed to her injuries
The CCTV footage which captured the unfortunate incident, shows Nath collapsing after a coconut tree suddenly came crashing down on her, while she was taking her morning walk. Passersby gathered at the spot and pulled her out from under the tree. Nath sustained fatal injuries after the tree fell on her and died soon after, said her husband Rajat Nath.
Is BMC responsible for this accidental death?
Reportedly, Nath's family has blamed the Brihanmumbai Municipal Corporation (BMC) for her death stating the civic body did not heed to cut the tree earlier as complained by them. Residents too alleged they had demanded that BMC cut the tree since several months, but the officials ignored their request. Nath's husband said he would sue the BMC for criminal negligence.
Police didn't register FIR over allegations of criminal negligence
Nath's husband further claimed the Chembur police did not register an FIR over his allegations of criminal negligence. Apparently, the tree was in a resident's premises, who had in February made a proper application to BMC to cut the tree as it was not in good condition and had even deposited fees of Rs. 1,380. Meanwhile, local corporator has asked to initiate a probe.