How Nitin Gupta's Attero Recycling is catalyzing e-waste recycling
How Nitin Gupta's Attero Recycling is catalyzing e-waste recycling
Written by
Chandraveer Mathur
Nov 08, 2021, 12:48 pm
4 min read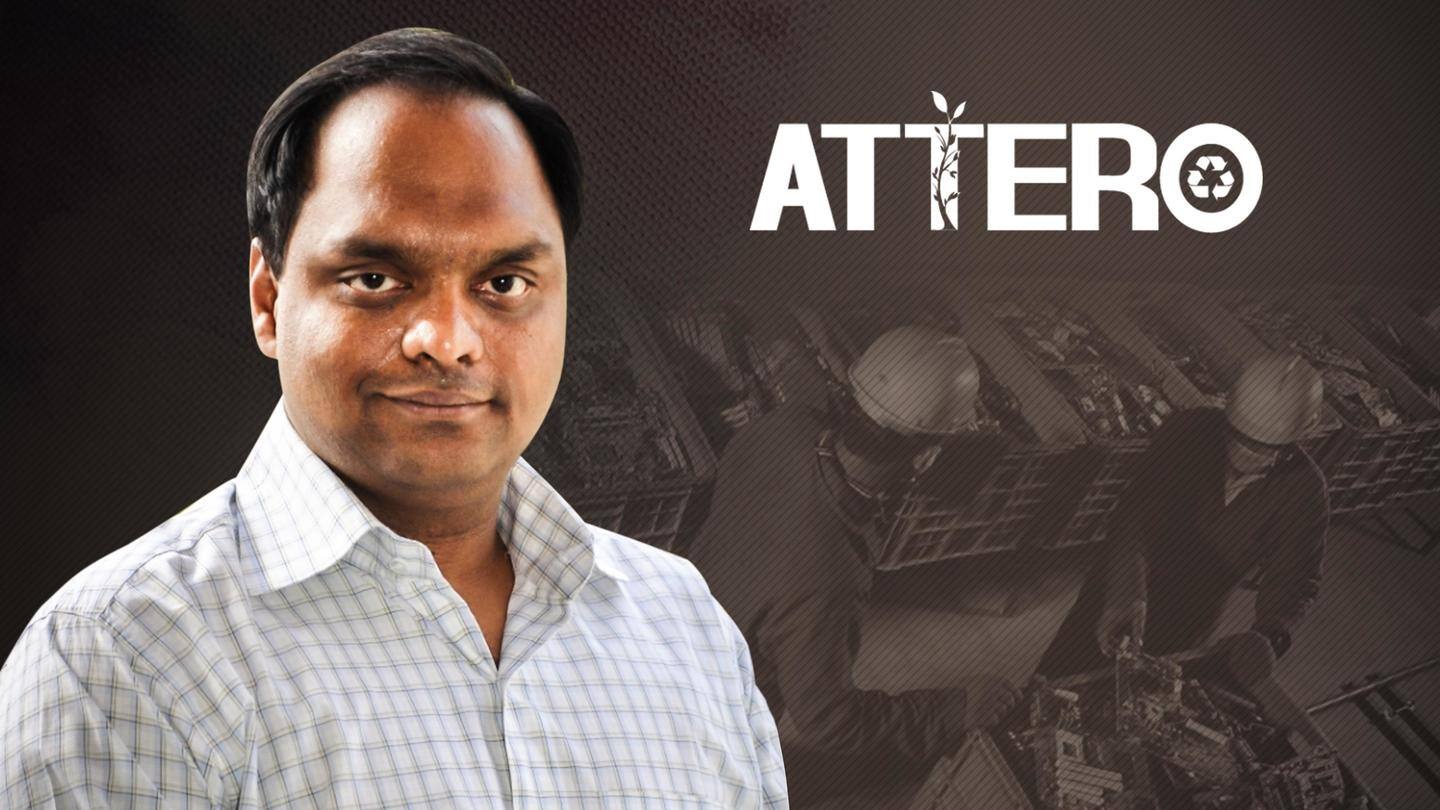 Attero Recycling is India's largest electronic waste (e-waste) and Lithium-ion battery recycling company co-founded by brothers Rohan Gupta and IIT-Delhi alumnus Nitin Gupta. In our conversation, Nitin shared his thoughts on the growing waste problem with electric vehicles (EVs), Attero's journey thus far, and plans for the future. Here's how Attero is steering the e-waste management industry toward sustainability and implementing a circular economy.
Attero was conceptualized when Nitin's brother couldn't dispose of laptop
After completing his electrical engineering degree, Nitin's career started off working as a digital signal processing engineer in India and the US. His role entailed designing chipsets for common household electronic items. Separately, while pursuing an MBA at the Stern School of Business, Rohan discovered there is no organized way to ensure the safe disposal of old laptops. That is how Attero was conceptualized.
Today, Attero operates India's first and only e-waste recycling plant
Attero was founded in October 2007. It now operates India's only end-to-end fully automated e-waste and battery recycling plant in Roorkee, Uttarakhand. Attero is also a NASA-recognized technology innovator with 25+ process patents to its name. Even the United Nations Framework Convention on Climate Change (UNFCCC) acknowledged that Attero's copper extraction processes are more energy-efficient than mining virgin copper.
Attero extracts precious metals from scrap using proprietary processes
A circular economy is a resource consumption model that encourages materials to be extracted from the waste and be put back into the procurement mechanism for manufacturing. Nitin explained that although India is a waste-efficient nation, manufacturing facilities and businesses generate the most e-waste. Attero collects and processes the waste, extracts precious metals from it, and puts the resources back in the value chain.
Nitin wants to formalize India's e-waste industry, make it safer
Nitin touched upon how India's waste management industry is largely informal, a health hazard for all parties involved, reliant on child labor, and disastrous for the environment. Through Attero, Nitin wants to formalize the last-mile e-waste collectors' role and financially alleviate them while eliminating overpaid middlemen. That said, much of Attero's business comes from B2B and B2C contracts with manufacturers and repair facilities.
Valuable metals are extracted from e-waste, sold in commodities markets
Nitin claimed that Attero's processes are capable of extracting pure copper, gold, tin, silver, aluminium, and other valuable metals from e-waste with around 99% efficiency. Silver and tin are sold to solder manufacturers while copper is sold for manufacturing wires and gold is sold to jewelers. Attero also extracts battery-grade cobalt, nickel, graphite, manganese dioxide, and pharmaceutical-grade lithium carbonate from battery waste.
Until EPR framework was implemented, nobody heeded to environmental damage
Nitin shared that India's Extended Producer Responsibility (EPR) framework enforced in 2019 mandates that manufacturers recycle a percentage of their total production by mass. Until this law was enforced, enterprises paid little heed to the environmental damage they were causing, said Nitin. Today, Attero's revenue comes from conglomerates soliciting its services to achieve EPR targets and from the sale of extracted precious metals.
EV batteries generate hazardous waste, have underlying supply security issues
Speaking about the EV adoption trend, Nitin said every automaker wants in on the action and Lithium-ion batteries are being preferred because of obvious advantages over rival technologies. However, Nitin highlighted that batteries have already begun creating hazardous waste with no disposal mechanism in place. Moreover, the materials used for battery production are associated with environmental, social, and supply security issues.
In the future, Attero plans to continue ramping up operations
This is why Nitin said he is working on making Attero the world's largest producer of green battery materials in the next five years. Within the following six months, the company also plans to roll out a technology transfer-based franchisee model to set up direct-from-consumer e-waste processing centers in all Indian metro cities. Nitin said this would stimulate micro-entrepreneurship, job creation, and economic development.
'Ultimately, pressure has to come from the consumers': Nitin
Nitin concluded with a few wise words for entrepreneurs aspiring to enter the e-waste recycling industry today. He emphasized that with the right team and investors on board, there is a lot of opportunity in the e-waste and battery recycling industry in India. He encouraged entrepreneurs to continue promoting awareness among consumers and enterprises about the perils of improper e-waste disposal.