5 smart furniture items you must have at your home
5 smart furniture items you must have at your home
Written by
Poornima Pandey
Mar 05, 2020, 09:44 pm
2 min read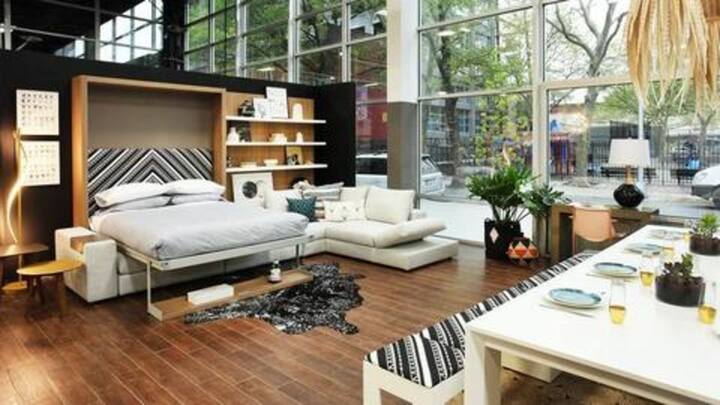 Furniture lends the soul to your home. When selecting the furniture for your home, make sure that it doesn't make the place cluttered. It should, in fact, make your home look appealing without compromising on its functionality, or eating up a lot of space. Here are 5 smart furniture items everyone should have at their home.
A Murphy bed or wall-bed is a bed that is hinged at one end so that it can be vertically pushed and stored against the wall or a closet. These beds are a great way to save space in a bedroom. You can also customize the bed by adding a table flap to the back side, which can be used when you aren't sleeping.
Every home needs chairs, you just have to make sure that they don't take a lot of your home's valuable space. Foldable chairs are the answer to this problem, as they are compact, sleek and elegant. Further, they are convenient and easy to use. What's more, they fit even in the smallest of spaces.
The stairs at your home are perhaps one of the best places to store your stuff without having to make them look like an unwarranted mess. Both the steps of the staircase and the space under it can potentially store a whole lot of your things. You can easily use the space under the stairs to hang or store your clothes, or keep bins.
Storage ottomans are gaining a lot of popularity these days. They come in a variety of shades and styles to choose from. They can be used for sitting, or as a footrest. That apart, you can also use storage ottomans as center and side tables. They have enough storage space to keep your shoes, books or other handy stuff.
Drop leaf tables are stylish as well as functional. They comprise a fixed section at the center and hinged sections on either sides. Not only are they classy, drop leaf tables can also help you save up a lot of space. They can easily serve as a dining table for at least 4-5 people.