Mumbai's 'NunParking Zone' tweet is making the Internet go crazy
Mumbai's 'NunParking Zone' tweet is making the Internet go crazy
Sep 11, 2018, 04:22 pm
2 min read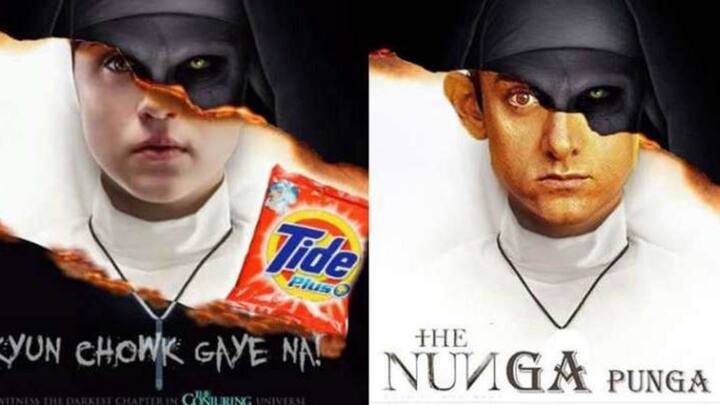 Even if you haven't watched the horror flick, 'The Nun' yet, you definitely cannot miss the numerous memes of its posters, showing a woman's half face and the other half of a demon, floating around. Twitterati had a field day modifying the poster ever since its release. Unsurprisingly, Mumbai Police has also jumped the bandwagon, and churned out a tweet, adding its twist.
Replaced woman's half face, changed tagline and film's title
In its tweet, Mumbai Police has replaced the half face of the woman with a no-parking zone sign, while retaining the other half to show the "real horror on streets," if you park your vehicle illegally. They have also tweaked the film's title to 'The NunParking Zone,' and changed the tagline to '#DarkestParkingHabit,' from 'witness the darkest chapter in the Conjuring Universe.'
Avoid such #DarkestParkingHabit
Tweet not so impressive, but have garnered handsome response
Frankly, the tweet isn't as witty as their other ones, but it has nonetheless managed to win over Twitter users. Liked close to 3,000 times, the meme invited some 173 comments, but ironically those are complaints against police officials who park their vehicles illegally.
Mumbai Police has been acing the art of making memes
Mumbai Police's intelligent and endearing tweets have always stayed in news. Some have a nostalgia factor, while some are created by twisting something viral and adding a message. While one of their recent tweets told about the sub-inspector who in 1968 arrested Raman Raghav, the serial-killer, whom Mumbai was terrified of, another thanked Mumbaikars for being the "best teacher and a tough task master."
Meanwhile, 'The Nun' has collected Rs. 28.50cr in India
Coming back to the film, 'The Nun', is the fifth installment in the Conjuring Universe and was released recently. The other films in the franchise are 'Annabelle: Creation', 'Annabelle', 'The Conjuring' and 'The Conjuring 2'. It has collected Rs. 28.50cr over the weekend.