Mumbai hosts its first gay wedding reception after SC verdict
Mumbai hosts its first gay wedding reception after SC verdict
Feb 05, 2019, 08:22 pm
3 min read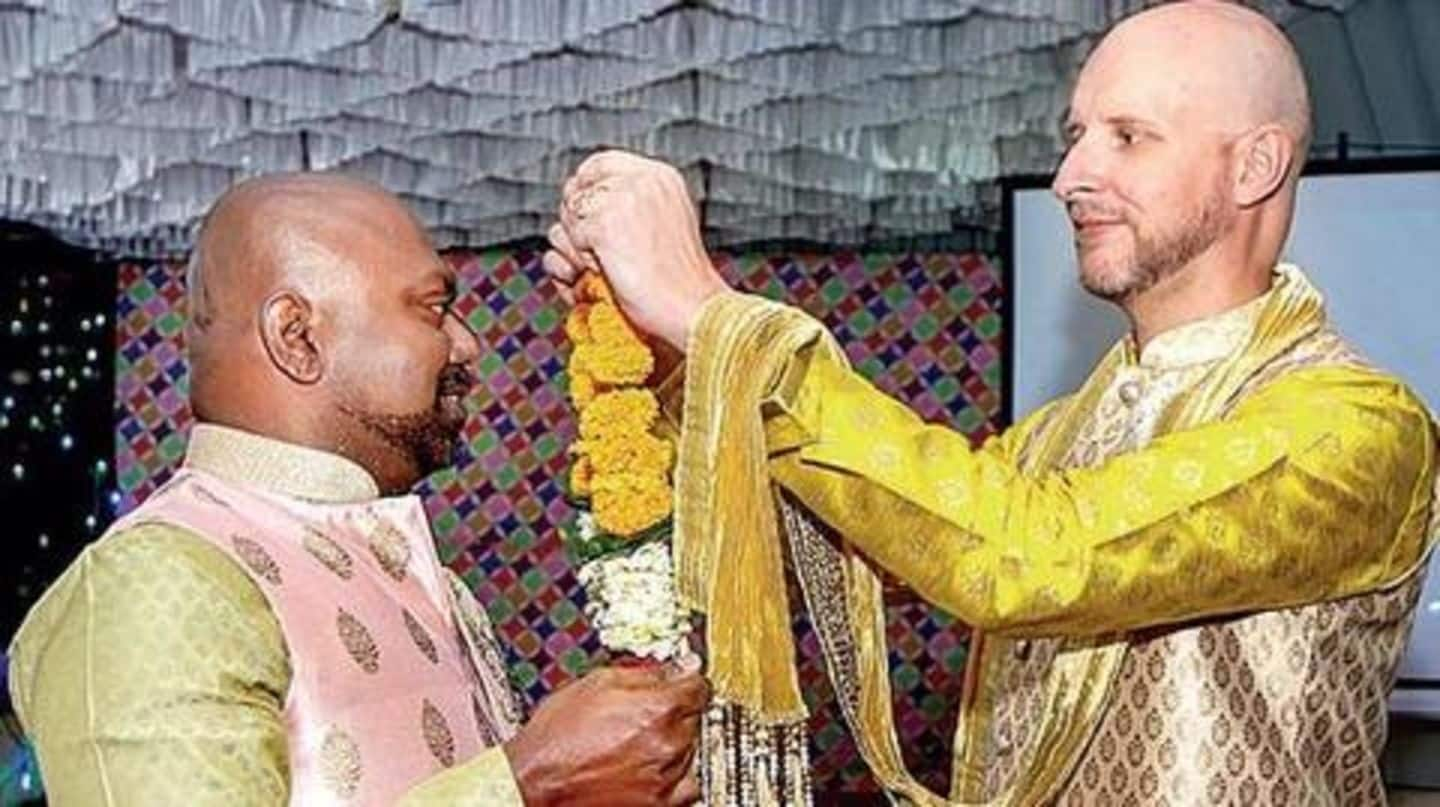 Almost five months after the Supreme Court read down Section 377 of the Indian Penal Code, India's financial capital, hosted its first same-sex wedding reception at Anantha hotel, Kanjurmarg, last week. Vinod Phillip, 43, founder of India's first LGBT choir, Rainbow Voices Mumbai, and his French husband, Vincent Illaire, 47, received a lot of love at their reception held in Mumbai. Here's more.
Duo met through a dating app in 2016 in Paris
In July 2016, the duo met through a dating app in Paris and hit it off instantly. They started dating instantly and holidaying together over the next six months. They came to realize the depth of their love when Illaire went to Thailand for work for a while. Thereafter, they decided to get married in December 2018 and flew down to meet Philip's family.
It wasn't easy for Phillip to come out to family
For Philip, coming out was pretty difficult considering his 'very conservative Christian family'. Initially, his family was shocked to find out about their son's sexual orientation but in the end, all they cared about was his happiness. Meanwhile, Illaire's family had accepted his sexual orientation for long. Philip's family blessed the duo and made Illaire feel completely at home as their soon-to-be son-in-law.
Couple got married in Paris but wanted reception in Mumbai
Phillip and Illaire tied the knot in Paris last year but wanted to host their reception in Mumbai. Phillip said it was Mumbai which embraced him and gave him the strength to come out to the world in 2014. He said it was through NGO Humsafar Trust's constant encouragement that he was able to come out to his family and friends in Chennai.
Couple didn't tell hotel about the occasion until last minute
Meanwhile, during the reception preparation, the couple had not revealed to the hotel that it was their wedding reception till the last minute, fearing bigotry. However, the hotel's response after coming to know about it made them extremely happy. It treated them like any other married couple and floored them, making it a memorable party for them and their guests.
Baker at reception party was also happy to participate
Participating in the wedding was also the couple's baker, Giggles- The Dessert Shop in Dadar, which showed no signs of prejudice. Neha Bandiwadekar, the shop's owner, felt it as an honor to take part in the wedding festivities. "Wedding receptions are celebrations of love. Why should one's sexual orientation change this? I hope to serve other same sex couples in future," she told media.
I wish them a wonderful companionship ahead: Humsafar Trust's founder
About choosing Anantha, Phillip said he used to frequently visit the hotel back in 2014 when he lived in Bhandup. Hamsafar Trust's founder, Ashok Row Kavi, lauded the reception calling it a "charming validation of same sex marriage from family and friends". "I wish them a wonderful companionship ahead," he said. He mentioned Mumbai's first same-sex wedding reception was held in 1984.