Mumbai girl to trek Mount Fuji, first woman from Maharashtra
Mumbai girl to trek Mount Fuji, first woman from Maharashtra
Written by
Pallabi C Samal
Sep 04, 2018, 06:56 pm
2 min read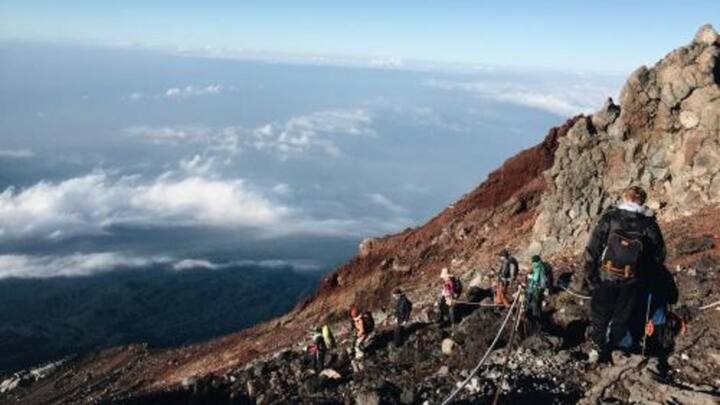 Taking inspiration from Bachendri Pal, the first Indian woman to scale Mount Everest in 1984, a 35-year-old woman is set to trek Mount Fuji in Japan. If she's successful, the Vasai resident will be the first woman from Maharashtra to scale the 3,776m-high peak. The trek will start from tomorrow and last for five days, of which two days will be for ascent.
Harshali Vartak: Sole woman in a team of nine
Harshali Vartak, a former insurance agent, will be the sole woman in a team of nine, which will be led by 50-year-old retired Colonel Niraj Vora. The other members are from Chennai, Gurugram and other areas. "It is a challenge," she says, adding they "underwent months of training at various peaks in the Himalayas a month ago," before deciding on Mount Fuji.
Mount Fuji is an active volcano, but she's undeterred
She was bitten by the trekking bug when she scaled the Himalayan Range in 2009, as part of Youth Hostels India's expedition. She's also aware that Mount Fuji is an active volcano, but she still wants to trudge ahead, because "this might encourage other women".
To encourage her, VVMC to foot part of her expense
Since mountaineering gear isn't allowed on international flights, Vartak will hire the required equipment from Tokyo. The whole trip, including tickets, lodging and the trek, will cost Vartak a whopping Rs. 3L. In a bid to encourage her, the Vasai Virar City Municipal Corporation (VVMC) will foot a part of the expense. "We're proud to be associated with her," said VVMC mayor Rupesh Jadhav.
She has also trekked the Sahyadris and Himachal areas
VVMC has also handed over a flag to Vartak on Monday and wished her luck. Vartak, who has completed a course in mountaineering, is also a member of the Vasai Adventure Club. She has also undergone trekking activities in the Sahyadris and Himachal areas.