Pillion-riding Amit Shah leads 1L strong rally in Jind, Haryana
Pillion-riding Amit Shah leads 1L strong rally in Jind, Haryana
Feb 15, 2018, 04:37 pm
2 min read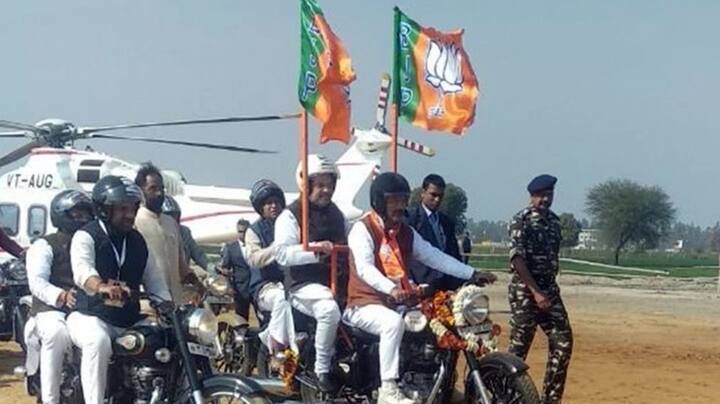 Keeping with BJP's philosophy of doing things king-size, BJP president Amit Shah's "Yuva Hunkar Rally" in Haryana's Jind was exactly that. About 1L motorcycles are part of the rally, that is, 1,111 motorcycles from each of the state's 90 assembly constituencies. Speculations are rife that this rally marks the beginning of BJP's campaign for the Haryana Assembly elections next year.
What did Shah say at the rally?
In his speech, Shah lauded Haryana farmers for their contribution to the green revolution. He also praised the state's sporting culture saying "maximum medals are won by Haryana sportspersons." As always, he also slammed the previous Congress government. He claimed UPA didn't give much funds for Haryana's development. He also slammed former CM Bhupinder Singh Hooda, who is embroiled in corruption scandals.
What preparations had BJP undertaken?
Haryana CM Manohar Lal Khattar had personally overseen the preparations with state party president Subhash Barala and Haryana BJP party in-charge Anil Jain. About 150-200 motorbikes were brought in every district and 20,000 helmets were sold. Apart from this, three stages were set up: for top leaders like Shah and Khattar, for MLAs and for artists who will perform folk songs with bikers.
What is the significance of this rally?
With upcoming assembly elections in Karnataka, MP, etc., the Jind rally is being called BJP's launch-pad for the poll season. Further, BJP is also trying to consolidate its hold on Jind, considered the nerve-centre of Haryana politics, and adjoining areas. The rally is apparently part of 'Mission Vistaar,' to strengthen the party at booth level. Shah also laid the foundation for 15 district offices.
Meanwhile, the rally came under the NGT lens
The rally, however, faced some roadblocks. The National Green Tribunal (NGT) heard a petition seeking more environment-friendly modes of transport. To this, the BJP had assured NGT that only motorcycles with valid Pollution Under Control (PuC) certificates will be allowed in the rally.
Jats had also threatened to disrupt the rally
The Akhil Bhartiya Jat Andolan Sangharsh Samiti (ABJASS) mobilized Jats to disrupt the BJP rally. They had a three-point demand: withdrawal of rioting/arson cases against Jat youth, reservation in central government jobs, and compensation/jobs for family of Jat youths killed by Haryana police during protests. However, after Khattar agreed to most of their demands, including reservation, they took a step back.