For third time, Arvind Kejriwal takes oath as Delhi's CM
For third time, Arvind Kejriwal takes oath as Delhi's CM
Feb 16, 2020, 12:31 pm
3 min read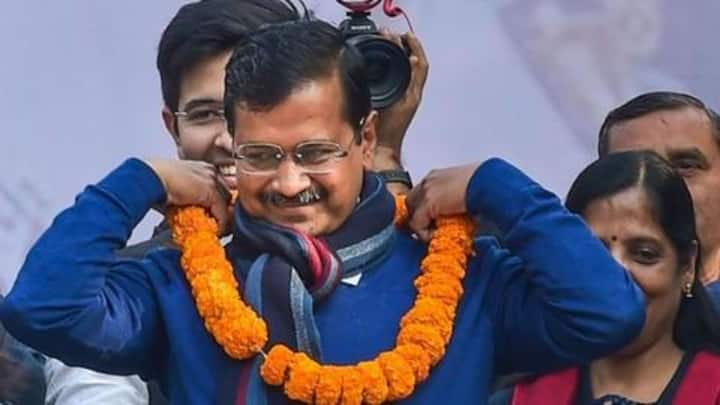 Aam Aadmi Party convener Arvind Kejriwal took the oath as Delhi's Chief Minister for a third straight time today. AAP chose Ramlila Maidan for the big day, the same place where Kejriwal was sworn-in in 2015. His party won 62 out of the 70 Assembly seats, completely decimating BJP, that bagged eight seats, and Congress, that drew blank. Here are more details.
Kejriwal invited Delhi, around 1 lakh people were expected
Kejriwal, who sought votes on basis of work which he did in the last five years, had invited Delhiites for the ceremony. Earlier, AAP's Gopal Rai had said around 1 lakh people could attend the event. "Kejriwal is loved by all the people in the city. The mandate proves that. We have invited the entire city for the event," Rai went on.
Baby Mufflerman, who won hearts on counting day, was invited
To note, AAP had extended an invitation to Aavyan Tomar, a toddler from the National Capital, who stole the show on election counting day. Tomar was seen dressed as Kejriwal (he didn't even lose the muffler) and his cute antics won hearts. His picture was shared by the official handle of the party. Inviting him, AAP asked the 'junior' to suit up.
'Delhi Ke Nirmata' were also invited
Separately, over 50 "architects of Delhi", belonging to various professions, were invited. These include doctors, teachers, pharmacists, sanitation workers, bus conductors, bus drivers, marshals working for women security, auto-rickshaw drivers, farmers, anganwadi workers, athletes, and IIT and medical students who got scholarships. While AAP stayed away from inviting Chief Ministers of other states, Prime Minister Narendra Modi was invited, apparently due to protocol.
Here are the visuals from the spot
2,000 officers of Delhi Police were tasked with security
Reportedly, 2,000 personnel of Delhi Police and 25 companies of paramilitary forces were deployed for security. Traffic restrictions around the venue will be lifted after 2 pm. "We have made multi-level security arrangements and will monitor all routes leading to the venue through CCTV. Snipers are positioned at buildings to ensure security," Additional Commissioner of Police (Central) Mandeep Singh Randhawa disclosed.
Yesterday, Kejriwal sat with his ministers to frame strategy
Kejriwal made his old team members — Manish Sisodia, Satyendar Jain, Gopal Rai, Kailash Gehlot, Imran Hussain, and Rajendra Gautam, ministers in the new cabinet. Yesterday, the CM called a dinner meeting with ministers to chart the way forward and underline matters, which will be given priority in the next three months. Notably, no woman has been made a minister yet.
Kejriwal's trusted aide Manish Sisodia was also sworn-in