At swearing-in ceremony, Kejriwal to share stage with Delhi's 'architects'
At swearing-in ceremony, Kejriwal to share stage with Delhi's 'architects'
Feb 15, 2020, 05:16 pm
3 min read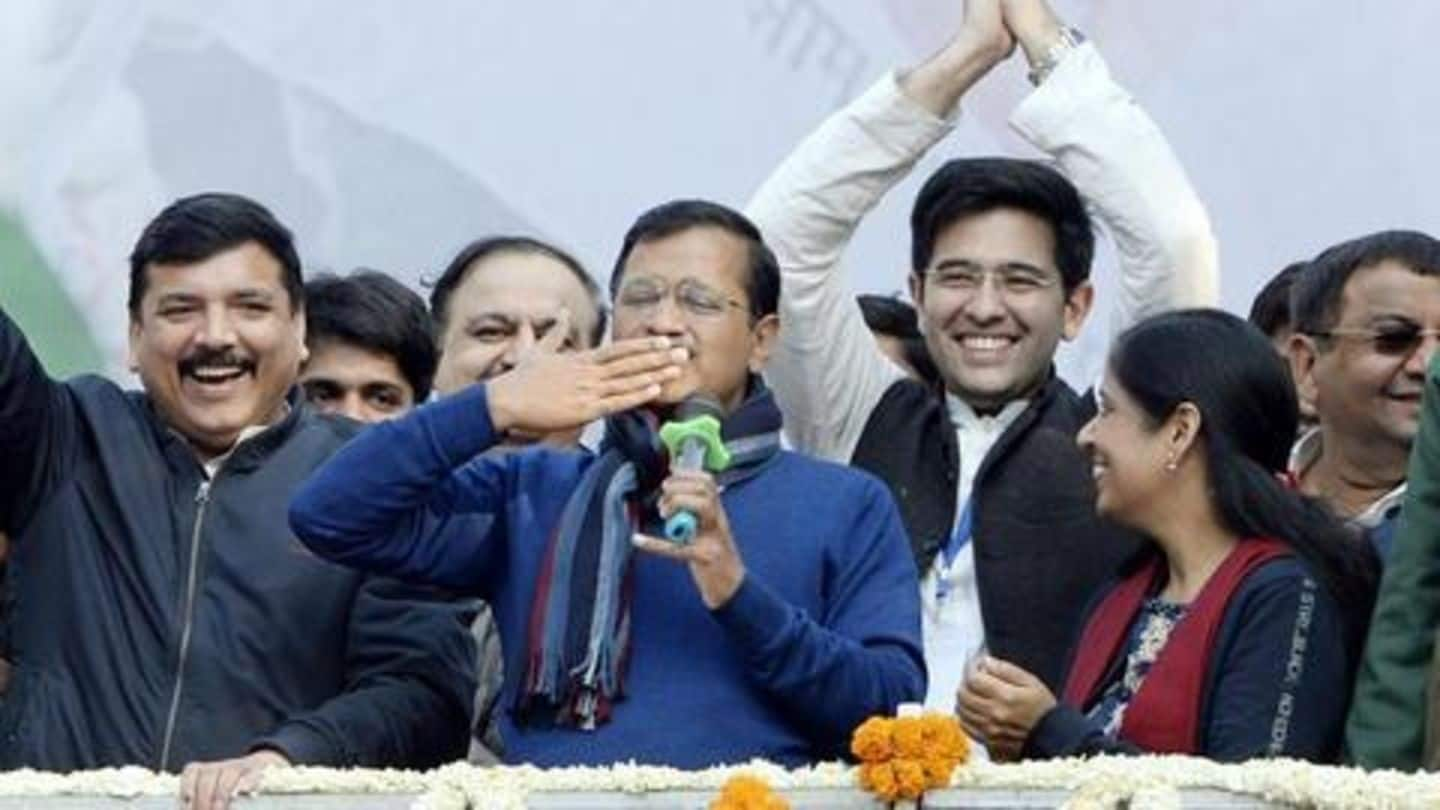 Rewarded with an envious mandate, Aam Aadmi Party convener Arvind Kejriwal will take the oath as Delhi's Chief Minister for a third straight time tomorrow at Ramlila Maidan. And he will be sharing the stage with 60 special people, being called "Delhi's architects" or "Delhi ke nirmata". These people belong to various professions, a report in HT said. Here are more details.
From winning 67 seats in 2015, AAP went to 62
Kejriwal led AAP, a party formed in 2012, to a consecutive third win in Delhi. In 2015, the party, born out of the anti-corruption movement, won 67 seats and in the recent elections, it won 62 of 70 seats. BJP, which hoped to end its dry spell in Delhi won eight seats, and Congress, failed to open its account, just like the previous time.
Preparations are underway at Ramlila Maidan
For the big event tomorrow, Ramlila Maidan is all decked up. Toilet blocks have been placed too. "We had leveled the ground during Prime Minister Narendra Modi's event that took place recently. So, other groundwork needs to be done. We have handed over the charge to the Delhi government and its PWD is making other necessary arrangements," a senior NDMC official told PTI.
PM Modi, Delhiites and 'junior' have been invited
While AAP has stayed away from inviting chief ministers of other states, an invitation was extended to PM Modi. Some senior leaders called it "protocol" but there's no confirmation about his attendance. Kejriwal on Thursday also asked Delhiites to watch him take the oath. AAP has also invited the baby mufflerman Aavyan Tomar, who won the internet on counting day, to the ceremony.
Bus conductors, auto drivers and delivery agents have been invited
And the 'architects' who have been invited include doctors, teachers, pharmacists, sanitation workers, bus conductors, bus drivers, marshals working for women security, auto-rickshaw drivers, farmers, anganwadi workers, athletes, IIT and medical students who got scholarships, and PWD engineers. Delivery agents working for the doorstep services started by the government have also been invited. A draft on this idea was sent to Kejriwal's office on Friday.
BJP slammed AAP for dictating teachers; latter hit back
However, by extending an invitation to teachers, AAP also invited the fury of BJP. "The Directorate of Education, GNCTD has issued a dictatorial circular making it compulsory for govt teachers to attend Mr. @ArvindKejriwal's oath ceremony. By virtue of the order 15000 teachers & officials are forced to attend the ceremony, (sic)" BJP's Vijender Gupta tweeted yesterday. Later, AAP clarified they weren't "ordered" anything.
Son won't mind if people don't come: Sisodia
Gupta also claimed to have written to Kejriwal to withdraw the order and today, AAP's Manish Sisodia said, "The chief minister has given an open invitation to all Delhites. Those teachers who can come are welcome. Those who cannot, the son won't mind."