Prashant Kishor slams Amit Shah over Shaheen Bagh remark
Prashant Kishor slams Amit Shah over Shaheen Bagh remark
Written by
Siddhant Pandey
Jan 27, 2020, 03:54 pm
3 min read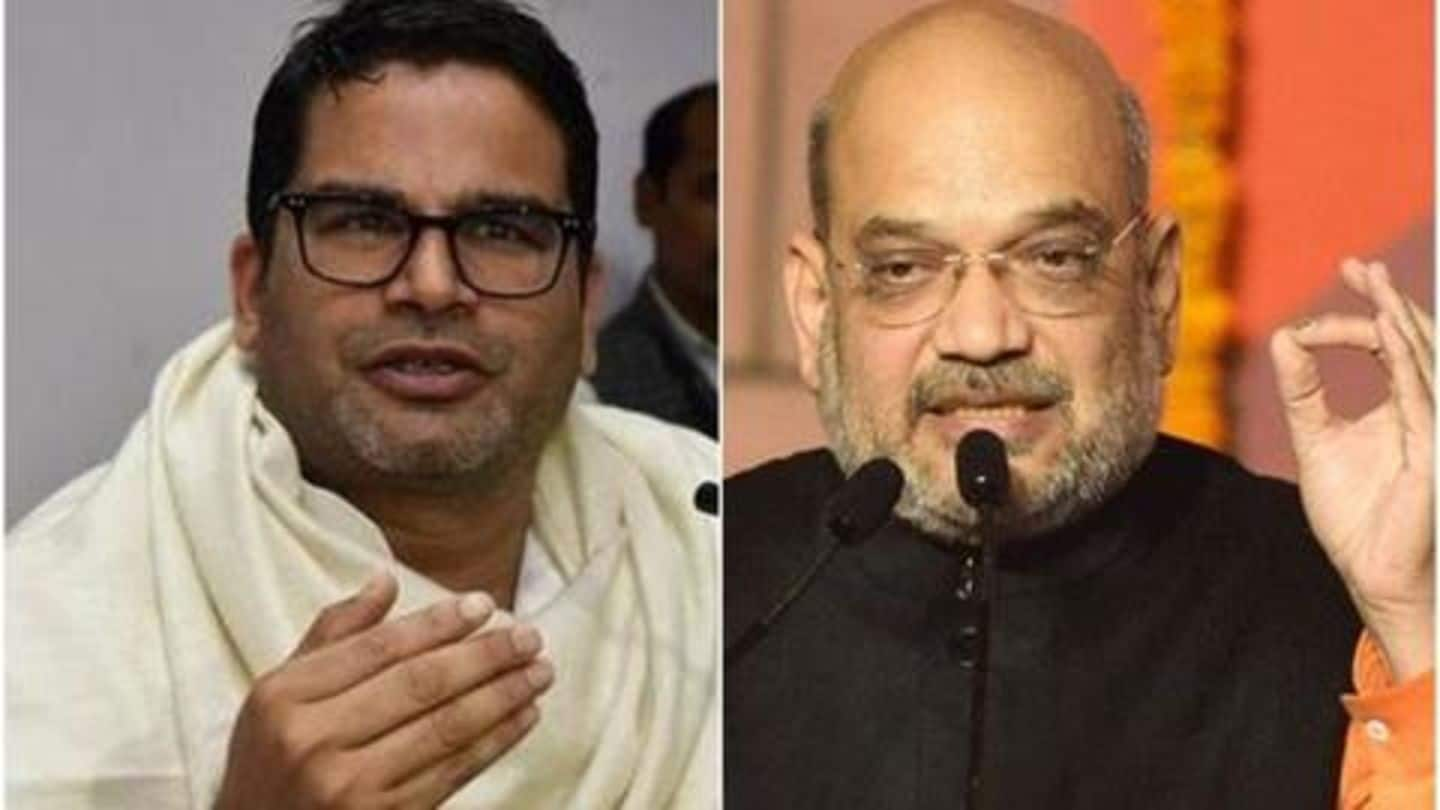 After Union Home Minister Amit Shah on Sunday urged people to press the EVM button "with anger" and lashed out at the Shaheen Bagh protests in Delhi, poll strategist-turned-politician Prashant Kishor took a swipe at Shah. Kishor, the Janata Dal (United) national Vice President, is the election strategist for the Aam Aadmi Party in the upcoming Delhi Assembly elections. Here's what he said.
Kishor tweeted Monday, "On February 8, the EVM buttons will be pressed only with love. Severe jolts like this should only be delivered softly so as to not harm mutual brotherhood and harmony. Justice, Liberty, Equality & Fraternity. " February 8 is the date when all 70 Delhi Assembly seats go to poll. The results for the elections will be declared on February 11.
You can view Prashant Kishor's tweet here
8 फ़रवरी को दिल्ली में EVM का बटन तो प्यार से ही दबेगा। ज़ोर का झटका धीरे से लगना चाहिए ताकि आपसी भाईचारा और सौहार्द ख़तरे में ना पड़े।

Justice, Liberty, Equality Fraternity 🇮🇳

— Prashant Kishor (@PrashantKishor) January 27, 2020
Kishor's jibe was in context to Shah's statement at a poll rally in Delhi on Sunday. Campaigning for the BJP candidate in Babarpur, Shah said, "When you press the (EVM) button on February 8, do so with such anger that its current is felt at Shaheen Bagh." Shah also said that electing BJP candidates will make Delhi safe and prevent protests like Shaheen Bagh.
Youth thrashed at BJP rally for raising anti-CAA slogans
At the Sunday rally, a group of four-five people reportedly raised slogans against the contentious Citizenship Amendment Act (CAA). One of the sloganeers was thrashed by persons at the rally in the presence of Shah, who directed his security to take the youth to safety.
What is the Shaheen Bagh protest?
Since the mid-December attack on Jamia Millia Islamia, women have led a sit-in protest at Shaheen Bagh against the contentious CAA, the National Register of Citizens (NRC) and National Population Register (NPR). The protestors have blocked the Jasola to Noida route via Kalindi Kunj, causing major traffic woes to Delhi-Noida commuters. The 24x7 sit-in protest has become a symbol of nationwide anger against CAA-NRC-NPR.
What is the controversy surrounding CAA, NRC, and NPR?
Passed in December, the CAA expedites Indian citizenship for non-Muslim illegal immigrants from Pakistan, Afghanistan, and Bangladesh. The Act, for the first time, makes religion a criterion for citizenship. Critics say it's unconstitutional. The NRC is a register to enumerate Indian citizens, while the NPR is a prelude to the NRC. Many fear that together, the CAA and NRC could work to expel Muslims.