Delhi election highlights: Who won and who lost?
Delhi election highlights: Who won and who lost?
Written by
Siddhant Pandey
Feb 11, 2020, 07:25 pm
2 min read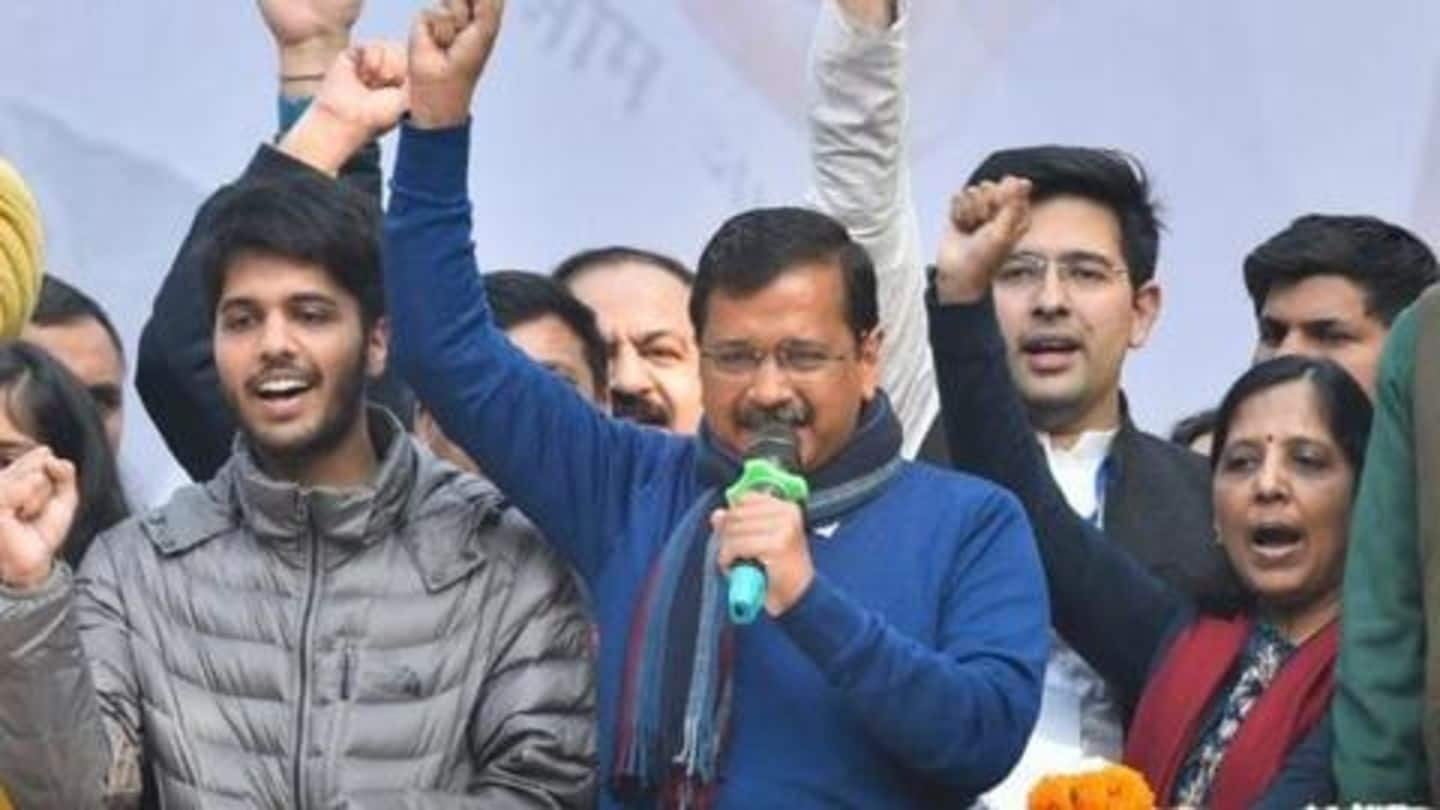 As the counting of votes for the Delhi Assembly elections began earlier today, it became evident that the ruling Aam Aadmi Party was set to win. The AAP has either won or is leading in 62 seats in the 70-seat Delhi Assembly, while the rival Bharatiya Janata Party could only fetch eight. Here are some of the key winners (and losers).
CM Kejriwal, Deputy CM Sisodia retained their respective constituencies
Delhi CM Arvind Kejriwal won from the New Delhi seat with 43,240 votes (61.22%). He was trailed by BJP's Sunil Kumar Yadav. Delhi Deputy CM Manish Sisodia also won from the Patparganj seat with 69,974 votes (49.33%). Notably, the trailing candidate, BJP's Ravinder Singh Negi, bagged an impressive 66,703 votes, giving the AAP a scare in the early stages of counting.
Atishi won Kalkaji, Raghav Chadha bagged Rajinder Nagar
After a tense neck-and-neck with BJP's Dharambir Singh, AAP's Atishi won from the Kalkaji seat, bagging 55,833 votes (52.28%). Another prominent AAP face, Raghav Chadha, won the Rajinder Nagar seat with 58,943 votes (57.06%). He was trailed by Sardar RP Singh of the BJP. Satyendar Jain won from Shakur Basti with 51,055 votes (51.6%) against BJP's Dr. SC Vats by a slim margin.
Tajinder Singh Bagga, Kapil Mishra, Alka Lamba lost
AAP's Akhilesh Pati Tripathi defeated BJP's Kapil Mishra by 11,000 votes from Model Town. Mishra is a former AAP MLA. Tajinder Singh Bagga—BJP's Hari Nagar candidate—lost to AAP's Raj Kumari Dhillon by over 20,000 votes. Congress' Alka Lamba—who had won Chandni Chowk in 2015 on AAP's ticket—faced an embarrassing defeat. She bagged just over 3,800 votes, losing to AAP's Parlad Singh Sawhney (50,845 votes).
BJP failed to retain Mustafabad seat
In the 2015 elections, the BJP had won just three Assembly seats: Rohini, Mustafabad, and Vishwas Nagar. The BJP lost Mustafabad to the AAP. BJP's Om Prakash Sharma retained his Vishwas Nagar seat with AAP's Deepak Singla trailing by over 16,000 votes. The saffron party's Vijender Gupta also retained his Rohini seat with a comfortable margin of 12,000 votes against AAP's Rajesh Nama Bansiwala.
BJP lost Mustafabad, Seelampur, Okhla after anti-CAA protests
Mustafabad went to the AAP, with the party's Haji Yunus defeating BJP's Jagdish Pradhan by over 20,000 votes. Notably, Mustafabad is a minority-dominated constituency which witnessed anti-CAA protests. Other Assembly seats that witnessed protests include Seelampur, where AAP's Abdul Rehman won by a 37,000-vote margin. In Okhla, home to Shaheen Bagh, sitting AAP MLA Amanatullah Khan is leading by around 89,000 votes.