Delhi-drama: BJP launches counter-protest as former-veteran Yashwant Sinha joins AAP-battle
Delhi-drama: BJP launches counter-protest as former-veteran Yashwant Sinha joins AAP-battle
Jun 14, 2018, 09:33 am
2 min read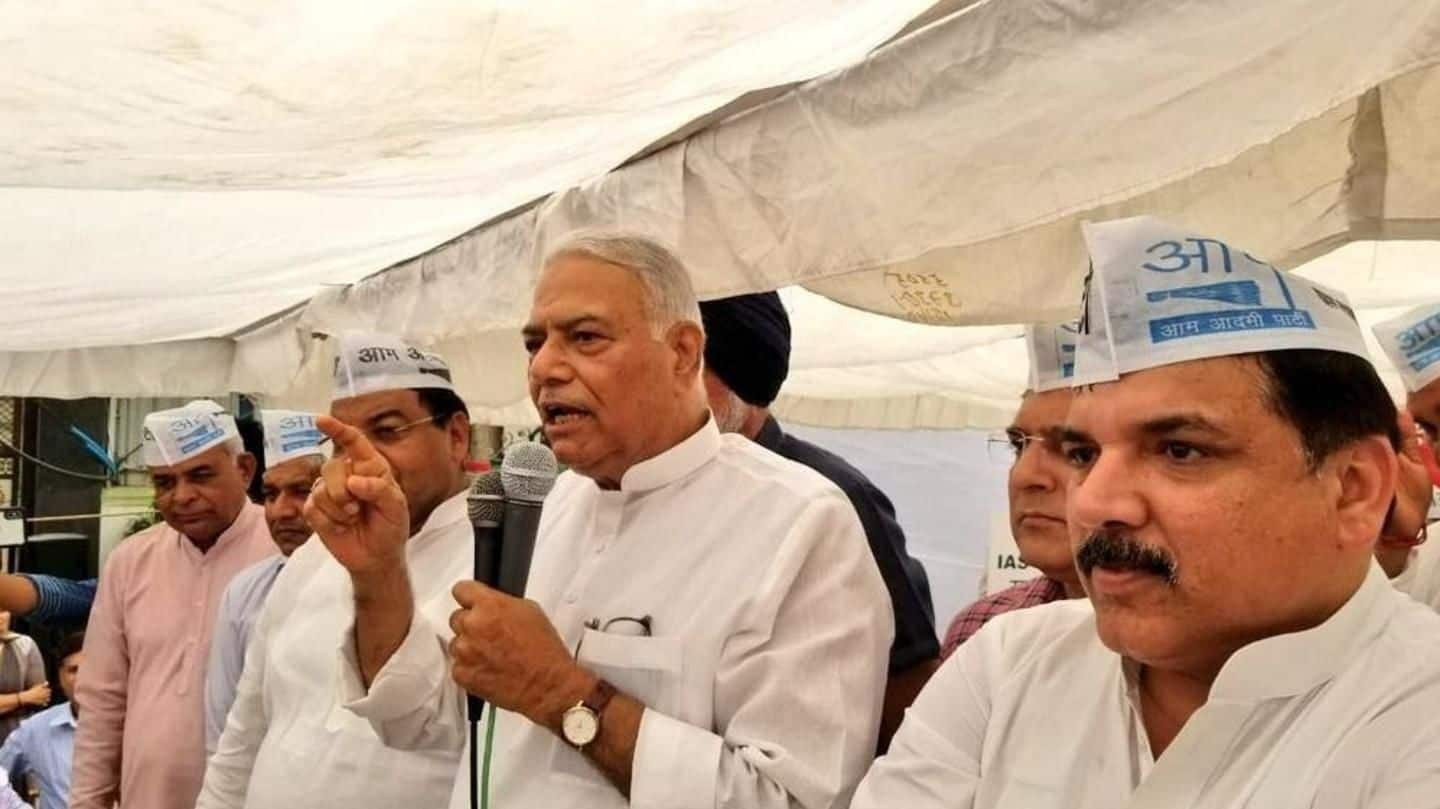 The political situation in Delhi turned more dramatic even as AAP leaders' sit-in protest at the L-G's office entered the fourth day. TMC's Mamata Banerjee, RJD's Manoj Jha and RLD's Jayant Chaudhary have lent support to them, apart from Yashwant Sinha, formerly BJP's. In response, BJP laid siege to CM Arvind Kejriwal's office, saying they too won't budge till he assures them good governance.
Kejriwal's visit to L-G's office turns into nightstay, indefinite fast
Monday evening, Kejriwal, along with Deputy CM Manish Sisodia and AAP leaders Gopal Rai and Satyender Jain, visited L-G Anil Baijal's office. Their prime demands were action against 'striking' IAS officers, directions for them to return to work, and approval of the doorstep delivery of ration scheme. They have refused to leave till the L-G obliges. Jain and Sisodia have started an indefinite fast.
Kejriwal fires another salvo at Modi
Aren't IAS officers merely tools being used by Modi govt to scuttle good work being done by Del govt?

Is it possible for IAS officers to return to work without green signal from PMO? https://t.co/4Kn7WkUxZh

— Arvind Kejriwal (@ArvindKejriwal) June 13, 2018
L-G, bureaucrats dismiss allegations, claim work continuing normally
The L-G's office dismissed the claims, blaming the Delhi Cabinet for not maintaining relations with bureaucrats. Baijal's office alleged Kejriwal had "threatened" him. IAS officers too denied they were striking. "Secretaries are regularly submitting weekly reports...Copies are marked to the CM and LG," they said. However, they admitted in a communique that officers aren't "attending routine meetings called by ministers and the CM".
Protest to PMO if matter not resolved by Sunday: AAP
Thousands of AAP supporters marched to the L-G's office yesterday, joined by Yashwant Sinha. AAP's Sanjay Singh said if the matter isn't resolved by Sunday, they would lead a protest to the PMO. Meanwhile, at Kejriwal's office, BJP's Parvesh Verma, Vijender Gupta, Manjinder Singh Sirsa, Jagdish Pradhan and rebel AAP leader Kapil Mishra staged a sit-in, demanding assurance for adequate water supply.
Scenes from the noisy AAP protest
Amid drama, the biggest losers are the people of Delhi
The impact of all this is being felt most by the common man. Residents have alleged eight-hour-long power-outages and continued water-shortage. Officials in the CMO said the weekly cabinet meeting scheduled for Tuesday has been indefinitely postponed. "Everyone, from bureaucrats to AAP to L-G to BJP, is stuck on prestige. In all of this, Delhiites are the biggest victims," said Sanjay Kumar, Director, CSDS.