High-pitched campaign for Delhi Elections ends. It's voters' turn now!
High-pitched campaign for Delhi Elections ends. It's voters' turn now!
Feb 07, 2020, 02:16 pm
3 min read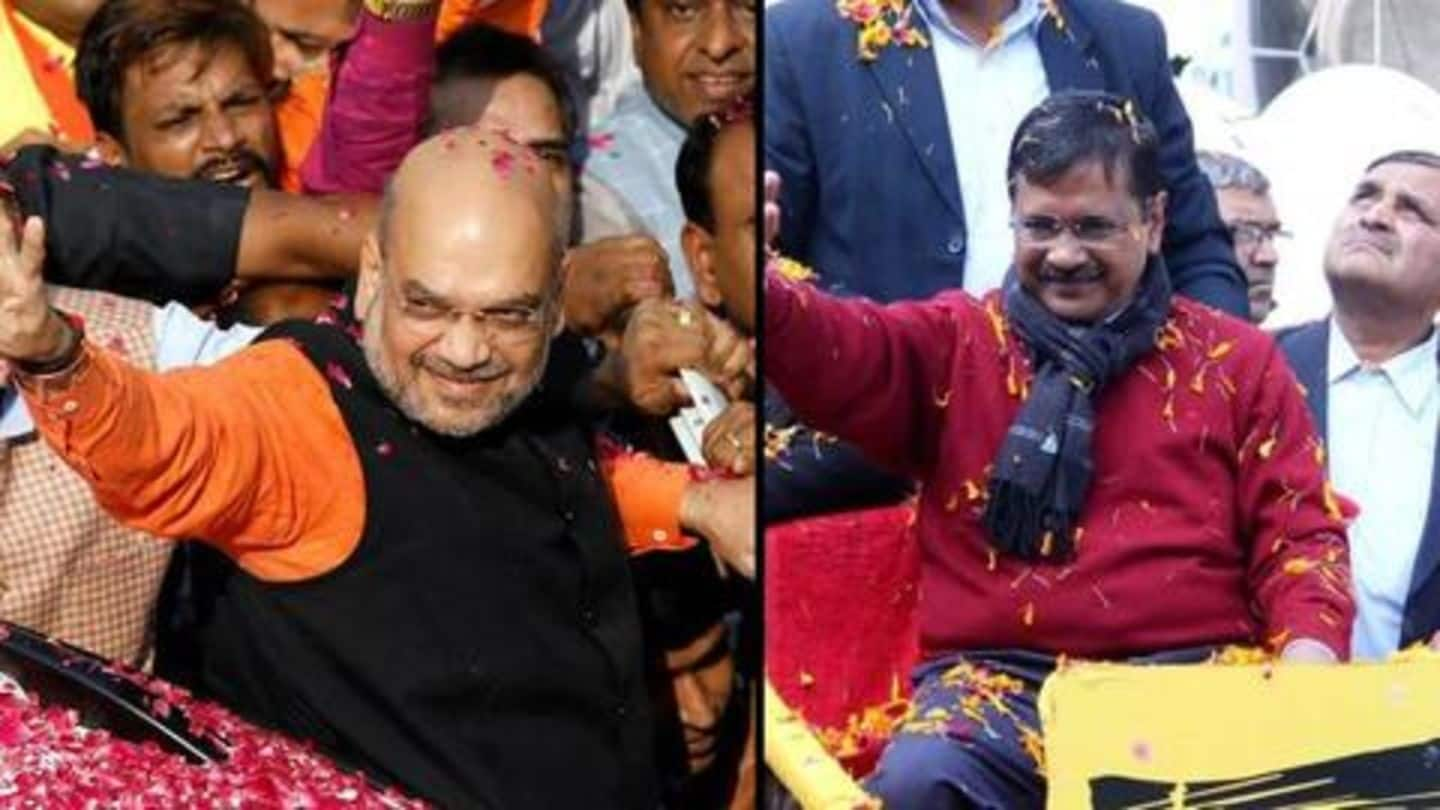 Noisy loudspeakers, shouty pamphlets, and divisive statements by politicians took over Delhi in the last couple of weeks, but all of that has now come to an end. The curtains were drawn on the campaign for high-stake assembly polls in the National Capital, scheduled for Saturday (February 8), on Thursday at 6 pm. Now, it's up to the voters to take their pick.
It's a straight battle between AAP and BJP
The election is nothing short of a prestige battle for the Aam Aadmi Party (AAP) and the Bharatiya Janata Party (BJP). Congress, whose chief minister Sheila Dixit governed Delhi for a record 15 years, failed to make it a three-way contest, largely remaining absent. In 2015, AAP won 67 of the 70 assembly seats, BJP three, and Congress drew a blank.
AAP said for first time elections were fought on achievements
Under Arvind Kejriwal's leadership, AAP is seeking votes in the name of the work it has done. Having jumped into politics after the Anna Hazare anti-corruption movement, Kejriwal took on a bigger party confirming that six years is a long time in politics. In his latest interviews, the sitting CM repeatedly talked about how he provided education, gave clean water, and slashed electricity bills.
Confident of win, Kejriwal spelled plans for his second term
"They (Centre) have understood that our 2015 win was not a one-off thing, and we are here to stay. In our second term, I expect to find ourselves in position where we can sit with the Centre and get more work done," Kejriwal told HT.
For BJP, national issues mattered
While Kejriwal stayed away from dwelling into national issues, BJP kept mentioning them. The saffron party wants to seize governance in Delhi after decades and reminded voters that having the same party in both Centre and state will benefit them. Authorizing colonies, that would help thousands of residents, was the biggest poll promise that BJP made. It also attacked Kejriwal for deceiving Delhi residents.
BJP leaders vilified protesters, took hate speech to new levels
However, BJP's campaign for 2020 assembly elections will not be remembered for the pre-poll promise, but for hate that dominated. Union Minister Anurag Thakur openly called for shooting "traitors", his colleague Prakash Javadekar labeled Kejriwal a terrorist, star-campaigner Yogi Adityanath said if words don't work, bullets can be used, and Union Home Minister Amit Shah made it a battle between nationalist and anti-nationalist forces.
Shaheen Bagh protest also kept BJP leaders busy
The Shaheen Bagh protest against CAA, which has been continuing for almost two months now, also occupied BJP. Its leaders accused Kejriwal of emboldening sentiments that spoke about dividing India, but AAP wondered why BJP didn't vacate the area. "I say let's make more schools; they say Shaheen Bagh. I say, let's build more hospitals; they say Shaheen Bagh," Kejriwal taunted BJP recently.
In four days, Delhi will learn who will govern it
Barring a couple of rallies towards the fag end of the campaigning tenure, former Congress President Rahul Gandhi stayed away from Delhi elections. None of the rallies were memorable. Congress is placing its bets on the Sheila Dixit era, but it clearly needed more than that to swing votes in its favor. So, who will get to govern Delhi? February 11 holds the answer.