Goa CM Manohar Parrikar dies at 63, condolences follow
Goa CM Manohar Parrikar dies at 63, condolences follow
Mar 17, 2019, 08:14 pm
3 min read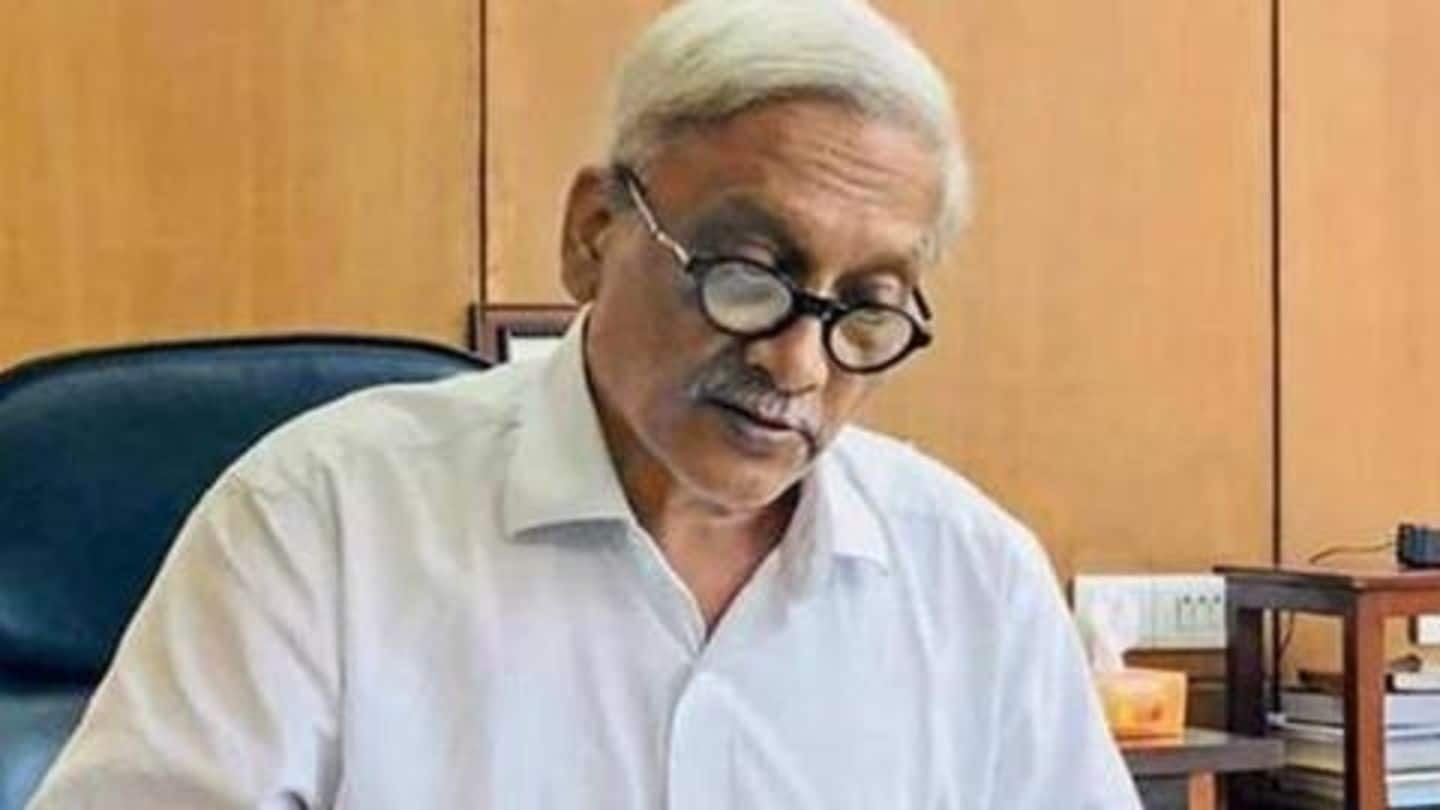 After battling pancreatic cancer for months, Goa Chief Minister Manohar Parrikar died on Sunday, reports have confirmed. The 63-year-old Bharatiya Janata Party leader is survived by his son Utpal and Abhijat. His wife Medha passed away in 2001. Political leaders across the spectrum expressed condolences on his demise. Here's more.
Parrikar fell ill in Feb 2018, had been undergoing treatment
Parrikar fell ill on February 14, 2018, and was subsequently taken to Goa Medical College Hospital (GMCH). He was referred to Mumbai's Lilavati Hospital. The CM returned to his state on February 20 to present the state budget and flew to the US on March 3 for treatment. He returned on June 14. Thereafter, Parrikar attended the legislative assembly's monsoon session.
Parrikar was treated at US, Goa and Delhi
After completing his responsibilities, Parrikar went to the US again on August 10 for a check-up. He returned on August 22. From September 2018, Parrikar underwent treatment at AIIMS Delhi. After staying in the National Capital for a month, he returned to Goa. He had been recuperating at his private home in Panaji since then. He moved in and out of GMCH several times.
Parrikar joined RSS at young age
Parrikar, born in 1955, joined the RSS at a young age and soon became the chief instructor. He studied Metallurgical engineering from IIT-B and graduated in 1978. Parrikar played an important role in organizing the Ram Janmbhoomi movement, which helped BJP become relevant in national politics. Parrikar had once said he learned "discipline, progressiveness, nationalism and social responsibility from the RSS."
Looking at Parrikar's career as a Goa minister
It was in 1994 that Parrikar formally joined politics after he won a seat in Goa Assembly. He became Goa's CM for the first time on October 24, 2000, but his tenure lasted only till February 27, 2002. He was re-elected as CM in June 2002, but after four BJP MLAs resigned, his government became a minority one on January 29, 2005.
Parrikar ensured the coastal state becomes BJP's bastion
In 2012, Parrikar led BJP to a historic win. The party won 24 out of the 40 seats and Parrikar became the CM again. It was Parrikar's clout which helped BJP win all Lok Sabha seats in 2014 elections. In November 2014, Parrikar was made the Union Defense Minister. However, he returned to state politics when assembly elections ended in a hung assembly in 2017.
BJP allies wanted Parrikar back in the state
BJP's post-poll allies said they would support the party only if Parrikar became the CM again. As a result, he was sworn in as Goa's CM in March 2017. As the Defense Minister, Parrikar made his disdain for Pakistan quite clear. He had once equated visiting Pakistan with going to hell and on another occasion questioned why India should be bound by No First Use (NFU) policy in terms of nukes.
Despite ailment, Parrikar completed his duties as CM
After his illness, Parrikar's public appearances became less frequent. However, he didn't let his condition affect his tasks and held important meetings at his home. Goa Health Minister once called Parrikar a 'fighter'. Parrikar presented the 2019 state budget with a tube in his nose sending a strong message to his detractors that he is unstoppable. May his soul rest in peace.