#KarnatakaFloorTest: No trust vote today; House adjourned till July 22
#KarnatakaFloorTest: No trust vote today; House adjourned till July 22
Written by
Ramya Patelkhana
Jul 19, 2019, 10:23 pm
3 min read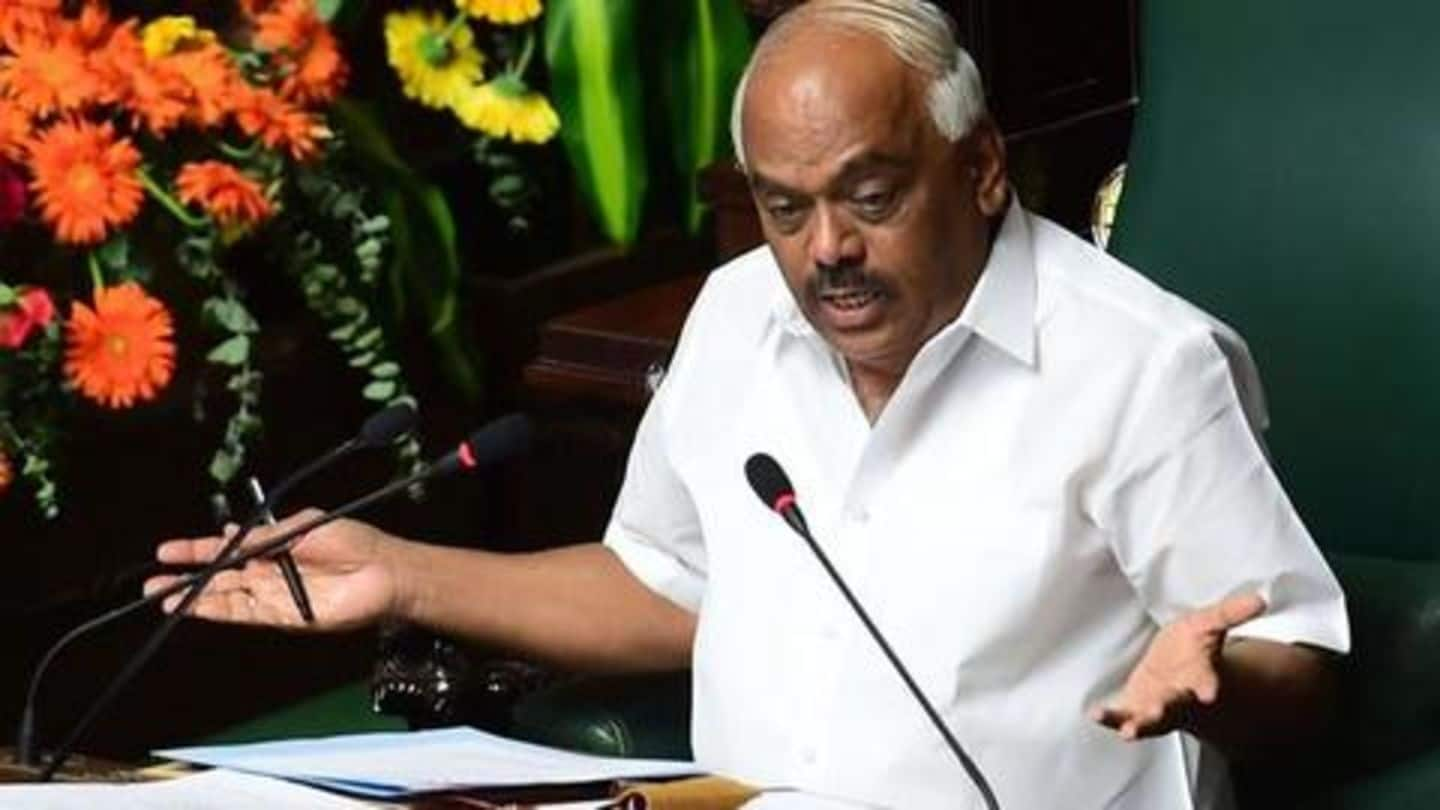 Karnataka Assembly Speaker KR Ramesh has adjourned the House till July 22 (Monday), ignoring Governor Vajubhai Vala's directions to hold the trust vote by Friday itself. The Assembly floor test will now be held on Monday. Congress Legislature Party (CLP) leader S Siddaramaiah said that the ruling Congress-Janata Dal (Secular) coalition will face the trust vote on Monday. Here's more.
Don't want to allow division of votes in hurry: Speaker
"No matter what you say, I cannot sit anymore," Speaker Ramesh said, adjourning the House till 11am Monday. "I don't want to allow division of votes in a hurry or want to delay it. You put the blame in my court...," he said. He, however, made it clear that the trust vote will take place on Monday and the matter wouldn't be prolonged further.
The trust vote will be held on Monday, July 22
Congress-JD(S) coalition missed Governor's deadlines to prove its majority
The Congress-JD(S) coalition government in Karnataka on Friday missed two deadlines set by the Governor to prove its majority in the House. He first issued a deadline of 1:30pm for the trust vote. However, it had lapsed, following which the House was adjourned till 3pm. Later, Governor Vala directed CM HD Kumaraswamy to finish the floor test by 6pm, which was also missed.
Governor's last letter said trust vote should finish today: Yeddyurappa
Before the Assembly was adjourned, Karnataka BJP President BS Yeddyurappa demanded the trust vote be held on Friday. He told the Speaker, "We respect you, Speaker sir. Governor's last letter said the vote should finish today. People on our side will sit peacefully till late in the night. Let it take however long it takes...it will also mean that we can respect Governor's direction."
CM Kumaraswamy moves SC against its July 17 verdict
CM Kumaraswamy, meanwhile, moved the Supreme Court against its July 17 verdict that rebel MLAs cannot be forced to attend the Assembly proceedings or take part in the trust vote. Challenging the Governor's directions on the trust vote and deadlines set by him to complete the same, he also said that these were in "contravention" of the top court's earlier verdict.
CM cites previous SC verdict while challenging Governor's direction
In his application, challenging the Governor's direction, Kumaraswamy said, "No such direction on trust vote could have been issued by Governor when confidence motion was already initiated." He cited a previous SC verdict that a Governor can't act as the "ombudsman" of the Legislature.
Parties have the right to issue whips: K'taka Dy CM
Karnataka Deputy CM Dr. G Parameshwara confirmed on Twitter that the ruling coalition government moved the Supreme Court over two major issues. "Parties have the right to issue whips to their legislators & this cannot be taken away by any court. Second, when the house is in session, Governor can't issue directions or deadlines to when we should have a trust vote," he tweeted.
Approached Supreme Court to contend two major issues: Dr. Parameshwara
We have approached Supreme Court to contend two major issues:

Parties have the right to issue whips to their legislators this cannot be taken away by any court.

When the house is in session, Governor can't issue directions or deadlines to when we should have a trust vote.

— Dr. G Parameshwara (@DrParameshwara) July 19, 2019