Karnataka: JD(S), Congress get to tricky business of power-distribution
Karnataka: JD(S), Congress get to tricky business of power-distribution
May 21, 2018, 11:20 am
2 min read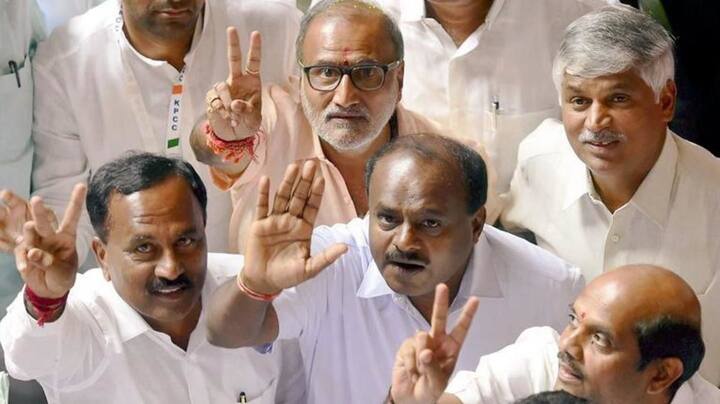 HD Kumaraswamy will meet Congress President Rahul Gandhi and his mother Sonia Gandhi today, to discuss the portfolio distribution and power delegation in the Congress-JD(S) post-poll alliance in Karnataka. Reportedly, Congress will get 20 berths in the 33-member state candidate and JD(S) will settle for 13. The Lingayats have been eyeing the deputy CM post, suggest reports. Kumaraswamy will take the oath on Wednesday.
Kharge talks of 'give and take', Lingayats demand deputy-CM post
On Sunday, senior Congress leader Mallikarjun Kharge said since a National party provided unconditional support to a regional one, "there ought to be a 'give and take' equation." Reportedly, a Lingayat body Veerashaiva Mahasabha has demanded Congress loyalist Mahasabha president Shamanur Shivashankarappa be given deputy CM post. In an open letter, the body claimed Shivashankarappa didn't join BJP despite being pressurized.
Meanwhile, Kumaraswamy tells his MLAs to respect decisions
In a meeting with his MLAs, Kumaraswamy asked them to accept decisions of him and his father HD Deve Gowda, to maintain a stable government. While there is still no clarity over power distribution it's being said JD(S) will keep portfolios like finance, PWD and irrigation. JD(S) MLAs are holed up in Bengaluru hotel and are likely to stay there for some time.
Kumaraswamy rules out 30 months power-sharing formula
Kumaraswamy rubbished reports of power-sharing formula for 30 months each. He told reporters Congress has promised a stable government when asked if he will stay CM for five years. Meanwhile, Congress who is said to have decided giving deputy CM post to Dalit leader G Parameshwara may have to rethink its strategy after Lingayat demand. It will all become clear in coming days.