#Verdict2019: NDA gets bigger mandate than 2014, UPA shrinks
#Verdict2019: NDA gets bigger mandate than 2014, UPA shrinks
May 23, 2019, 04:16 pm
2 min read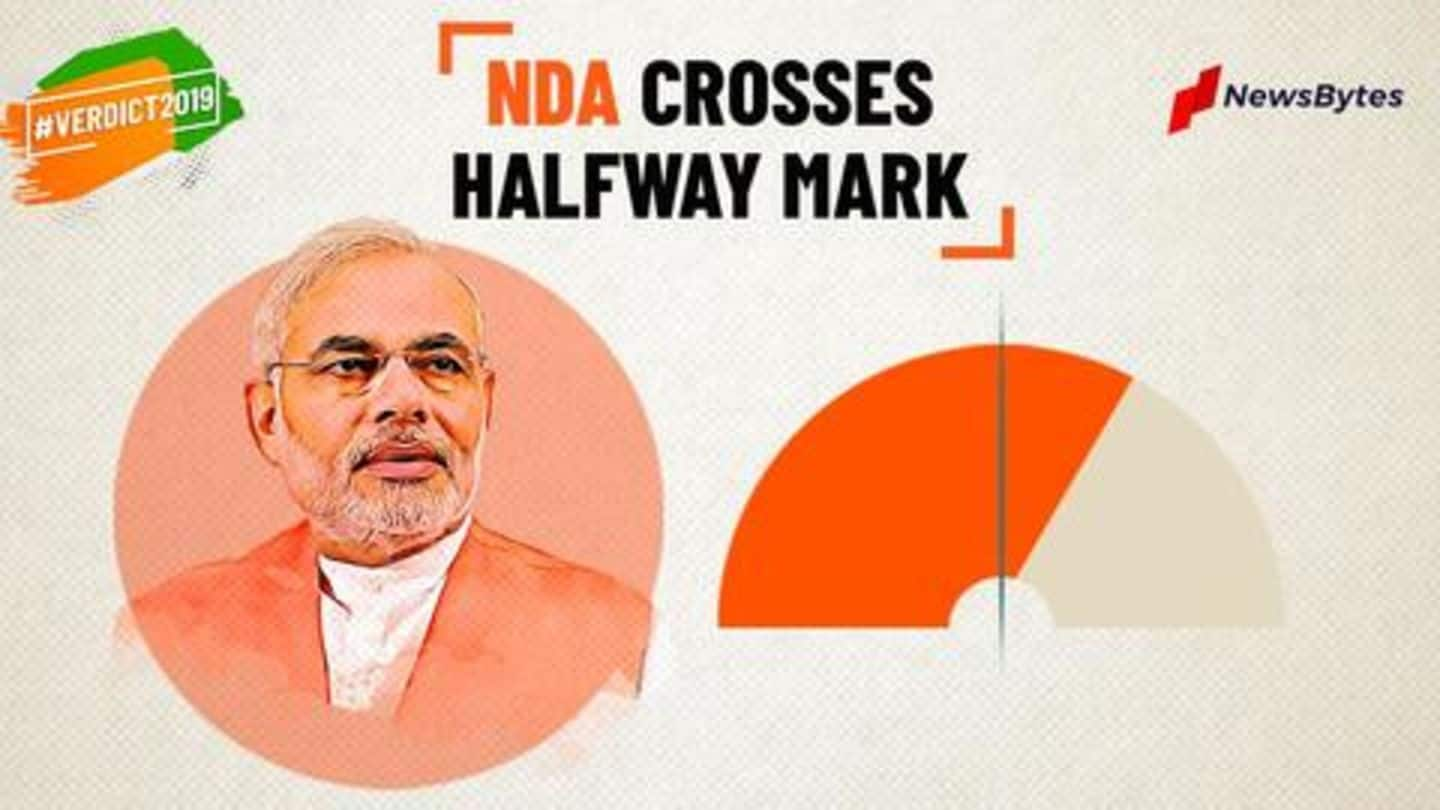 In 2014, BJP scripted history and five years later it did the same. NDA led by BJP is leading in 342 seats while UPA managed to perform well in just 95 seats. Notably, BJP had won 282 seats in the last parliamentary polls, but it would easily win 301 seats this time. Congress would end up winning only 50 seats. Here are the details.
Rahul Gandhi trails in Amethi, takes lead in Wayanad
Congress, which was eyeing a resurrection this time, got a rude shock after party president Rahul Gandhi trailed from Amethi by close to 20,000 votes. BJP's Smriti Irani pulled off the unthinkable. To Rahul's fortune, he took a lead in Wayanad of 8 lakh votes. Meanwhile, BJP's Pragya Singh Thakur took a lead of 1,00,00 votes over former Madhya Pradesh Chief Minister Digvijaya Singh.
BJP takes lead in UP, performs well in West Bengal
In Uttar Pradesh, which has 80 Lok Sabha seats, BJP took lead on 63 seats. In last Parliamentary polls, BJP swept the most populous state by winning 71 seats. Similarly, in West Bengal, BJP took lead in 18 out of 42 seats. Mamata Banerjee's Trinamool Congress is apparently performing well on 23 seats. BJP also took a lead in Delhi's seven Lok Sabha seats.
BJP all set to sweep Maharashtra, Gujarat and Madhya Pradesh
In Maharashtra, the BJP-Shiv Sena combine is leading on 39 seats. More importantly, the alliance took lead in all the six seats of Mumbai. Like 2014 polls, BJP is all poised to sweep Madhya Pradesh too. Out of 29 seats, BJP took lead in 28 seats. In all likeliness, Gujarat also voted overwhelmingly for BJP as the party took lead in all 25 seats.
BJP workers break into celebration in Karnataka
Jyotiraditya Scindia loses from family turf, Vaibhav Gehlot loses Jodhpur
Congress leader Jyotiraditya Scindia lost from Guna, his family turf, by a margin of nearly 1,00,00 votes. Meanwhile, Rajasthan CM Ashok Gehlot's son Vaibhav lost from Jodhpur. Speaking on the poor performance of his party, Punjab Chief Minister Amarinder Singh said, "Navjot Singh Sidhu's statements hurt the party". Notably, Congress managed to retain Punjab by taking lead in 10 out of 13 seats.
Will prosper together: Narendra Modi tweets after historic win
सबका साथ + सबका विकास + सबका विश्वास = विजयी भारत

Together we grow.

Together we prosper.

Together we will build a strong and inclusive India.

India wins yet again! #VijayiBharat

— Chowkidar Narendra Modi (@narendramodi) May 23, 2019