Wearing mask, Digvijaya reaches Bengaluru to meet rebels, custody follows
Wearing mask, Digvijaya reaches Bengaluru to meet rebels, custody follows
Mar 18, 2020, 10:30 am
3 min read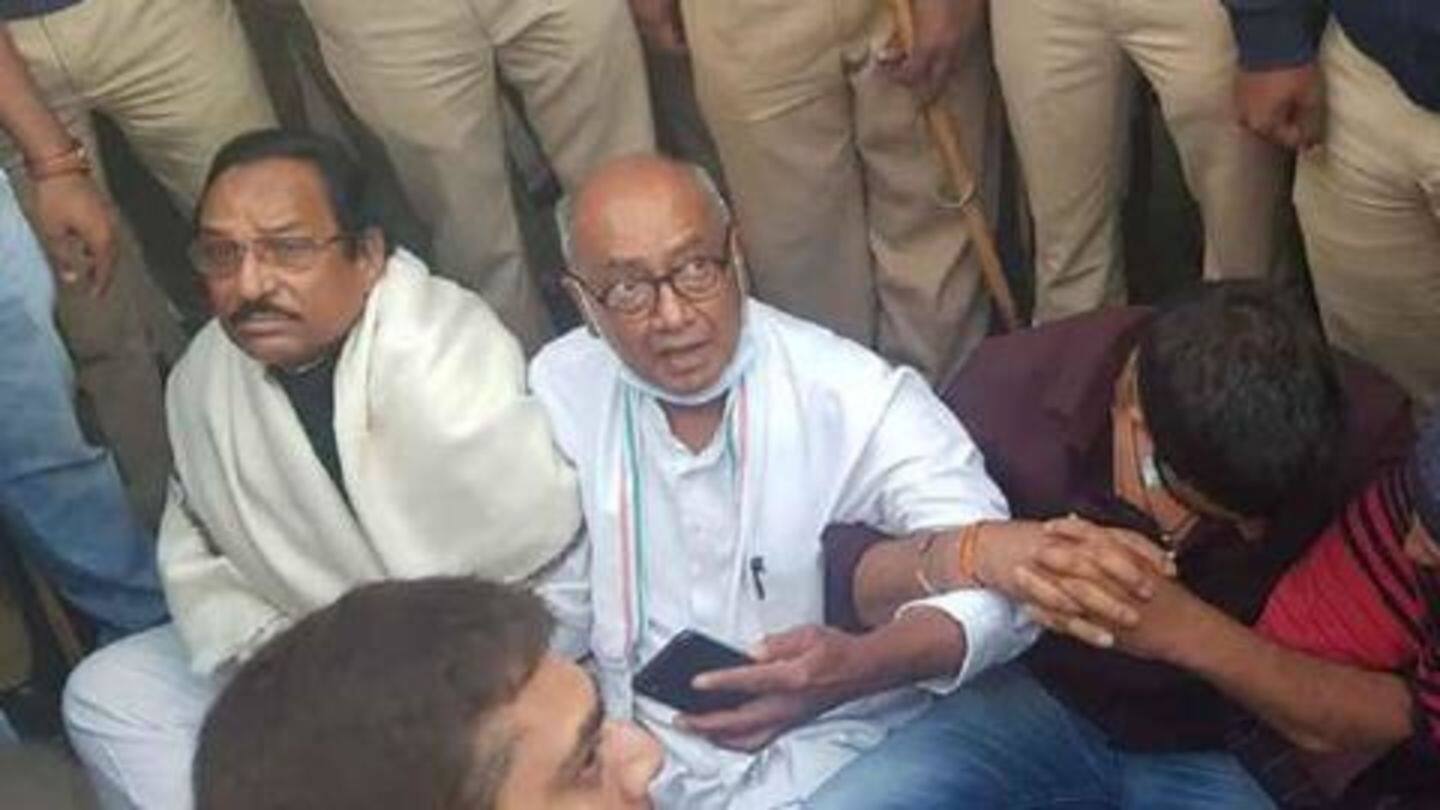 The political drama of Madhya Pradesh reached Karnataka's capital, Bengaluru, this morning when senior Congress leader Digvijaya Singh staged a sit-in protest outside a luxury hotel where rebel MLAs are staying. Singh, who wore a face mask, wanted to have a word with them but was dragged and taken away by cops. He is currently under preventive custody, along with some of his partymen.
Congress government in MP was jolted by flurry of resignations
Chief Minister Kamal Nath's 15-month-old government suffered a setback this month after 22 legislators resigned. Jyotiraditya Scindia, who was with Congress for nearly two decades, bid the party adieu and joined BJP. Saying that the government is in minority, the opposition BJP, which has 107 MLAs, demanded a floor test. But the Assembly was adjourned till March 26, forcing BJP to approach Supreme Court.
Troubleshooter DK Shivakumar welcomed Singh in Bengaluru
Yesterday, the apex court issued notices to Nath and Speaker NP Prajapati, while saying that the matter regarding floor test will be heard at 10:30 am today. Congress also approached SC asking for intervention in the "release of MLAs". Singh was welcomed in Karnataka by DK Shivakumar, the newly-appointed Karnataka Pradesh Congress Committee Chief and the grand old party's go-to person.
Outside Ramada, Singh staged a 'dharna'
They then went to Ramada Hotel, where the rebel MLAs are staying and Singh chose to sit on the street. He claimed the family members of the legislators reached out to him and that they were expected to return soon. Saying that he was a Rajya Sabha candidate from MP and elections are due on March 26, Singh claimed MLAs aren't safe.
They are being followed 24X7, claimed Singh
Further, Singh claimed to have spoken to five MLAs. "They said they're captive and their phones have been snatched away. There is a police in front of every room. They're being followed 24X7," he added. Though he didn't accuse BJP of "buying" MLAs, Singh said, "Some of our MLAs showed audio and video clips of money being offered to those who didn't join them."
Singh and others were taken into preventive custody
The drama took a new turn when cops were seen on camera dragging Singh away. He, along with his aides, was taken into preventive custody. They were kept at Amruthahalli Police Station and Singh said he has started a hunger strike. Meanwhile, Shivakumar, who tried hard to save the Congress-JD(S) coalition in Karnataka, claimed the BJP government was abusing power.
We know how to handle situation: Shivakumar
"We have our own political strategy, we know how to handle the situation. He's not alone here. I'm here. I know how to support him. But I don't want to create a law and order situation in Karnataka," Shivakumar said.