Mamata on BJP's Navami celebrations: Whose throat will you slit?
Mamata on BJP's Navami celebrations: Whose throat will you slit?
Apr 14, 2019, 01:06 pm
3 min read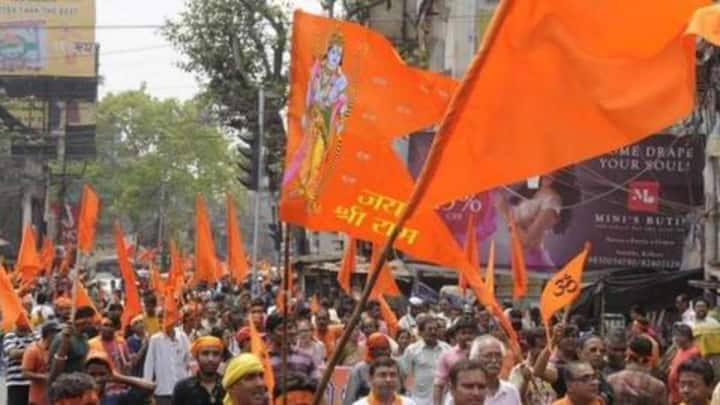 Launching a fresh salvo on BJP, West Bengal Chief Minister Mamata Banerjee on Saturday questioned 'armed' processions which were taken out on Ram Navami by the saffron party and VHP. From a rally in Siliguri, Mamata asked whose "throats will you slit with swords". Meanwhile, BJP state chief Dilip Ghosh said the rallies are part of the tradition. Here's what went down.
Saffron from outside, black from inside: Mamata
While BJP and VHP took out processions in various parts of the state, Mamata slammed them from Siliguri. Saying humanity is the biggest religion, she added, "Some people are trying to import a new religion of wearing saffron. What is the connection of votes with people's faith?" "They are saffron from outside and black from inside," she told the crowd.
Whose head will you break with club, asked Mamata
"On the pretext of Ram Navami, they are going out with clubs and swords seeking votes. Whose head will you break with the club and whose neck will you slit with the sword?," Mamata asked.
Meanwhile, Ghosh said they carried arms for 'protection'
Notably, Ghosh was seen with a sword in a procession at Kharagpur. Not agreeing with Mamata's views on the rallies, Ghosh said, "Ram Navami rallies are a part of our tradition. We are carrying arms to protect ourselves. It has nothing to do with elections." He said if Trinamool had a problem with the rallies, the party should change its thought process.
Separately, Trinamool members also took out rallies
While Mamata berated BJP for using religion for votes, members of her own party took out rallies on Ram Navami. The only difference was that Trinamool's rallies didn't involve swords or maces, but cheers of "Jai Shree Ram" filled the air. Rita Tiwari, Trinamool councilor in Durgapur, took out a rally and danced to drumbeats. Dibyendu Adhikari performed a havan.
Ram is not BJP's property, said Adhikari
"Ram is not BJP's property. They have turned Ram into a polling agent. Have they built the Ram Mandir? Ram is everybody's, across India for all Hindus. We are not doing politics with Ram," Adhikari, who has been fielded from Kanthi Lok Sabha seat, said.
Police didn't give permission to carry arms
Reportedly, West Bengal police didn't give permission to carry arms in rallies. About this, VHP organizational general secretary (eastern region) Sachindranath Sinha said, "We will abide by the direction of the police and no one will carry arms during Ram Navami rallies conducted by us." But pictures and videos, which emerged on social media, painted a different picture.