Haryana: Khattar takes oath as CM, Dushyant becomes his deputy
Haryana: Khattar takes oath as CM, Dushyant becomes his deputy
Oct 27, 2019, 02:54 pm
2 min read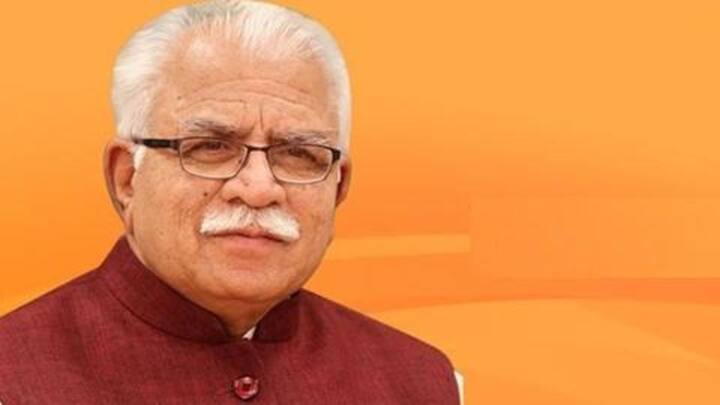 On Sunday, Bharatiya Janata Party leader Manohar Lal Khattar took oath as Haryana's Chief Minister for a second straight time, along with JJP's Dushyant Singh Chautala, who was sworn-in as his deputy. This development came two days after BJP and JJP entered into a post-poll alliance as none of the parties got a clear majority in the recently-concluded elections. Here are more details.
BJP didn't reach magic number of 46 alone, sought help
Elections were held in Haryana on October 21, and results were declared three days later. The incumbent BJP government had set a target of 75+ seats in the 90-seated assembly, but it put up a below-par performance winning just 40 seats. Throughout Friday, serious negotiations happened with JJP, which scooped away 10 seats, and other independents. Later in the day, the alliance was announced.
The oath-taking ceremony was attended by Dushyant's father and Badals
Khattar and Dushyant were sworn-in at Chandigarh's Raj Bhavan, in the presence of other politicians like Parkash Singh Badal and Sukhbir Singh Badal of Shiromani Akali Dal. Dushyant's father Ajay, who was granted furlough yesterday, also attended the function. A former MP, Ajay is serving 10 years imprisonment after he was convicted in 2013 for being involved in a teachers' recruitment scam.
As he walked out of Tihar, Ajay praised son Dushyant
"Dushyant has established the organization in just 11 months along with party workers. A son is known by his father's name only. The efforts taken by the party workers have flourished today on an auspicious occasion," Ajay said earlier today as he left Tihar's premises.
Here are the visuals from the spot
Meanwhile, JJP shot back at Congress for demeaning the alliance
Naturally, the marriage of convenience between BJP and JJP raised eyebrows. Taking a jibe at Ajay's release, Congress' Priyanka Gandhi Vadra tweeted, "Akhil Bhartiya corruption washing machine is on!" Shooting back, JJP said it had the people's support. "Until yesterday they (Congress) were saying that it (BJP-JJP alliance) is against people's mandate. We have come after winning against them too," Digvijay Chautala said.