Former Uttarakhand CM Ramesh Pokhriyal Nishank to head HRD Ministry
Former Uttarakhand CM Ramesh Pokhriyal Nishank to head HRD Ministry
Written by
Siddhant Pandey
May 31, 2019, 09:25 pm
3 min read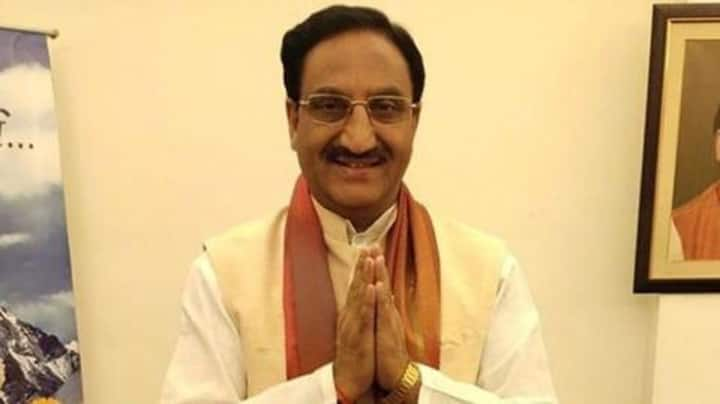 A day after taking oath for his second term as Prime Minister, Narendra Modi allocated portfolios to the newly sworn-in members of the Union Council of Ministers. Among Modi's new Cabinet is the 59-year-old former Uttarakhand Chief Minister Ramesh Pokhriyal Nishank, who will be in charge of the Ministry of Human Resource Development. Allow us to introduce you to him.
Pokhriyal beat Congress candidate Ambrish Kumar with 258,729 votes
Pokhriyal won from the Haridwar constituency for a second time this year by a margin of 258,729 votes against Congress candidate Ambrish Kumar. As the HRD Minister, he replaces Prakash Javdekar, who is now the Minister of Information and Broadcasting.
Pokhriyal started his career as a teacher in RSS-affiliated school
Pokhriyal, who hails from Pinani village in Pauri Garhwal, started off as a teacher in Rashtriya Swayamsevak Sangh-affiliated school, Saraswati Shishu Mandir. However, he put himself on the map back in 1990 when he won the Karnaprayag (then a part of Uttar Pradesh) seat for the Bharatiya Janata Party, defeating five-time Congress MLA Shivanand Nautiyal. He won the seat again in 1993 and 1996.
He was appointed Uttaranchal Development minister in 1997
After winning the Karnaprayag seat thrice consecutively, he was appointed the minister for Uttaranchal Development in the Kalyan Singh Cabinet in the year 1997, and in 1998, he became the Minister for Cultural Fulfillment and Endowments in Ram Prakash Gupta's Cabinet.
He became youngest Uttarakhand CM in 2009
After Uttarakhand was formed in 2000, Pokhriyal was made in-charge of 12 departments, which included finance, tax, revenue, and water. In 2009, he was elected Chief Minister of the state, becoming Uttarakhand's youngest CM. He held the position till September 2011. In 2012, he was elected MLA from Doiwala, however, he resigned in 2014, and was elected again from Haridwar in this year's polls.
Pokhriyal's appointment a beacon for changes in education policy?
This is Pokhriyal's first time serving as a Central government minister and his nomination has sparked speculations of changes in education policy. The speculations arise from RSS's demands to transform the education system, based on Indian values. The report of a committee, headed by former ISRO chief K Kasturirangan, to draft a new National Education Policy is yet to be submitted to the government.
Pokhriyal has published several poems, novels and short stories
Pokhriyal is an arts graduate, and also has a Ph.D. and D.Litt. He is also a writer and has published several poems, novels, and short stories, among other literary works. He was married to Kusum Kanta Pokhriyal, who died in 2012. He has three daughters.