NCP-Congress-Sena will complete full term in Maharashtra, says Sharad Pawar
NCP-Congress-Sena will complete full term in Maharashtra, says Sharad Pawar
Nov 15, 2019, 05:52 pm
3 min read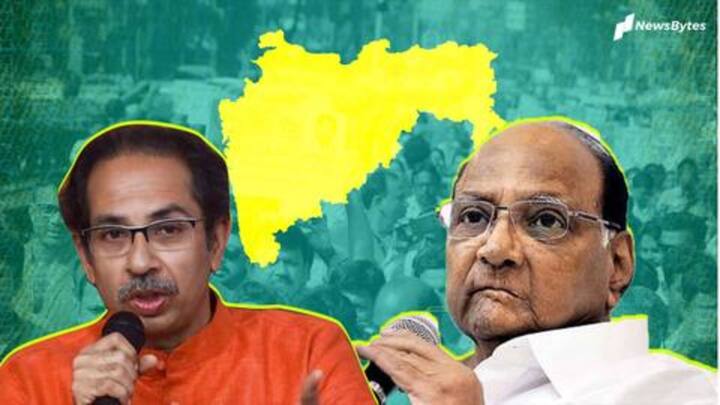 NCP boss Sharad Pawar is confident the post-poll alliance with Shiv Sena will work, and the government which will be formed will complete five years. Pawar, who is in Nagpur to assess the damage caused to crops due to unseasonal rains, spoke to media and promised that the tussle in the state will end soon with NCP-Congress-Sena's alliance. Here are more details.
From opposition to being in power, how Pawar's fate changed
After poll results were declared on October 24, Pawar said he would sit in opposition respecting people's mandate. But new opportunities opened for him after Sena broke ties with BJP. Invited by Governor Bhagat Singh Koshyari to form the government, Uddhav Thackeray's party approached NCP and Congress. Justifying this decision, Sena reminded even BJP tied hands with PDP in Jammu and Kashmir.
Negotiations are on, government will run for five years: Pawar
Interacting with media, Pawar said, "Right now there is a process going on and today or tomorrow the government will be formed. We will ensure that the government is there for five years. Our negotiations are going on." He went on to say, "The government would be stable, development-oriented, and that solves peoples' problems. We all want this to happen."
Didn't know Fadnavis was an astrologer, remarked Pawar
Taking a jibe at Devendra Fadnavis, who resigned last week, he said, "I know Devendra ji for some years. But I did not know he is a student of astrology too." Notably, Fadnavis had earlier commented that the alliance between NCP, Congress, and Sena won't last six months. Further, Pawar also said that if someone (read Sena) demands CM post, it will be "considered".
But why is NCP-Congress supporting "Hindutva" Sena? Pawar answered
When asked about NCP and Congress supporting Sena, Pawar said, "It is true that the NCP and Congress are secular but we are not against either Islam or Hinduism. When we run the government, we do insist that it should run on secularism."
Yesterday, Sena attended Congress-NCP meeting
Pawar's comments came a day after Sena attended the first meeting with NCP-Congress to form a common minimum program. Apparently, Sena has agreed to give a 5% reservation to Muslims in education, an idea rolled by the previous regime of NCP-Congress and junked by Fadnavis' government. They have also agreed on farm loan waiver, Rs. 10 meal, and a monthly allowance to unemployed youth.
If things go well, Sena's dream will be fulfilled
To note, earlier NCP's Nawab Malik had said Sena's CM wish might be fulfilled. "The next chief minister will be from Sena as it is our responsibility to ensure the self-respect of the party [Shiv Sena] that has left its old alliance. Whether Congress will be part of the government or will extend outside support will be decided soon," he had said.