At mega rally of Congress, Priyanka Gandhi makes miss-and-blink appearance
At mega rally of Congress, Priyanka Gandhi makes miss-and-blink appearance
Mar 12, 2019, 05:10 pm
3 min read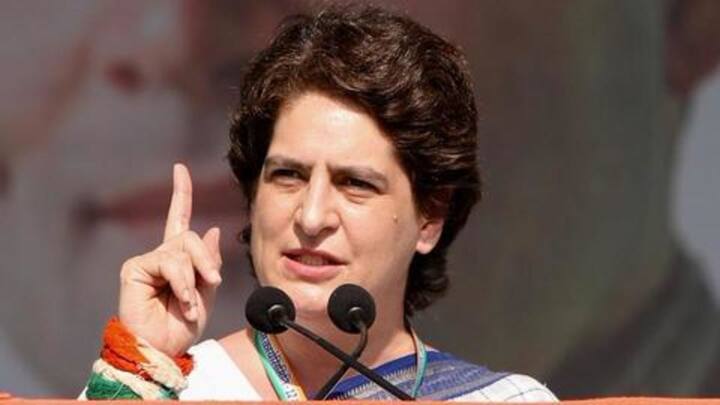 Weeks after her formal entry into politics was announced, Priyanka Gandhi Vadra addressed a large crowd at Gandhinagar in Gujarat for the first time. Priyanka, who was made the in-charge of Congress for UP East by brother and party president Rahul Gandhi, slammed Prime Minister Narendra Modi, without naming him, in her rather short speech. Here's what went down.
Congress held crucial CWC meeting in Gujarat
Senior leaders of Congress flew down to PM Modi's turf for the Congress Working Committee meeting. The motive of the meeting was to set the agenda for general elections, which will start from April 11. Apart from Rahul and Priyanka, their mother Sonia and former Prime Minister Dr. Manmohan Singh also attended the meeting. Before the meeting started, they visited Mahatma Gandhi's Sabarmati Ashram.
Hatred being spread, said Priyanka in maiden election speech
Priyanka said the country has always stood against hate and claimed institutions are being "destroyed". "Nothing matters more to us that you and I protect this nation, work for it and move forward together," she said. Priyanka also said useless issues shouldn't be raised this poll season. "What are you going to choose in this election? You are going to choose your future," she said.
It's time to seek answers, said Priyanka
She added now was the time to seek answers. What happened to the safety of women and Rs. 15 lakh which were promised, Priyanka asked. "Issues which should be raised must comprise as to what is most important for you. How will youth get jobs, how will women feel safe, what will be done for farmers. These are the issues for elections," Priyanka stressed.
Later, Rahul revealed why Gujarat was chosen for CWC meeting
After Priyanka's speech, which didn't live up to the expectations, Rahul took over. Revealing why Congress chose Gujarat for the important meeting, he said, "We conducted the meeting here because there's a fight between two ideologies in the country and in Gujarat you will find both the ideologies." Patidar leader Hardik Patel, who joined the Congress, was also present at the rally.
SC judges aren't being allowed to work: Rahul
Congress President Rahul Gandhi in Gandhinagar, Gujarat: First time in history, 4 Supreme Court judges went to press said they are not allowed to work. Generally, people go to SC for justice but in today's Hindustan, SC judges are going to public asking for justice. pic.twitter.com/8sLPUFQJmS

— ANI (@ANI) March 12, 2019
First-rally turns out to be dud. Will others be better?
By finally giving Priyanka a major role in politics, Congress showed it put all decks on the table. Quite understandably, her rally was much-awaited but the impression might not last long. While Priyanka's voice and demeanor confirmed she shares a lot with her grandmother former Prime Minister Indira Gandhi, she probably didn't inherit the mass appeal. The failure or success of Congress' trump card will be known on May 23.