PM Modi kicks-off BJP's Haryana poll campaign at Rohtak rally
PM Modi kicks-off BJP's Haryana poll campaign at Rohtak rally
Written by
Siddhant Pandey
Sep 08, 2019, 05:13 pm
3 min read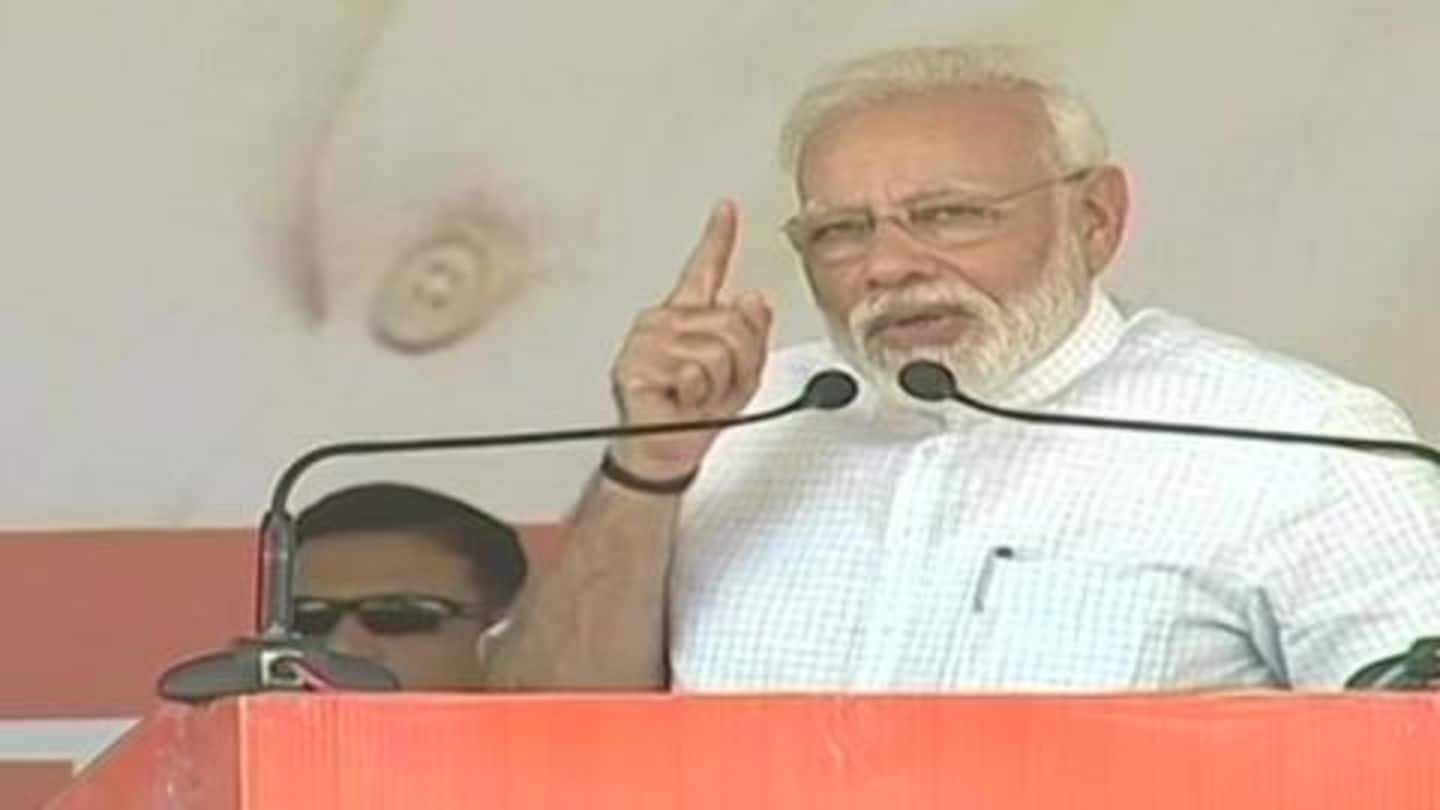 Ahead of the assembly elections in Haryana next month, Prime Minister Narendra Modi on Sunday addressed a rally in Rohtak. With the 'Vijay Sankalp' rally, Modi kicked-off the Bharatiya Janata Party's poll campaign. The rally also marked the culmination of Haryana Chief Minister Manohar Lal Khattar's 22-day 'Jan Ashirwad Yatra', which left from Julana for Rohtak early Sunday morning. Here's more about the rally.
Modi urged people of Haryana to support CM Khattar
Recalling that this was his third visit to Rohtak in the past few months, Modi asked for Haryana's support in the upcoming state polls. "Rohtak has always given me more than what I asked for," he said. "I hope the way you supported me in Lok Sabha elections 2019, you will also support Haryana chief minister Manohar Lal Khattar in the upcoming assembly elections."
Modi praised Haryana for 'Beti Bachao, Beti Padhao' campaign
Modi praised the Haryana government for their work towards the 'Beti Bachao, Beti Padhao' campaign, saying that the state has significantly reduced the gender gap. He also coined the slogan 'NaMohar' at the rally, saying that the people of Haryana often get confused between "Manohar and NaMohar". He said, "I want to tell them that both are equally correct, they're one and the same."
'130 crore Indians looking for new solutions'
Modi also said it was fortunate that the Rohtak visit coincided with 100 days of the NDA government. "The past 100 days were the days of change, determination, improvement, and good intention," he said. Modi added, "Be it the matter of Jammu, Kashmir & Ladakh or of worsening water crisis, 130 crore citizens of India have started looking for new solutions to the problems."
Chandrayaan-2 mission awakened the entire country: Modi
Modi further spoke about Chandrayaan-2: "At 1:50 am on September 7, the entire nation was sitting in front of their TVs, looking at the Chandrayaan mission. In those 100 seconds, I witnessed how an incident awakened the entire country and tied us together."
4,000 earthen pots arranged to reduce plastic use at rally
Tight security arrangements were made ahead of the 'Vijay Sankalp' rally to ensure that everything goes smoothly, officials said. Rohtak district administration had also purchased 4,000 earthen pots for drinking water at the rally to reduce the use of plastic containers. Additionally, the district administration asked toll plaza owners to allow vehicles coming for the rally passage without charging a fee.
BJP aiming to win 75/90 Haryana assembly seats
The Haryana assembly polls are to be held in October and the saffron party is aiming to bag 75 seats in the 90-seat Legislative Assembly. In the 2019 Lok Sabha polls earlier this year, the BJP won all 10 parliamentary seats, in a major blow to Congress. Interestingly, the Haryana women's wing chief of the Congress party also joined the BJP on Saturday.