Amethi: Smriti Irani to ensure death sentence for aide's killers
Amethi: Smriti Irani to ensure death sentence for aide's killers
May 27, 2019, 01:01 pm
3 min read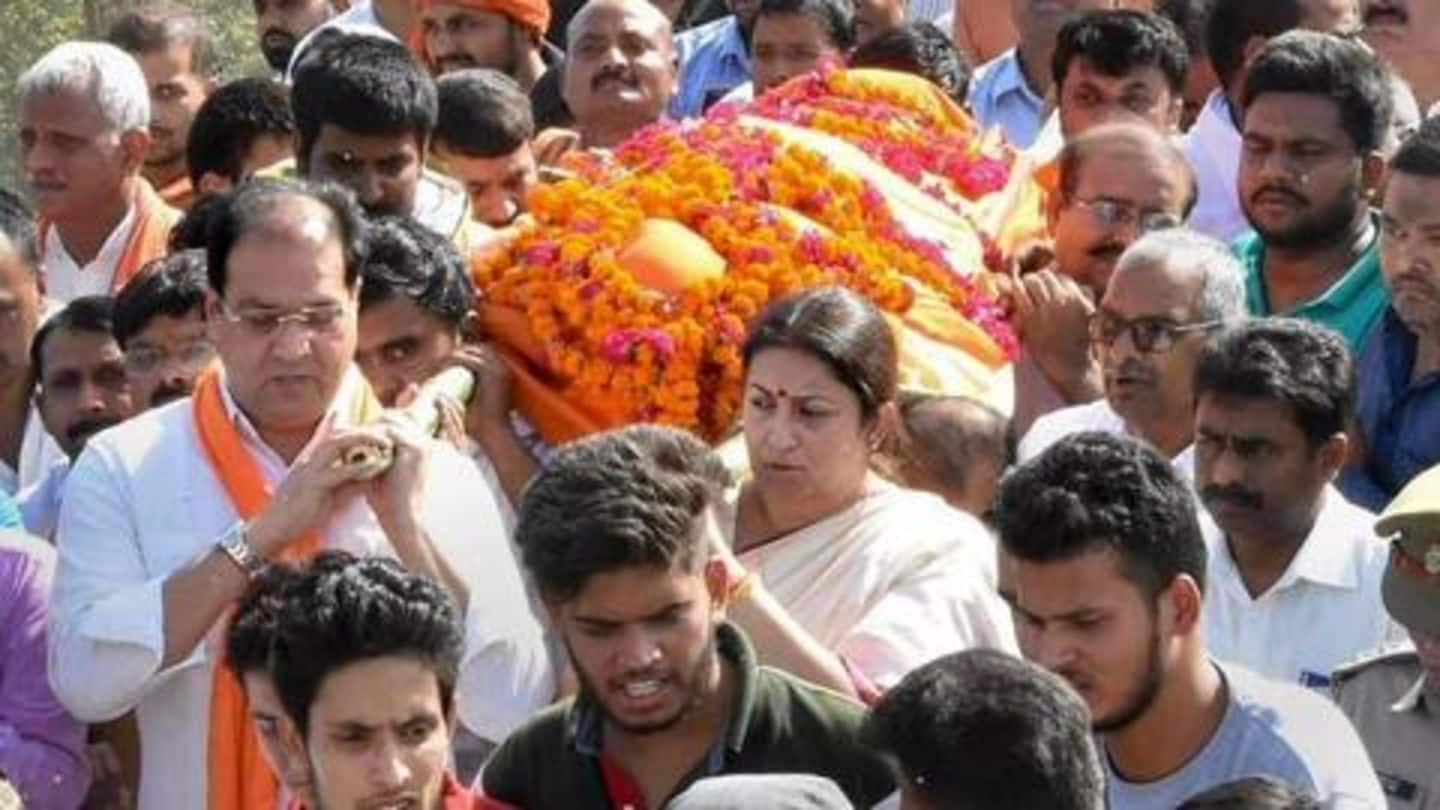 When Congress President Rahul Gandhi was defeated by Smriti Irani, he asked the BJP leader to "take care" of Amethi. And from the looks of it, she is taking care of the constituency just fine. She showed her empathetic side by rushing to Amethi after her close aide Surendra Singh was murdered on Sunday. Smriti said she would ensure the killers get capital punishment.
Backstory: Smriti ousted Rahul from his turf, showed she's different
While 2019 elections saw many firsts, Smriti handed over the most embarrassing defeat to Congress. She defeated Rahul from Amethi by a margin of over 50,000 votes. Notably, Rahul has represented Amethi in Lok Sabha since 2004. His father Rajiv Gandhi was also an MP from there. While Rahul remained an absent MP, Smriti nurtured Amethi and as a result, voters chose her.
Rahul had a message for Smriti, she replied "got it"
Conceding defeat, Rahul had said, "I want Smriti ji to keep people's faith and take care of Amethi with love." In response, Smriti said she has received the message "loud and clear". She made the remark on Sunday while visiting Singh's family. Singh, who was the head of Barauliya village, was shot dead at his home. He played an important role in her campaign.
Breaking sterotypes, Smriti lent a shoulder to Singh's mortal remains
Smriti sent a loud message by visiting Amethi. One would expect a new MP to get a rousing welcome in their constituency, but Smriti was greeted with teary eyes. Stepping up to the occasion, Smriti lent a shoulder to Singh's mortal remains and promised all help to his family members. She said, if need be, she will also knock on Supreme Court's doors.
Have taken a vow before his family, said Smriti
"I have taken a vow before Surendra Singh ji's family. The one who fired at him and the one who ordered it.... even if I have to go to Supreme Court to seek a death sentence for them, I will knock the doors of the court," she said.
Smriti remembered Singh, appreciated his hard work
Separately, family claimed Singh's politics got him killed
Separately, Singh's family claimed he was murdered because he campaigned for Smriti. His wife Rukmani Singh said, "He did not have any rivalry with anyone. It was only after he supported and helped Irani win that he was killed." His son also echoed the emotions. He claimed victory procession was taken out after Smriti was elected and perhaps some Congress workers didn't like it.
Meanwhile, UP police have arrested five people
The murder caught the attention of UP Chief Minister Yogi Adityanath who asked the police to show results within 12 hours. As per reports, UP Police have arrested five people. Massive raids were conducted in Gauriganj, Jais and Tiloi tehsils. The arrested suspects have been identified as Wasim, Dharmnath Gupta, Ramchandra, Nasim, and Golu. They were named by Singh's family in the police complaint.