#Verdict2019: Rahul Gandhi accepts defeat in Amethi, congratulates Smriti
#Verdict2019: Rahul Gandhi accepts defeat in Amethi, congratulates Smriti
May 23, 2019, 05:54 pm
2 min read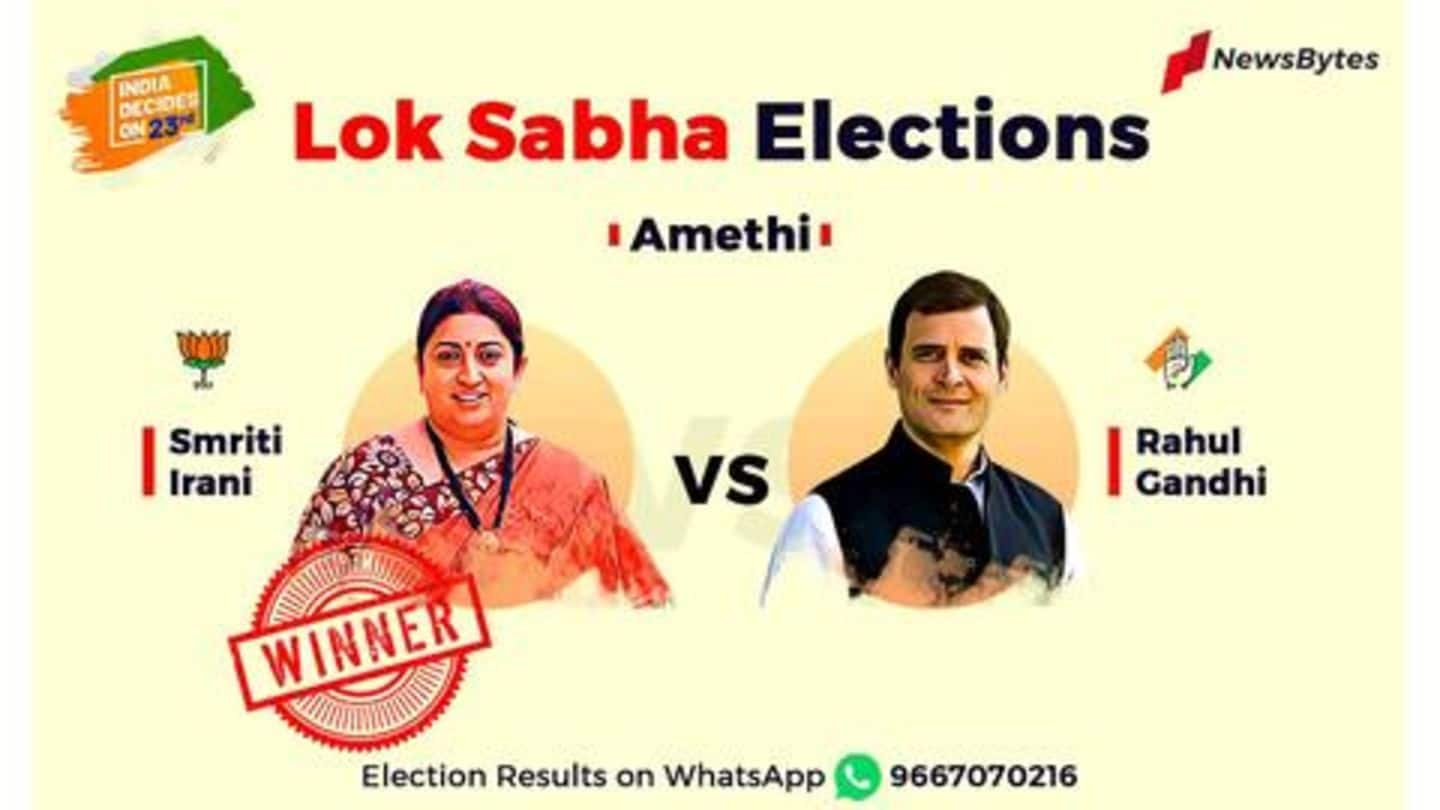 May 23, 2019, will be remembered as the day when an actor-turned-politician defeated Congress scion from his home turf, scripting history in Indian politics. Union Minister Smriti Irani has done the impossible by defeating Congress President Rahul Gandhi from Amethi, a seat which has always been held by Congress. Rahul has represented Amethi in Lok Sabha since 2004. Here's all about the nail-biting contest.
Rahul accepts people's mandate
Smriti lost in 2014 but fought with more determination
In 2014 as well, Rahul and Smriti locked horns but the former won by a margin of over 1,00,000 votes. Though she lost the seat, Smriti worked relentlessly in Amethi. She attacked Rahul for ignoring development in the constituency and treating it like a vote bank. To show that she won't shy away from a fight, the 43-year-old camped in Amethi for days.
Priyanka had said Smriti came to Amethi for media attention
Notably, Amethi saw a bitter war of words. During electioneering, Priyanka Gandhi Vadra had claimed Smriti comes to visit only to put up a media show. "She came here 16 times and stayed only for four hours. She collects media and distributes shoes. Rahul Gandhi doesn't come here for a few hours. He stays and listens to your problems," she had said.
Priyanka takes my name more than her husband: Smriti
Hitting out at Priyanka, Smriti had said, "Five years ago, Priyanka Gandhi didn't know my name. Now she keeps taking my name... such an accomplishment. Nowadays she takes her husband's name less and my name more." Smriti had also said that people of Amethi called her "Didi" and this showed she has formed a connection with them.
People of Amethi want a parliamentarian, not a visitor
Rahul's embarrassing defeat from a seat which also sent his father Rajiv to Parliament shows people of Amethi have rejected dynasty politics. They clearly don't need a leader who visits only when elections are around and forgets everything about development. Fortunately, for Rahul, contesting from Wayanad (another bastion of Congress) reaped benefits as he will at least go to Lok Sabha.