Tripura minister allegedly groped female colleague in PM Modi's presence
Tripura minister allegedly groped female colleague in PM Modi's presence
Feb 12, 2019, 02:18 pm
3 min read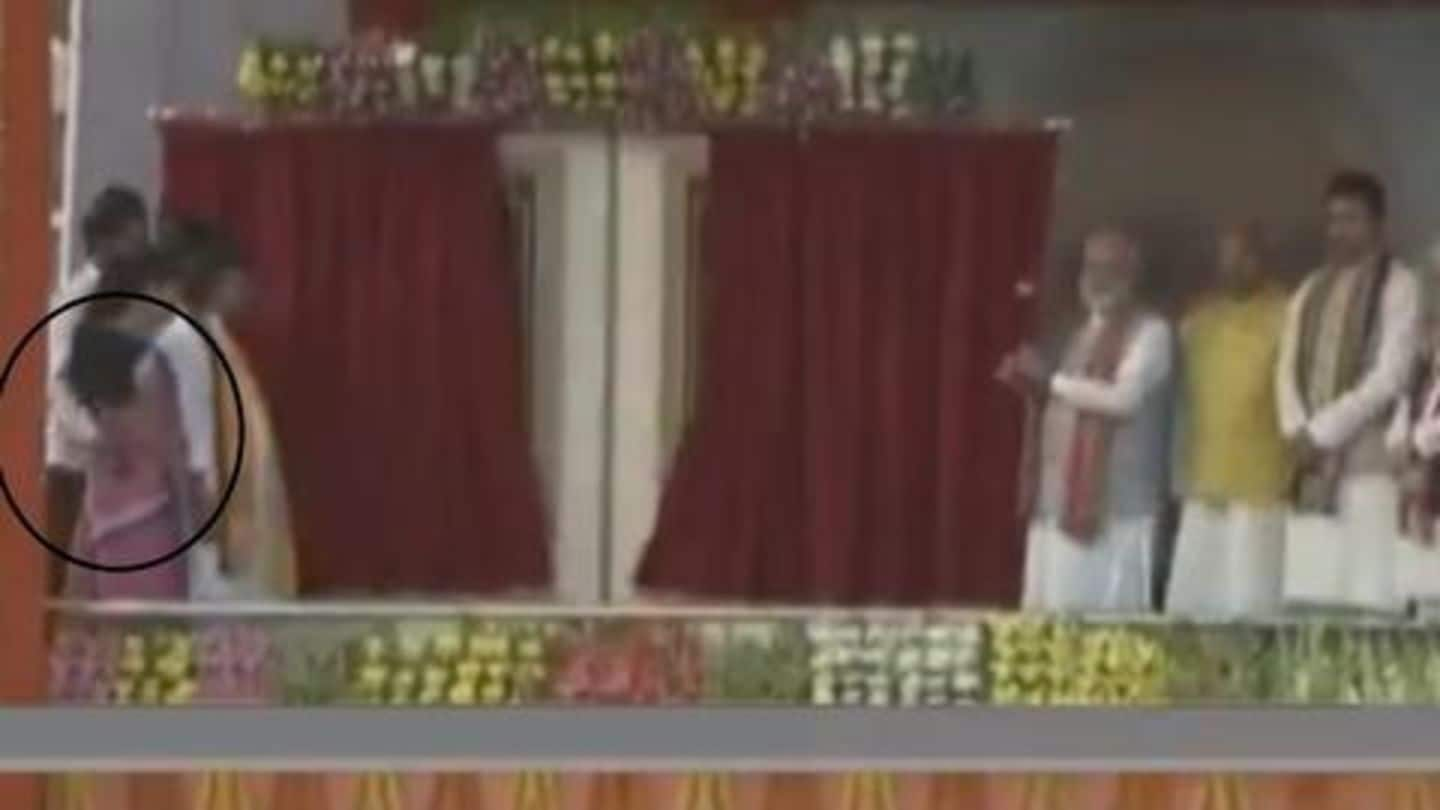 A video purportedly showing a Tripura minister groping his female colleague while sharing the stage with PM Narendra Modi has sparked a controversy, with opposition leaders demanding his resignation. State sports minister Manoj Kanti Deb allegedly touched Social Education Minister Santana Chakma inappropriately on Saturday, February 9. While the video became a talking point, Chakma herself dismissed the allegations.
On visit to Tripura, PM Modi inaugurated several projects
PM Modi visited Tripura last week to unveil Maharaja Bir Bikram Kishore Manikya Bahadur's statue at MBB Airport. Maharaja Bir Bikram was the last reigning king of Tripura. After unveiling the statue, PM Modi inaugurated two development projects, remotely. He then addressed a rally at Swami Vivekananda Maidan in the state capital, Agartala where the alleged incident took place.
Opposition leaders slam Deb, demand his resignation
Wading into the controversy, women's wing of CPI(M) staged a protest in Agartala on Monday demanding Deb's arrest. Senior CPI(M) leader Bijan Dhar said if such incidents can happen in broad daylight in presence of PM Modi, one can only imagine the condition of law and order. Dhar said Chief Minister should sack Deb. Meanwhile, Tripura Congress vice-president Tapas Dey called for an investigation.
Deb defends himself, says video is doctored, had no ill-intentions
As the video sparked outrage, Deb gave clarifications. He told The Northeast Today, he may have "touched" Chakma but had no ill intentions. "By mistake, I might have touched her but I had no wrong intentions, I was only trying to move her away as she came in front of me," he said. Meanwhile, he told TOI, the video was doctored.
How can it be possible, asks Deb
"How can this be possible and, that too, in the presence of the Prime Minister and a large crowd? Someone has to be of very dirty mentality to doctor the video of a programme. I was trying to come forward," Deb told TOI.
BJP leaders claim Left is finding non-issues
Other BJP leaders stood by Deb. Victor Shom, who handles BJP Tripura's media cell, said the opposition doctored the video to malign Deb. BJP spokesperson Nabendu Bhattacharjee said the Left has now retorted to character-assassination. "The woman minister has never made any statement and complaint on the issue raised by the Left parties. Why are the Left parties doing this dirty politics," he asked.
Notably, woman minister Chakma also slammed the opposition
Amid the raging controversy, Chakma defended Deb by saying, "There is no ill motive involved. There are certain people in opposition who are trying to politicize it by blowing it out of proportion."