Modi on "hugplomacy": I'm a common man, don't know protocols
Modi on "hugplomacy": I'm a common man, don't know protocols
Jan 20, 2018, 12:02 pm
2 min read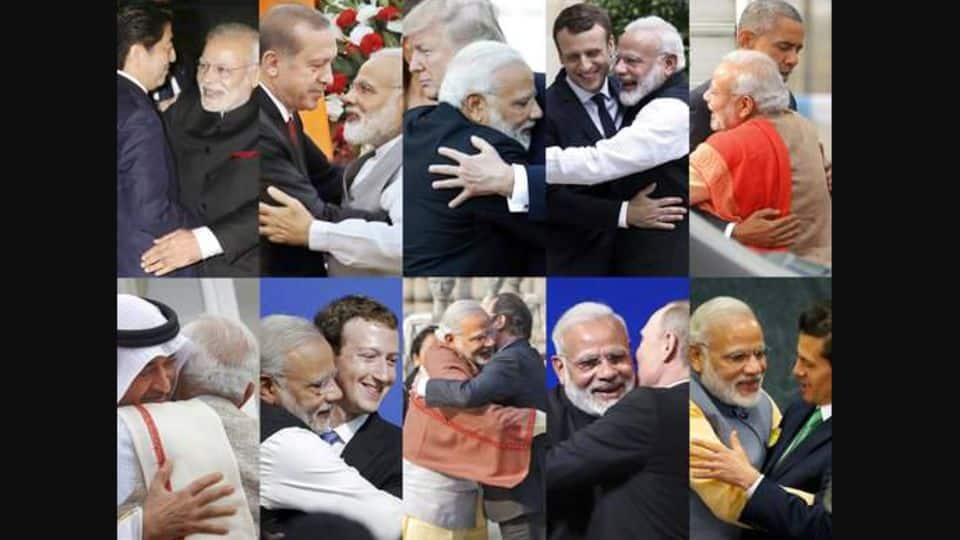 Apart from PM Modi's speeches, his "jhappis" with world leaders have been titillating the Congress. A few days back, Congress uploaded a video chronicling Modi's "awkward hugplomacy" with world leaders like US President Trump, Japanese PM Shinzo Abe and French President Macron. Now, Modi defended his hugs saying he is a common man and is unaware of protocols. Here's all about Modi-Congress' "hugplomacy" exchange.
First off, how has Congress mocked Modi for his hugplomacy?
Congress has repeatedly "hug-shamed" Modi. In 2017, Congress president Rahul Gandhi said Modi's "hugs" had failed after Pakistan released Mumbai terror attack mastermind Hafiz Saeed from house arrest. Rahul was referring to Modi hugging US president Donald Trump. Incidentally, US has now taken a hard-line regarding Pakistan's terrorism. Congress's new one-minute video mocking Modi's hugs ended sarcastically saying "We can't wait for more #hugplomacy."
These jibes evoked sharp reactions from the BJP
This video obviously evoked sharp reactions from BJP. Ironically, the video was put up on the day Israeli PM Benjamin Netanyahu landed in Delhi for his India tour. BJP condemned the tweet calling it a dreadful joke. Union minister Prakash Javdekar said, "Cyrus Broacha making fun of the Prime Minister is a different thing, the main opposition party doing it is a different thing."
PM Modi has now spoken saying his basic nature is "to convert adversity into opportunity." Turning the tables on Congress, Modi said in a TV interview that had he be "trained," he too would have shook hands and "looked left and right" with world leaders. He claimed that "his openness" is liked by the world leaders. Further, "friendly relations come in handy," he said.
'I got benefit of not having experience in foreign policy'
Modi took foreign policy critics head on. After becoming PM, he was reportedly slammed for not having any experience beyond Gujarat. To this, he declared, "I got the benefit of not having experience. I did not have any baggage." But, what does Modi feel when he stands next to world leaders? He said he feels he is 1.25bn people's representative and not Prime Minister.