To meet Akhilesh Yadav, SP leader dresses as groom
To meet Akhilesh Yadav, SP leader dresses as groom
Written by
Ratnadeep Choudhary
Sep 14, 2019, 05:16 pm
2 min read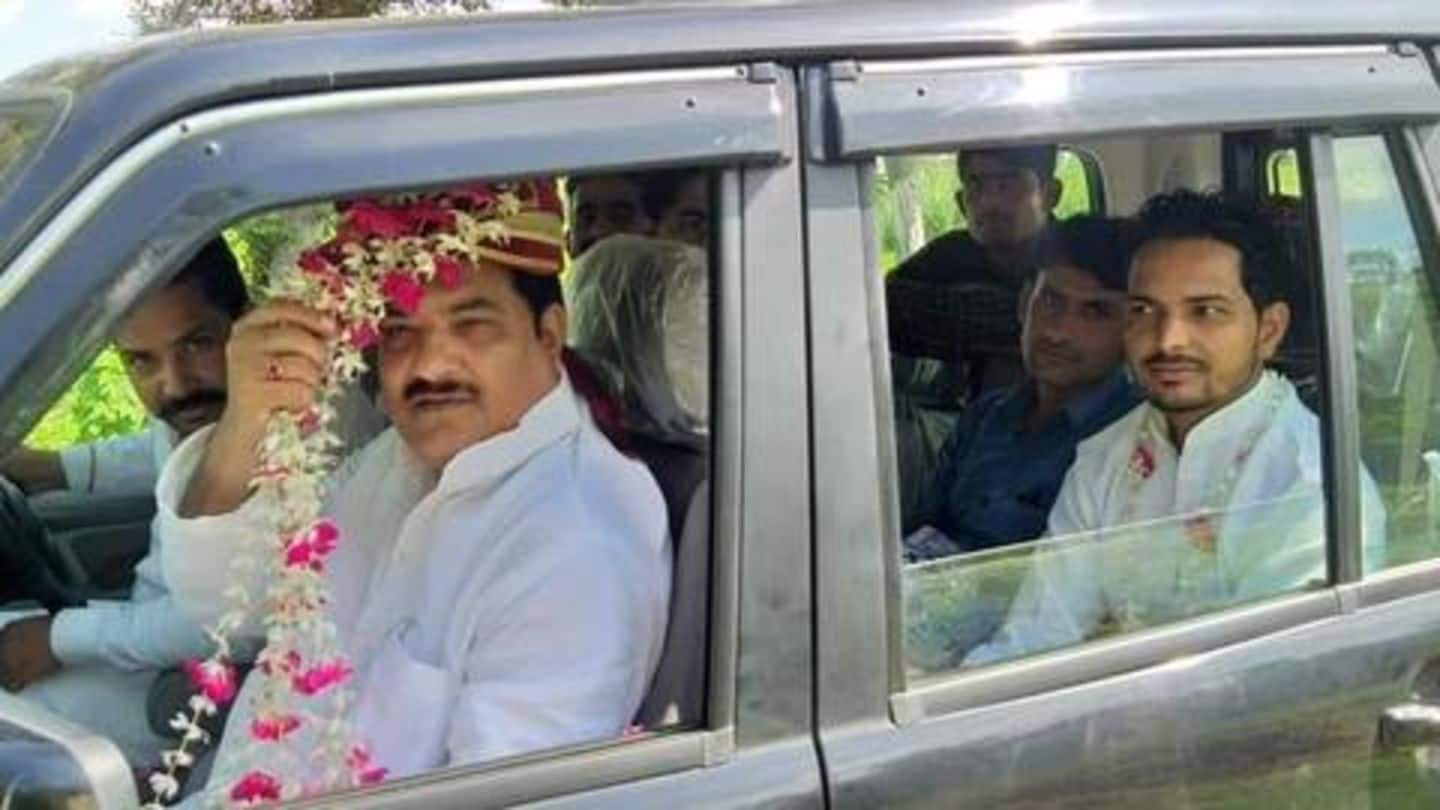 In a bizarre news, a Samajwadi Party leader named Firoz Khan, dressed up like a groom to enter Rampur, the constituency represented by Azam Khan. Like party president Akhilesh Yadav, the leader was also on his way to meet Khan, against whom several cases have been lodged. Anticipating trouble, police had enforced Section 144 in Rampur; but that didn't stop Firoz.
With all roads blocked, Firoz chose to become a groom
Interestingly, SP affiliates from neighboring districts were asked to head to Rampur to express solidarity towards Khan, but the district administration blocked all roads. So, Firoz wore a headdress while his supporters became "baratis". He took the longer route via Joya to reach Moradabad, from where he went to Rampur. Surprisingly, his plan worked and he attended the meeting called by Yadav.
Had no other option but to take this route: Firoz
"There is no other way left to enter Rampur. It was not good, but I did not have any other option other than this. We, SP workers, are here to support Akhilesh Yadav and Azam Khan," Firoz told media.
Samajwadi Party leader from Sambhal,Firoz Khan wore a groom's 'sehra' to dodge Police which has imposed section 144 in Rampur. Firoz Khan had come to Rampur to extend support towards senior party leader Azam Khan against whom multiple FIRs have been lodged. (13.9.19) pic.twitter.com/21THkDaPGI

— ANI UP (@ANINewsUP) September 14, 2019
How many cases have been filed against Khan?
Notably, SP leader Azam Khan has been declared a land mafia by the state government; he has 82 cases registered against him. 50 of those are related to land grabbing, and 28 were filed on complaints of Aliyaganj farmers. Khan is facing an arrest warrant for several cases including the one filed for making derogatory statements against BJP leader Jaya Prada during 2019 elections.
Despite serious charges, Yadav stood by his party member
Now, Yadav maintains that SP would stand with Khan, his charges notwithstanding. "Over 80 cases have been lodged against him within a month. These cases include goat and buffalo theft. All these are baseless charges... Rampur district administration and police are working on directives of the state government but the people are with Azam Khan," the party president added.
Soon by-polls will be held in 13 assembly seats
Meanwhile, Rampur and 12 other state assembly seats will go to by-polls soon. The Opposition is trying to find its ground after being decimated by BJP in 2017 assembly elections. SP will be contesting on its own after severing ties with Bahujan Samaj Party (BSP) earlier this year. The foes-turned-friends-turned-foes performed poorly in the May general elections, as BJP stomped to power again.