Changes you can expect in the upcoming WhatsApp update
Changes you can expect in the upcoming WhatsApp update
Feb 28, 2018, 12:56 pm
2 min read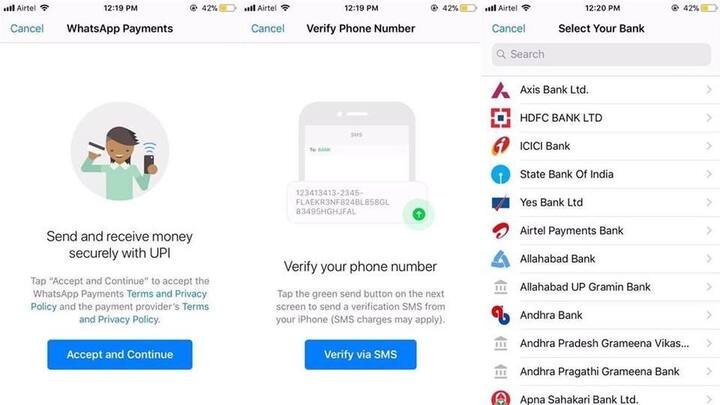 The much-awaited WhatsApp update will soon hit the Google Play Store and the Apple App Store. The details of the major changes that the update will bring along have already started surfacing on the web. The updated version is in the beta testing phase, with reportedly a million users in India experiencing it before a nation-wide roll out. Here is more on it.
Send and receive money through WhatsApp Pay
The first major change will, of course, be the WhatsApp Pay payments feature. Based on the Indian government's Unified Payments Interface (UPI), it will allow users to send and receive money through the chat app. The feature will also help prevent instances of money scams spreading through the app, which aim at collecting the bank details of unsuspecting users.
WhatsApp will share user information with Facebook
Another change in the update will be in WhatsApp's Terms of Service. The new guidelines will allow the chat app to share user information with its parent company, Facebook. However, it ensures that "nothing you share on WhatsApp, including your phone number, will be shown on Facebook unless you choose to show it." Facebook acquired WhatsApp in 2014 for $19 billion.
User info will only be used for well-meaning purposes: WhatsApp
The updated Terms of Service reads, "When we share your personal information with other Facebook Companies, it will only be used to provide services to WhatsApp in accordance with our instructions and terms or to help ensure the safety, security, and integrity of WhatsApp."
One change that will not be included in the update
Today I have received exactly 6 questions in DM about an upcoming feature in WhatsApp, that sends a "tone" when another contact does not reply to our messages, or when you want to get his attention. It's fake. ❌

Continue to follow me to know upcoming real WhatsApp features. ✅

— WABetaInfo (@WABetaInfo) February 23, 2018