#TechBytes: 5 best wireless keyboards available in India
#TechBytes: 5 best wireless keyboards available in India
Written by
Sarthak Kapoor
Sep 01, 2018, 02:35 pm
3 min read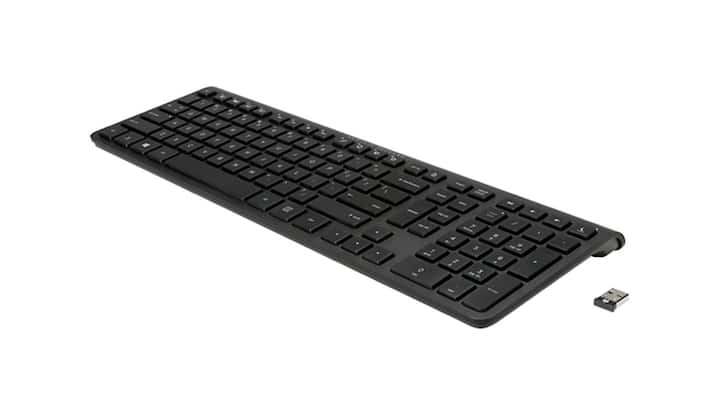 With wireless technology seeping into every aspect of our lives, clumsy, orthodox, wired USB keyboards are increasingly becoming a thing of the past. Whether you're a gaming enthusiast or a working professional, having a keyboard that can handle heavy-duty usage over long periods of time is almost a prerequisite. To help you out, we've listed some of the best wireless keyboards available in India.
Logitech K400 Plus, the innovative keyboard
Logitech K400 Plus is a spectacular keyboard with an integrated 3.5-inch touchpad to make navigation simpler. With a 10 meter wireless range, this keyboard can be paired with your TV and has comfortable, quiet keys. Logitech ensures 18 months battery life assuming two hours of typing per day. The keyboard supports Windows, Android, and Chrome OS. It's available for Rs. 2,490 on Amazon.
Microsoft Surface Keyboard is expensive, but looks killer
Microsoft Surface Keyboard gives a premium feel to your workspace and is extremely sleek and stylish. The keyboard comes with something called "optimized feedback" technology, which is designed to make your typing more efficient. Additionally, it offers a range of 50 feet, and comes with a battery that can last a year. However, it's quite the pocket pinch and is priced at Rs. 13,350.
Apple's own keyboard avoids compatibility issues
Owing to the general incompatibility between Apple and third-party devices, Apple has its own range of accessories, including keyboards. The classic white Apple Magic Keyboard has minimal bezels and great spacing between keys, and looks pretty attractive. It comes with a rechargeable battery that lasts a month on a single charge. However it's pretty expensive (no surprises there), and comes for Rs. 11,500.
Logitech K480, type differently with Logitech
Logitech K480 is a bizarre looking multi-device keyboard that has circular keys for more accurate typing. The Easy-Switch dial lets users to switch typing between three Bluetooth paired devices, and the keyboard has a cradle to hold your smartphones or tablets. With 2 years of battery life, Logitech K480 comes at an impressive price of Rs. 1,899.
Dell KM636 is great purchase and comes with a mouse
Dell KM636 is a wireless keyboard+mouse package, that has a contemporary design with sleek lines. To avoid dust accumulation, the Dell KM636 has minimal key gaps. The keyboard is quite convenient to use, easy to set up, and the wireless mouse comes as an added bonus. Dell also promises one year of battery back-up before batteries need replacement. The KM636 costs Rs. 2,199.