How Samsung's 'smart t-shirt' could detect your respiratory problems
How Samsung's 'smart t-shirt' could detect your respiratory problems
Written by
Shubham Sharma
Feb 05, 2019, 03:05 pm
2 min read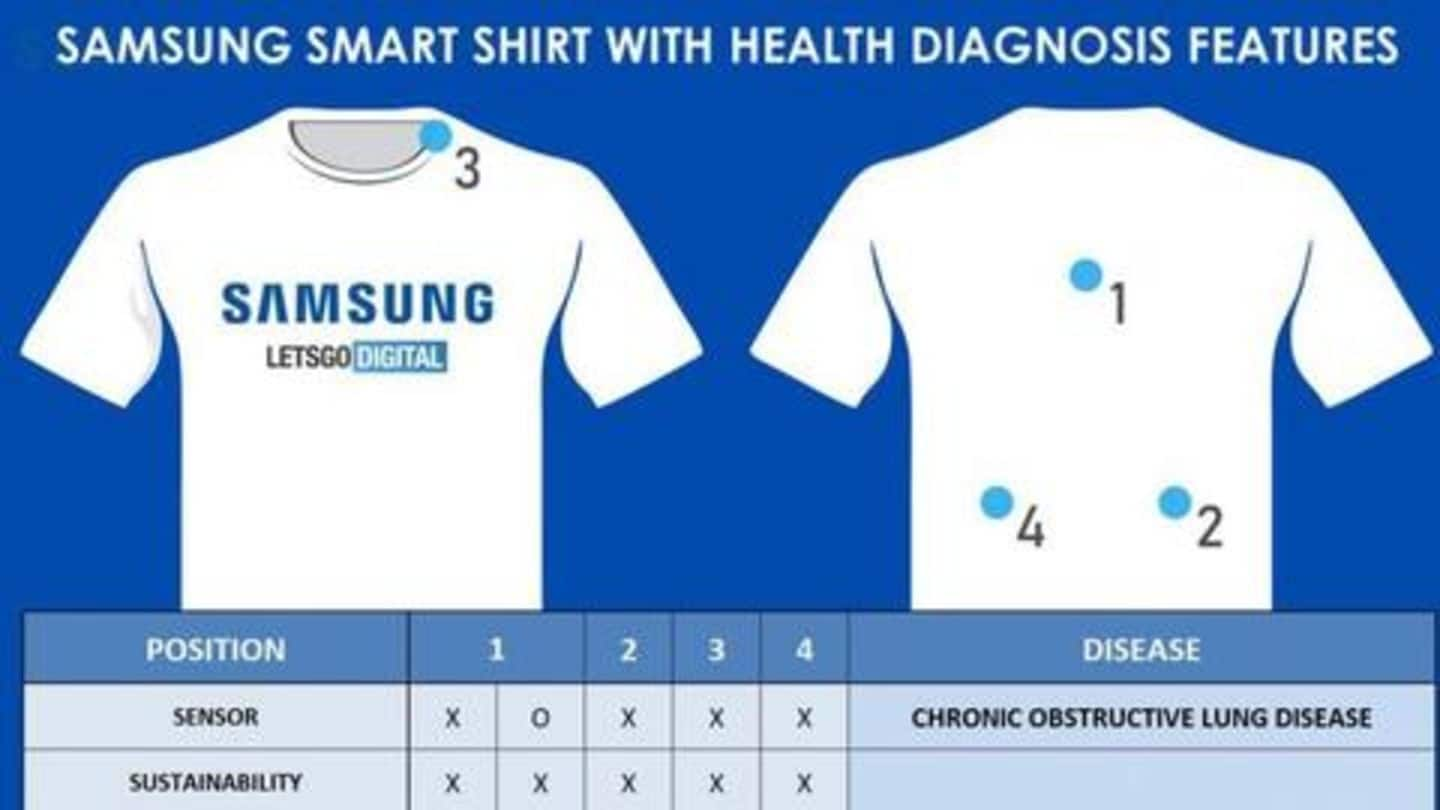 From foldable phone to shape-shifting TVs, Samsung has always had a knack of delivering the unbelievable. The company is always pushing the limits of what's possible, and now, a report has suggested it could be working on something totally amazing - a t-shirt capable of detecting respiratory and lung-related problems. Here's how this smart t-shirt would work.
Smart t-shirt to diagnose lung problems
Samsung detailed its smart t-shirt vision in a patent recently unearthed by the folks at LetsGoDigital. The device, according to the patent, would employ a range of sensors to monitor your lung activity on a constant basis. Then, it would combine the information collected with your medical history (among other factors) to confirm what problem you night have and how it could be addressed.
But, how the sensors detect lung problems?
Basically, the sensors would measure the sounds made by the lungs as well as the frequency and intensity of breathing on a constant basis. This way, the t-shirt should theoretically be able to determine various conditions such as chronic obstructive lung disease, pneumonia, respiratory obstruction, pulmonary emphysema, asthma, and bronchitis. The t-shirt would work in conjunction with an app which would display the recordings.
This can come handy for healthcare
The benefits of a t-shirt like this are obvious, especially for babies. The t-shirt could monitor the sound of lungs and send immediate alerts if something abnormal is detected, say like the sound of wheezing or symptoms of cold. On the basis of its diagnosis, the connected app would display preventive measures or advice the wearer to visit a physician.
However, we can't be sure about release
Having said that, we can't be sure when or if Samsung will bring this product to the market. The company files thousands of patents every year (this was filed in 2017) and not everything actually converts in a commercial product. Either way, the fact Samsung patented this device shows it wants to focus on the healthcare sector, which is definitely a good sign.