TRAI launches website for comparing mobile, landline tariffs
TRAI launches website for comparing mobile, landline tariffs
Written by
Bhavika Bhuwalka
Apr 18, 2018, 03:57 pm
2 min read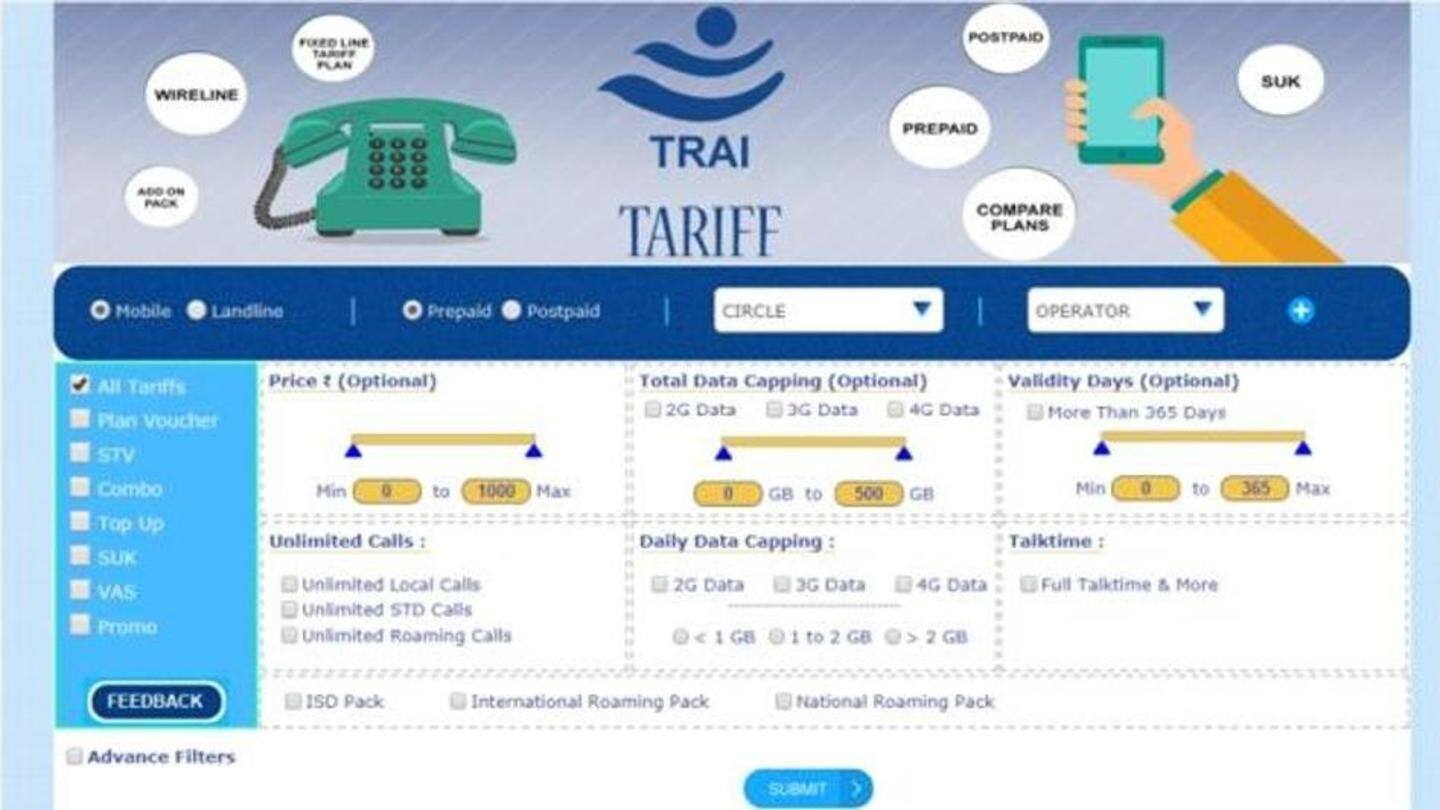 In a bid to increase transparency, the Telecom Regulatory Authority of India (TRAI) has launched a website where users can compare mobile and landline tariffs of different telecom operators including Reliance Jio, Airtel, Vodafone, and Idea. The web portal is currently in beta phase and available only for the Delhi circle. Notably, the recharge plans on the website are available in a downloadable format.
Compare recharge plans of Jio, Airtel, Vodafone
To compare tariffs, users have to choose mobile or landline, prepaid or postpaid, circle (only Delhi available currently), and telecom operators. They can also filter by technology (2G/3G/4G), pricing, total data and daily data cap, and specific requirements like unlimited calling, ISD, international roaming, and SMS. Post this, they will be able to compare product, price, talk time, validity, and tariff summary.
Can't compare two different types of tariff plans
Users will only be able to compare similar types of plans. For example, a Combo offer cannot be compared with an STV (Special Tariff Voucher). This can be limiting as subscribers are usually not aware of different types of plans like Combo, STV, and Top-Up.
TRAI looking for user feedback on beta website
TRAI Secretary S.K. Gupta said, "The website is only for getting feedback to improve the user experience. In 15 days, we will have a general consensus and it will set the stage for a framework for all-India tariff information on the website." Gupta requested users to comment on parameters currently available for tariff comparison on the website and suggest modifications if any.
Dear reader, let us know your views