This mysterious whale could be Russian spy, marine experts claim
This mysterious whale could be Russian spy, marine experts claim
Written by
Shubham Sharma
Apr 30, 2019, 08:39 pm
2 min read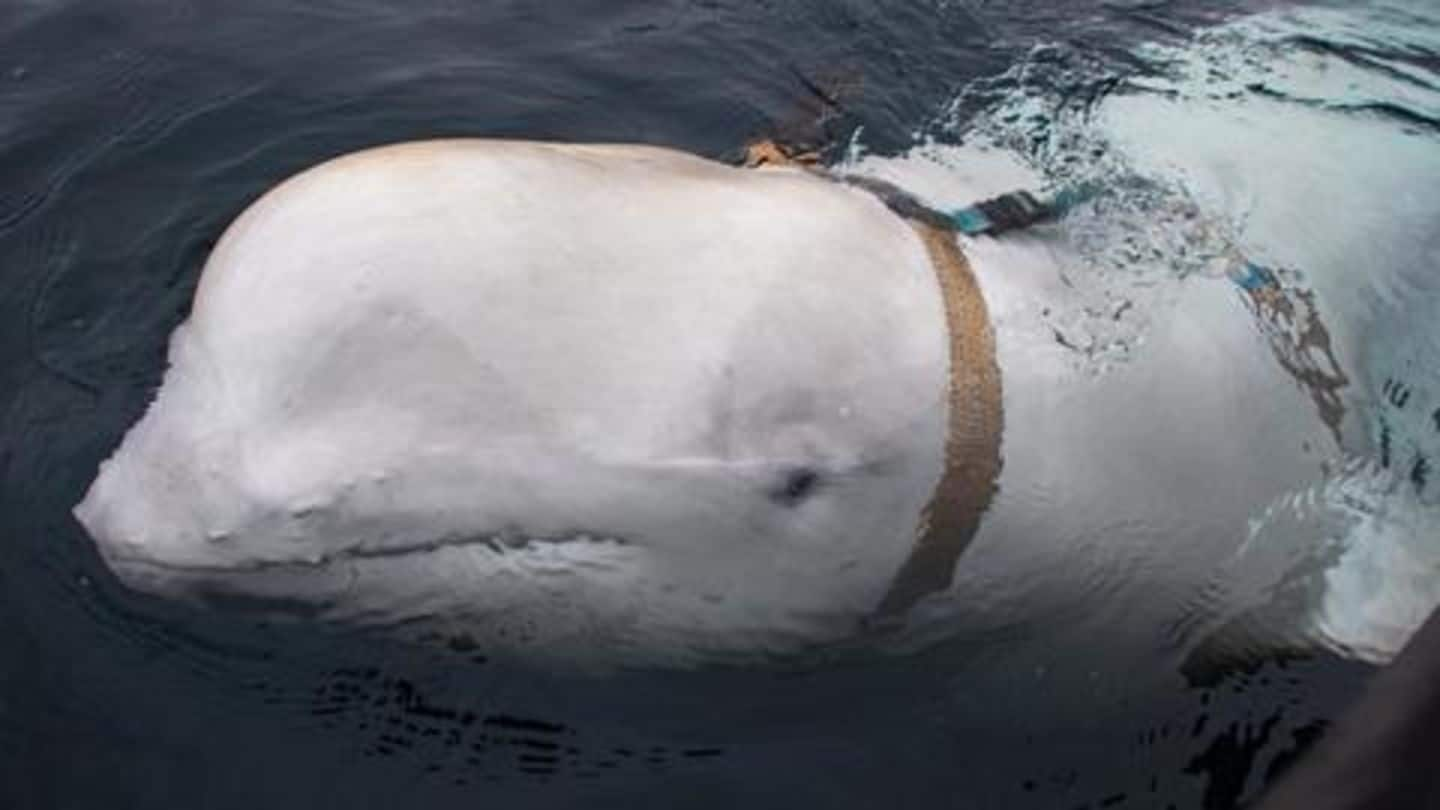 In a weird case, marine experts in Norway are suspecting that a white beluga whale (Delphinapterus leucas) is a Russian Navy operative. They made the claim after a group of fishermen had an encounter with the whale, which wore a mysterious gear and behaved a bit differently than others of its kind. Here's more on the whale and the concerns it has raised.
White beluga whale seen in arctic in Norway
According to the fishermen, who spoke to Norwegian broadcaster NRK, the whale was seen in the Barents Sea, near the Ingøya in Arctic Norway. It had a strange, albeit tight, harness on, which seemed to suggest that the animal had been tamed by somebody, The Guardian reported. However, removing the strap revealed a message that pointed fingers towards the Russian navy.
"Equipment of St. Petersburg"
The message on the harness, which appeared to be made for attaching weapons/cameras, read: Equipment of St. Petersburg. This led many Norwegian marine experts to posit that the animal may have been trained by the Russian Navy as part of a programme to use their skills for a special ops force. To note, the animal even behaved as if it's used to human presence.
White whale harassed fishermen's boat
The concerns raised by the experts grew further considering the behavior of the whale. According to Joar Hesten, one of the fishermen, the animal approached their vessel and harassed it by rubbing itself against it and pulling on ropes/straps on the sides. Other fishermen in the area also reported the same behavior, noting it might have been its attempt to take the straps off.
Russia had trained sea creatures before
While one cannot be 100% sure, these findings do indicate this whale could have been a member of the Russian Navy. Back in 2017, a report by the Russian Defense Ministry's TV Zvezda had revealed that their Navy had been training white whales to guard naval bases and kill any strangers who enter their territory. Now, seemingly, this could be one of those trainees.
"We know in Russia they have had domestic whales in captivity and also that some of these have apparently been released. Then they often seek out boats," marine biology professor Audun Rikardsen said, noting that Russian scientists claim it is the Russian Navy in Murmansk.