Saha, Pujara help Rest of India team lift Irani Cup
Saha, Pujara help Rest of India team lift Irani Cup
Jan 24, 2017, 08:41 pm
2 min read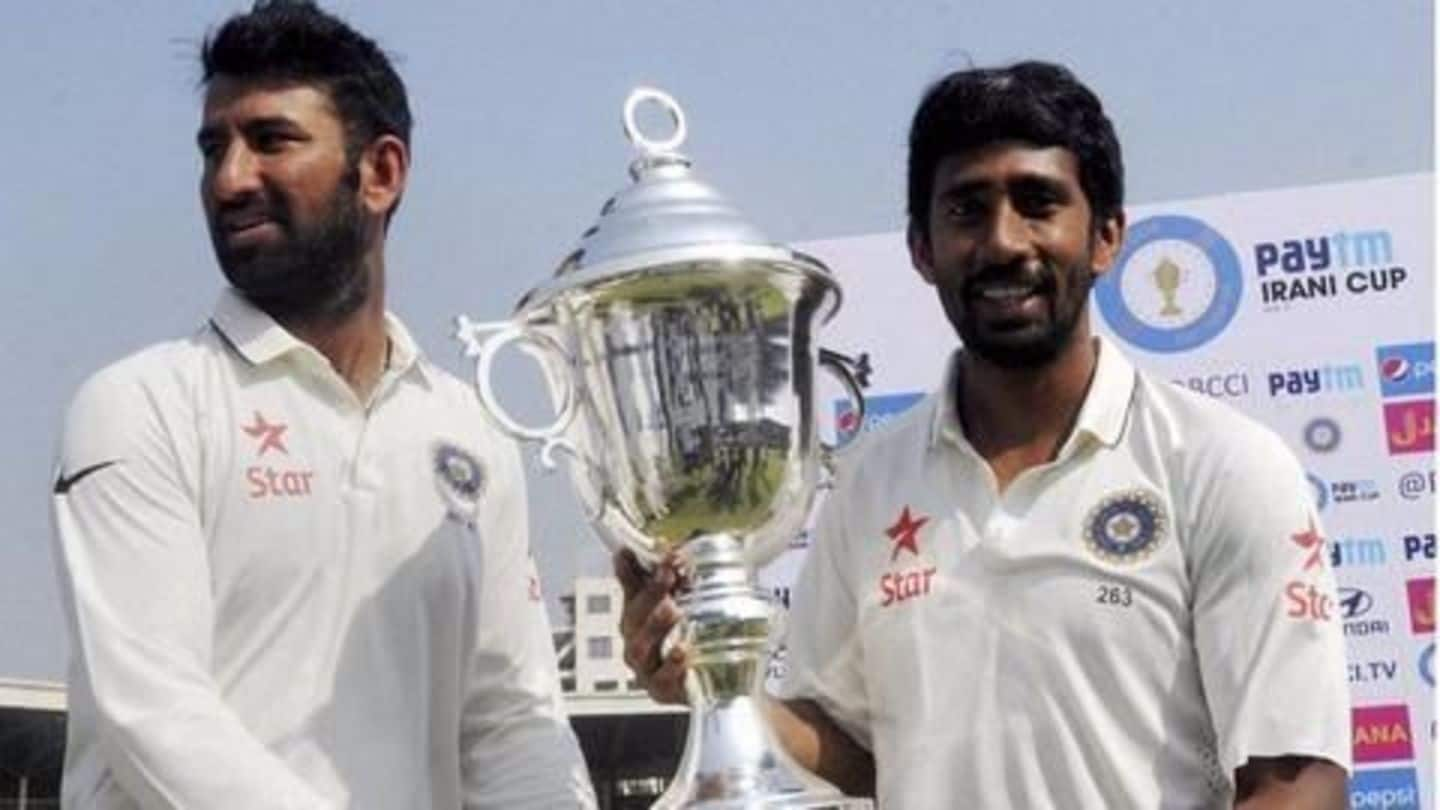 Wriddhiman Saha and Cheteshwar Pujara scored unbeaten knocks of 206 and 116 respectively to guide Rest of India to Irani Cup victory against the Ranji champions Gujarat. Chasing a target of 379, Rest of India lost four wickets on 63 before Saha and Pujara hit a record 316 run partnership. Saha was named 'Player of the Match.'
Earlier known as the Irani Trophy, the Irani Cup is the match played between the existing Ranji Trophy winners and the Rest of India team. It was started in 1959-60 and is named after Z. R. Irani, who was the President of BCCI from 1966 to 1969. The Rest of the India has won the cup 16 times, followed by Bombay Ranji team (15).
2016-17 Irani Cup played between Gujarat and ROI
The 2016-17 Irani Cup was played between Gujarat and the Rest of India team at Mumbai's Brabourne Stadium. While Parthiv Patel led the Gujarat team, Cheteshwar Pujara was handed the responsibility of Rest of India team.
Parthiv Patel fumes over bad umpiring at Irani Cup
Gujarat captain Parthiv Patel was seen annoyed on third day of Irani Cup after two poor umpiring decisions by Virender Sharma. One was of his own when he was caught behind, but the ball was nowhere near the bat or his glove. Known for his calmness, Patel was seen annoyed at the umpire as he walked away.
Parthiv Patel: 'Umpiring karte kyun ho?'
Parthiv Patel was caught on stump microphone saying, "Umpiring karte kyun ho?" (Why do you officiate) for giving him a dubious decision. He was also seen speaking to the match referee Chinmaya Sharma. However, he chose not to speak on the incidents.