Indian boys thrash Canada 4-0
Indian boys thrash Canada 4-0
Written by
Rishikesh Malkhede
Dec 09, 2016, 09:34 am
2 min read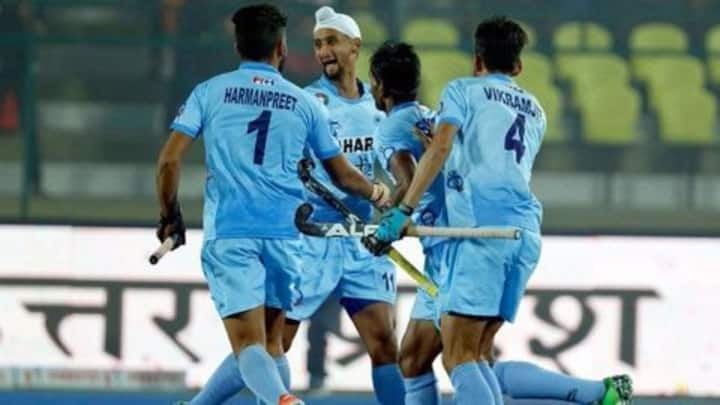 Hosts India went on to thrash Canada 4-0 in their opening game of Pool-D at the 2016 Men's Hockey Junior World Cup in Lucknow. Mandeep Sigh scored the opening goal for India in the 35th minute. The next three goals came from Harmanpreet Singh in 46th, Varun Kumar in 60th and Ajit Pandey in 66th minute. India will now face England on 10 December.
Germany start their campaign with a 2-1 win
Defending champions Germany were off to a winning start at the Hockey Junior World Cup in Lucknow. They defeated Spain 2-1. Boeckel Anton and Herzbruch Timm scored a goal each in 25th and 63rd minute respectively. In other pool C match, Japan lost to New Zealand 0-1. The only goal was scored by Logan Oliver in the 55th minute.
England defeat South Africa 4-2
After an early setback of one of their players being stretched off from the field, England bounced back to defeat South Africa 4-2 in Pool D match. Ed Horler scored twice with Scott Peter and Griffiths Jonathan scoring a goal each.
Five matches will be played on 9 December from 10 am. The first match will see Argentina taking on Austria in Pool A match. The match starts at 10 am. In Pool B matches, Belgium will be up against Egypt while, Netherlands will face Malaysia. Spain will be playing against Japan and New Zealand will play Germany in the Pool C matches.
Each winning team will be given three points, while in case of a draw one point will be given to each of the two teams. Top two teams from each pool will advance to the quarter-finals.