The most emotional moments in the history of wrestling
The most emotional moments in the history of wrestling
Aug 27, 2018, 06:01 pm
3 min read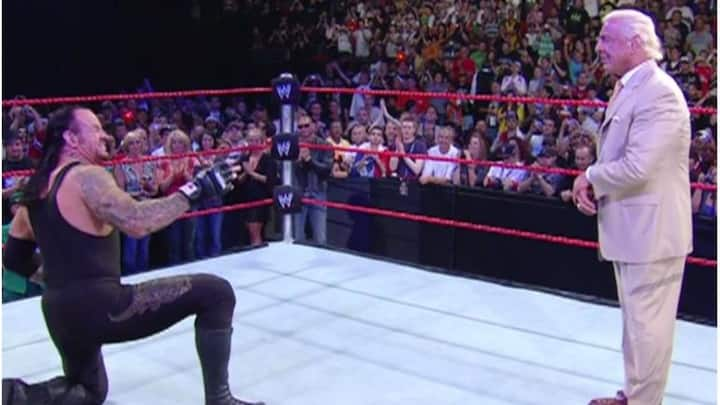 Wrestling is not always about proving who is the strongest wrestler. Several times, incidents in professional wrestling storylines touch the hearts of the fans. These moments have become iconic and we still remember them fondly. Here are 5 such moments in the history of wrestling, that have made even the most hardcore fans, feel a soft spot in their hearts.
The 'Nature Boy' Ric Flair retires
Flair is considered the best professional wrestler ever, and the day he announced his retirement the entire WWE Raw roster came out to pay their respects to the legend. The Undertaker, who never breaks character, also came out and fans could see tears in his eyes as he said goodbye to the sporting great. A truly emotional moment for any wrestling fan.
The reunion of 'Macho Man' Randy Savage and Miss Elizabeth
Randy Savage and Elizabeth were the most loved WWE couple during their heydays. However, as the days went on, Savage became cruel towards Elizabeth and they parted ways. When Savage lost his retirement match, his manager Queen Sherri attacked him. Elizabeth, watching from the crowd, came out to save her husband, and this is when the two united, making all fans cry in joy.
HBK to Ric Flair: 'I'm sorry. I love you'
This is another story involving Flair's retirement where he competed against Shawn Michaels at WrestleMania. Michaels was given the task of retiring his boyhood icon, and when Flair, beaten and tired, asked Michaels to end it all, he broke character. With sad eyes, he said, "I'm sorry. I love you" before ending Flair's illustrious career with a Sweet Chin Music.
Lilian Garcia sings the American national anthem after 9/11
WWE continued with their scheduled SmackDown episode after 9/11 as a gesture to show that nothing can break the American spirit. The show began on a different note when the WWE roster came out as ring announcer Lilian Garcia sang "The Star-Spangled Banner". She captured the hearts of even non-American fans with her rendition and this remains one of the most emotional WWE moments.
Eddie Guerrero tribute after his death
Eddie Guerrero was a beloved figure in the WWE and was loved by fans and colleagues alike. At the peak of his career, the wrestler passed away in November 2005. The news engulfed the wrestling world in sorrow and at night all WWE stars gathered to pay their respects. This was a difficult and hard moment for all wrestling fans.