#GamingBytes: Why Battle Royale players should choose PUBG over CoD?
#GamingBytes: Why Battle Royale players should choose PUBG over CoD?
Written by
Siddharth Tyagi
Jun 16, 2019, 06:58 pm
2 min read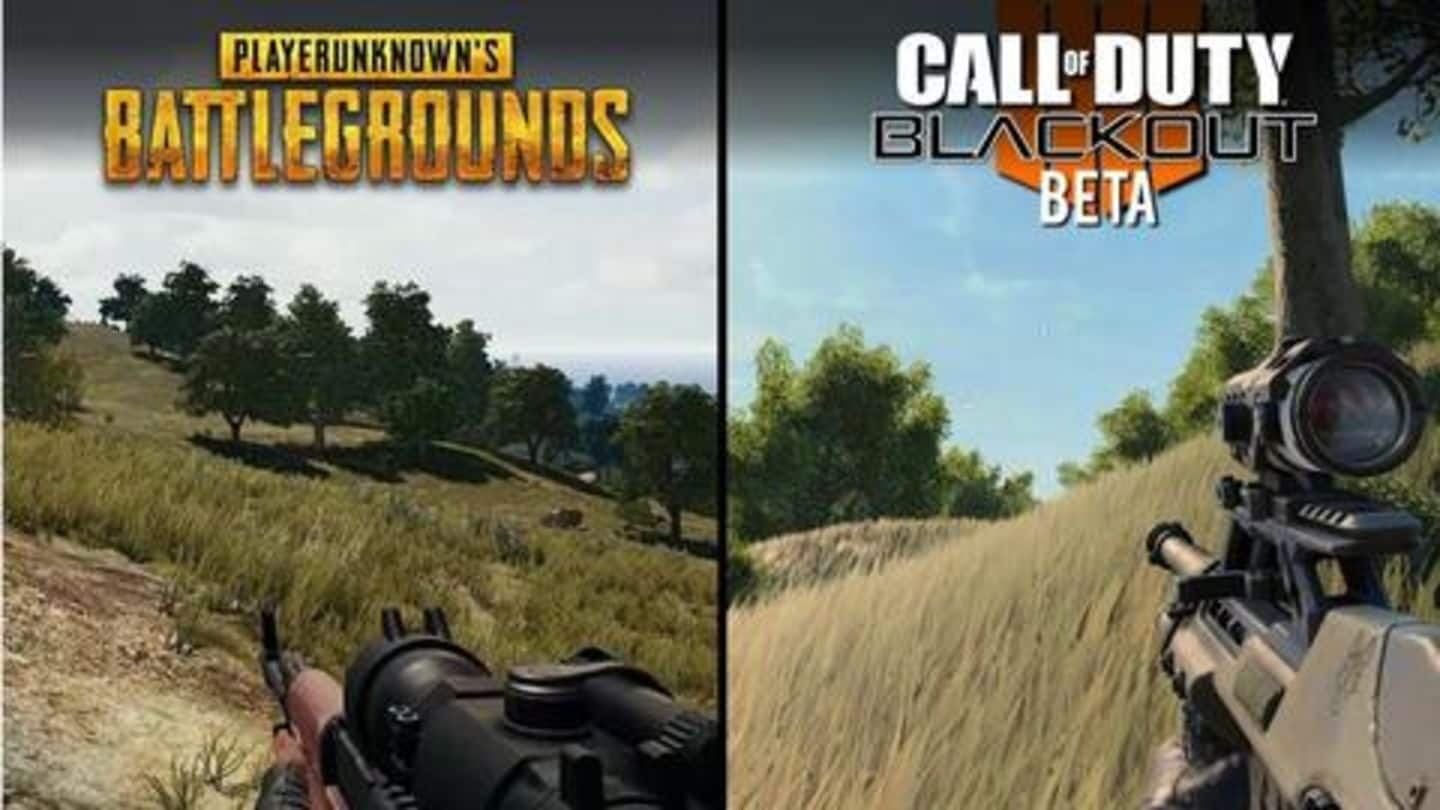 Every Battle Royale title has its own distinct vibe and features. Playerunknown's Battlegrounds (PUBG) is loved by players around the world because of a huge community and a realistic war-like environment. Call of Duty is an older brand and its Blackout is a more polished game. While both are great in their own way, here's why gamers should choose PUBG over CoD.
PUBG costs way less than Call of Duty Blackout
Both games have the same basic Battle Royale concept but CoD feels a little more premium. It definitely has the better graphics of the two but all that comes at a higher price. While PUBG can be bought for Rs. 999 or less from Steam, Call of Duty Blackout is available for Rs. 3,999. Notably, mobile versions of both games are free-to-play.
PUBG is a no-frills, no-nonsense game
It can be argued that PUBG is the simpler of the two but looking it from another perspective, PUBG is a pure battle-oriented game. Just jump from the plane and start battling according to your strategy. Call of Duty gives you a wing-suit, the option to play at higher frame rates, and better shooting mechanics but requires a better processor and GPU.
PUBG has better loot and a bigger inventory
While CoD gives you an ultimate level of satisfaction while you are shooting at your enemies (the shooting mechanics of PUBG are good but not this good!) it doesn't focus much on the 'looting' part of the game. PUBG has a cornucopia of different items strewn in all of its maps and gives players a larger inventory to customize. This makes PUBG more strategic.
PUBG has more maps and different terrains
PUBG has many options. From an abandoned military island (Erangel) to a forest (Sanhok) and desert (Miramar), it gives players the freedom to choose. CoD Blackout has one map with different terrains. It is not a large map but gives more than ample room to move around. If you want a no-nonsense game that focuses on battle and gives more options, go for PUBG.