What to expect from Juventus and Milan in 2018-19?
What to expect from Juventus and Milan in 2018-19?
Aug 02, 2018, 07:33 pm
2 min read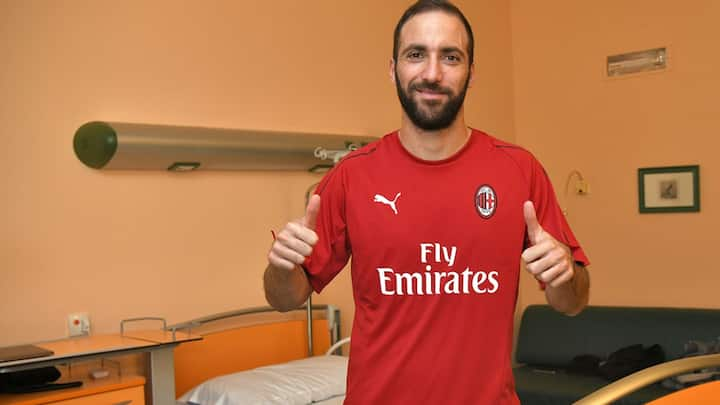 Thursday turned out to be a big day in the world of Italian football. The Serie A sides, Juventus and AC Milan, announced a swap deal comprising of Leonardo Bonucci and Gonzalo Higuain. With both of these clubs getting what they wanted, let's have a look what to expect from Juventus and Milan in 2018-19 season.
Higuain completes medical, Bonucci in Turin
Bonucci had just moved to Milan last season, but he has rejoined his former club. The defender has arrived in Turin and is set to undergo a medical. On the other hand, Higuain moves to Milan in a loan deal worth £16m. The celebrated striker has completed his medical with the club. Milan can make the move permanent, next season, for an additional £32m.
Higuain to add real composure upfront for Milan
Milan were in desperate need of goals last season as they finished at a disappointing sixth in Serie A. With Higuain, they can now breathe easy. The former Real Madrid and Napoli star had moved to Juventus, two seasons back, for a then record £75.3m. He scored 40 league goals over two seasons and helped Juventus bag the Serie A titles during this period.
Milan will be eyeing a top four finish
The Argentine striker was replaced by Cristiano Ronaldo at Juventus, despite being on top gear. This spells a wave of optimism in return for Milan, who have bolstered their squad with the likes of Ivan Strinic, Pepe Reina and Nikola Kalinic. Milan will be expecting to finish in top four and do well in Europa League. This deal could help them immensely.
Bonucci heads back to Turin
31-year-old Bonucci spent 7 years at Juventus before making a move to Milan, where he made 51 appearances last season and scored two goals. The Italian will add the composure at the back for Juventus and after having played for such a long time in Turin, Bonucci is the perfect fit. Meanwhile, Mattia Caldara too has moved to Milan from Juve.
Juventus would be going in for 8th successive league title
Juventus will be looking to win a 8th successive league title after having got in big names like Ronaldo and Bonucci. But they will be wary of the Milan clubs. Juve's target will be the Champions League especially after coming close in recent times.