Decoding the stats of Shreyas Iyer at number three
Decoding the stats of Shreyas Iyer at number three
Feb 28, 2022, 05:42 pm
2 min read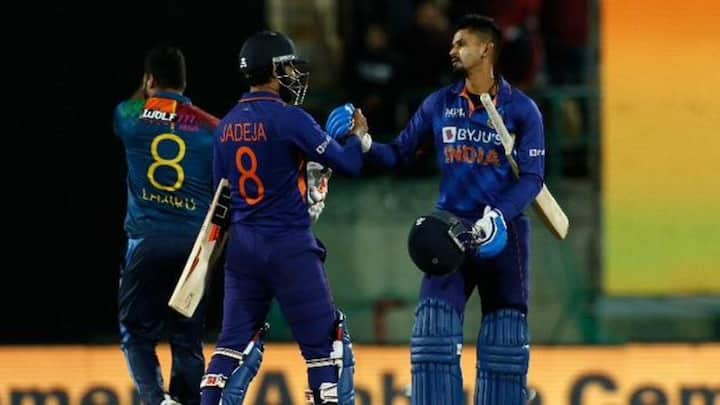 There is a lot of competition for several positions in India's T20I Playing XI. However, there are a few slots that have been occupied for long. Virat Kohli has been serving India's T20I side at number three. Emerging star Shreyas Iyer has expressed his desire to play at this position after impressing everyone with his performance. Here, we decode his key numbers.
Why does this story matter?
It is a bold move by Iyer to declare his desire to continue at number three, especially considering former Indian skipper's exploits with the bat at the said position.
However, Kohli's form has declined in recent years and Iyer's stunning numbers are good enough to start an argument.
Meanwhile, Suryakumar Yadav is another contender for the aforementioned spot.
"When you play the T20 format, if you bat in top three, that's the only place you can pace the innings," Iyer said after the third T20I as quoted by ESPNcricinfo. "If you bat after that, you can't give yourself time. If I had to say the best number for me to bat, it's obviously No. 3," he added.
A look at Iyer's stats at number three in T20Is
So far, Iyer has batted at the number three position in eight games. In those games, he has amassed 340 runs at a staggering average of 68.00 while maintaining a strike rate of 146.55. He has hammered three fifties. Overall, Iyer has accumulated 809 runs in 38 games at 36.77. He has maintained a strike rate of 141.43. He has struck six fifties.
Kohli's stats while batting at number three
Kohli has played 97 T20Is and scored 3,296 runs at 51.50. He has struck 30 fifties, with his highest score being 94*. Out of 3,296, Kohli has amassed 2,457 runs while batting at number three at 57.13. He has struck 25 fifties at the position. He has accumulated 509 runs while batting at number four in 17 matches while scoring 159 at number two.
How has Suryakumar Yadav fared at number three?
Sureyakumar Yadav has notched up 176 runs in T20Is while batting at number three at 44.00. He has struck two fifties. He has scored 76 runs in five games at the number four position at 19.00. Surya has batted at number five on two occasions and scored 99 runs. Overall, he has amassed 351 runs in 14 games at 39.00.