Christian Pulisic signs for Chelsea; loaned to Dortmund for 2018-19
Christian Pulisic signs for Chelsea; loaned to Dortmund for 2018-19
Jan 02, 2019, 04:04 pm
2 min read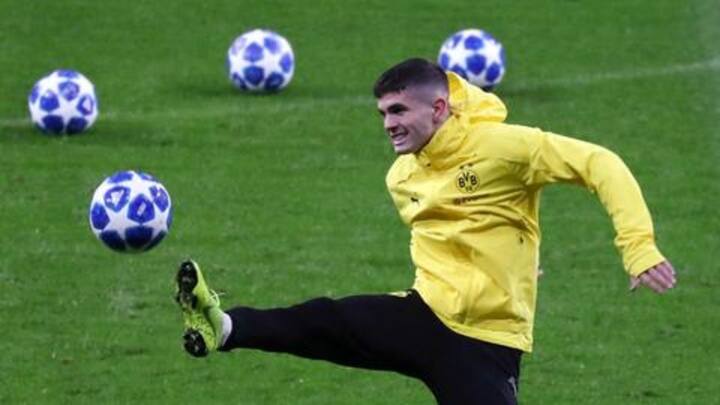 The speculations surrounding Christian Pulisic signing for English Premier League side Chelsea have finally materialized with his current team, Borussia Dortmund, announcing that the 20-year-old American international's deal has been finalized. However, Pulisic will be on loan to Dortmund for the remainder of the 2018-19 season and will join the Blues in summer. Learn more on it right here.
Liverpool were the first to show interest in Pulisic
Though Chelsea have signed the midfielder for €64 million, Liverpool were the first English club to show an interest n Pulisic. However, Chelsea are believed to have made a concrete offer first, and with Pulisic showing interest to play in the Premier League, the deal did not take long to fall into place. It's only a matter of time before he lights up EPL.
Pulisic's tryst with Dortmund so far
Pulisic first joined the U-17 team of Dortmund in summer 2015, but his impressive performances saw him getting called up for the first team in winter of the same year. Then-manager Thomas Tuchel was so impressed by his performance that he said, " we see him as a full-time player on our team". Pulisic ranked after Mbappe among 2018's Kopa Trophy nominees.
Pulisic's performances with Dortmund have been pretty impressive
Since the American started playing for the Germans, he has made 80 appearances for the team, scoring 10 goals. Pulisic is a great dribbler, and can play as an attacking midfielder or winger. However, since Jadon Sancho rose to prominence, Pulisic's starting XI chances seem to have reduced in Dortmund, thus making the player want to switch clubs.
Pulisic will be able to play with Hazard and company
When the youngster finally joins Chelsea, he will have wonderful opportunities with the current squad the Blues have. Pulisic's dribbling abilities coupled with his pace can help in creating attacks along with Eden Hazard. However, Chelsea already have a fairly formidable midfield, and what they should really spend on is a prolific striker who would provide them with much-needed goals.