Ranking the greatest NBA seasons of the legends
Ranking the greatest NBA seasons of the legends
Sep 18, 2019, 08:21 pm
2 min read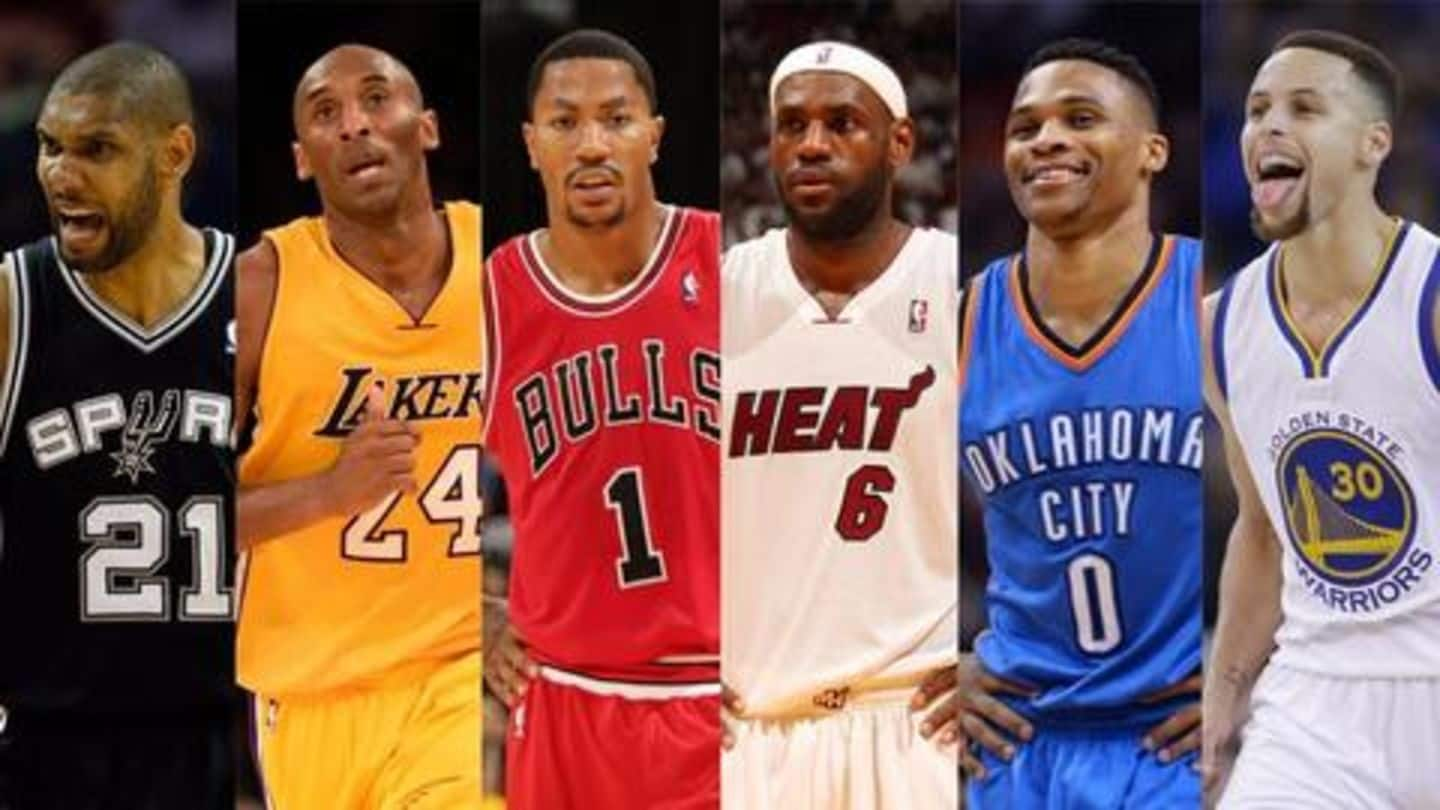 The National Basketball Association (NBA) is the biggest basketball league in the world. The tournament witnesses a number of legendary players being produced every decade. It is mostly determined by their performance, which also leads to they being adjudged the Most Valuable Player (MVP) of the season. On the same note, we take a look at the greatest season of these players.
LeBron James produces the most amazing performance of his career
We start the list with one of the current greats of the game. The most amazing season of LeBron James came during 2012-13, where he produced his A-game to help Miami Heat win 27 games on a stretch. He had a remarkable 57% shot rate, besides 41% for three-pointers. He also led in the Player Efficiency Rating (PER) for the sixth consecutive season.
Shaquille O'Neal (1999-2000)
Shaquille O'Neal inspires a new-look Los Angeles Lakers
Shaquille O'Neal of Los Angeles Lakers barely missed out on being the unanimous MVP for the 1999-2000 season. It was once in a lifetime performance, as he excelled in scoring, field goals, and field-goal percentage. Moreover, his defensive tactic inspired Lakers to finish the season with 67 wins, as it was the beginning of their three consecutive title wins.
Stephen Curry's brilliant performance with Golden State
We rate Stephen Curry's 2015-16 season as his best MVP season for a number of reasons. He produced a recording-breaking performance in the season, scoring 402 three-pointers. He also led Golden State Warriors to their record 73-win season. He also averaged more than 30, despite playing less than 35 minutes each game. No doubt, why he became the first-ever unanimous MVP in NBA history.
Wilt Chamberlain (1959-60)
Wilt Chamberlain makes tremendous impact with Philadelphia Warriors
The 1959-60 season was Wilt Chamberlain's opening season with Philadelphia Warriors, and he came up with a crazy performance, as he broke eight records. He led in points-per-game (37.6) and rebounds-per-game (27.0), besides also leading in minutes per game and PER. His acrobatic skills and performance helped the Warriors finish with 49-26 win-loss record. Truly, a justified MVP.
Michael Jordan's fourth season with Chicago Bulls
Any NBA fan would rate Michael Jordan's 1987-88 season with Chicago Bulls as his best and the best season by an MVP. Although his side did not win the championship, they managed to win 50 games, while Jordan became the only second player to win MVP and the Defensive Player of the Year award, the same season. He led the season in 18 categories.