Virat Kohli's men now want to play warm-up games overseas
Virat Kohli's men now want to play warm-up games overseas
Sep 14, 2018, 12:45 pm
2 min read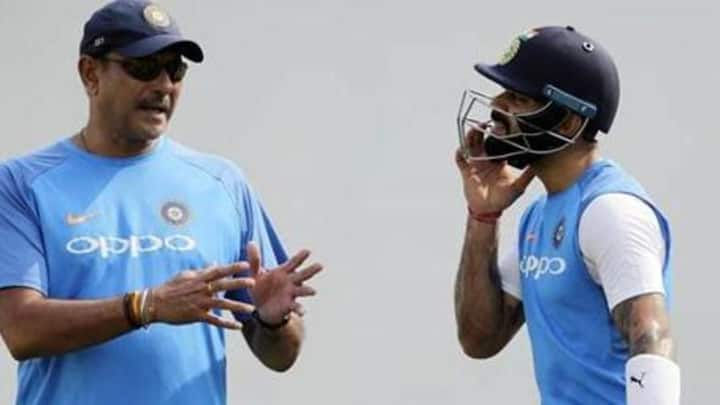 The Indian cricket team has requested to play warm-up matches ahead of the Border-Gavaskar series against Australia, later this year. The Ravi Shastri-managed side didn't opt for many practice games in South Africa and England this year. They came under criticism, for this decision, after India lost both the overseas series. Here is more on the same.
What's been the scenario this year?
This year, we saw Virat Kohli's Test team training in the nets to counter seam, bounce and swing outside home. Against South Africa, there wasn't a single warm-up game despite the Proteas board offering the same. Even against England, the Indian team played one game ahead of the long 5-match Test series. However, India have changed their stance.
Shastri not averse to playing practice games
Shastri stated that he isn't averse to the idea of practice matches and cited that India only got used to English conditions after the second Test. He wants the team to be ready from the first Test itself. According to a report, Shastri now wants some warm-up games in Australia, but fears they might not be possible owing to a cramped schedule.
India have requested for some practice matches in Australia
Shastri quipped that the side has requested for some games, but is worried over the schedule. "Now, we have requested for a couple of games in Australia before the Test series. But is there space (to play those matches)? That is the question," said Shastri. India play a full-fledged series against Australia that consists of T20Is, ODIs and a 4-match Test series.
Kohli not in favor of practice matches
Till now, India skipper Kohli hasn't been open to the idea of playing warm-up games. The reason for this, according to him, is that the opposition teams often field weaker starting XI besides preparing different pitches. But one does wonder that a one-sided warm-up match is still required to help the team get accustomed to the conditions.