After teasing Ranveer Singh, John Cena wishes Happy Diwali
After teasing Ranveer Singh, John Cena wishes Happy Diwali
Oct 28, 2019, 02:59 pm
2 min read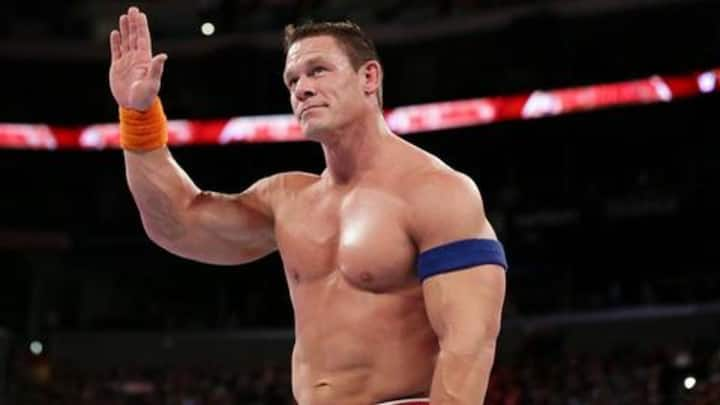 WWE superstar and the 16-time world champion John Cena was in a festive mood on Sunday as he wished his Indian fans 'Happy Diwali' on Instagram. Interestingly, prior to this Diwali post, Cena had put a hilarious picture of Bollywood actor Ranveer Singh, on which the latter even made a weird comment. Here is more about Cena's cheeky exchange with Ranveer.
Cena shares a picture of earthen lamp to wish Diwali
It is no secret that Cena has an immense fan following all over the world, including India. He has visited India on a couple of occasions. And several times, he has expressed his love towards his Indian fans. Thus, on the auspicious occasion of Diwali, Cena shared a picture of an earthen lamp on Instagram and wished his Indian fans 'Happy Diwali'.
Cena wishes Happy Diwali to all
Cena shares hilarious picture with Ranveer, latter's response even better
Prior to the Diwali post, Cena had shared an image of Ranveer on Instagram, where the latter was spotted wearing a cool multi-colored half-sleeves shirt. While the shirt and the picture perfectly depicted charisma of Ranveer, his reply to the post with "Can't see me" was equally hilarious. However, some fans, who don't follow WWE, were even baffled by his reply.
Cena presents the all-new summer-look
What did Ranveer mean by "Can't see me"?
As Ranveer's reply continues to baffle fans, there is a fine catch in it. Ranveer's reply was an imitation of Cena's epic WWE catchphrase, where he says, "You can't see me". Not sure why Cena even says it, but Ranveer mocked Cena perfectly using this.
The ones who follow WWE regularly must have noticed that Cena is not an active member of the WWE roster. While many wonder if he has retired, that is not the case. The reason behind his sporadic appearances is because he is signed with the company as a part-timer and has a lot on the plate outside WWE, form charity to Hollywood projects.
When will Cena appear next in WWE?
As of now, there is no clarity from either Cena or WWE about his next appearance in the promotion. With the sports season in Saudi Arabia coming up, as WWE is hosting the Crown Jewel pay-per-view in the country on October 31, it is being backed that Cena could make a surprise appearance.