Has IPL destroyed the Test player KL Rahul?
Has IPL destroyed the Test player KL Rahul?
Sep 09, 2018, 01:01 pm
2 min read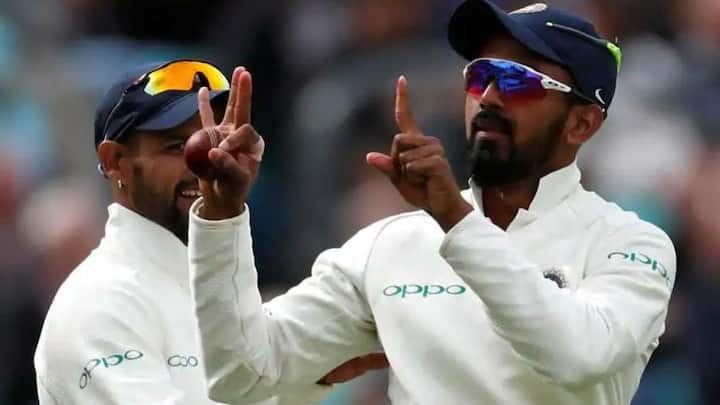 KL Rahul, who enjoyed a phenomenal run in ODIs and T20s this year, has failed to repeat the heroics in the longest format of the game. The Bengaluru boy was one of the best performers of the Indian Premier League 2018 where he amassed runs consistently for Kings XI Punjab. A lot was expected from him in Tests, but Rahul has failed to deliver.
Rahul has failed to repay management's trust
Rahul was gifted numerous chances in the ongoing Test series, but he hasn't cashed on them to justify his position in XI. The management has continuously backed him and Rahul, in return, doesn't have much to show. In nine innings, so far, he hasn't hit a single fifty. His best of 37 came on Day 2 of the fifth Test at the Oval.
Barring Oval dismissal, Rahul has been poor
Rahul got a start at the Oval and was looking to play aggressively. One can give him the benefit of the doubt, this time, as he was dismissed off a peach of a delivery by left-hand pacer Sam Curran. Rahul wanted to play for the swing and it seamed back to castle him. Apart from this dismissal, Rahul's approach has been poor.
T20 approach won't help his cause
Rahul needs to bat long outside home conditions and grind it out at the crease. The more he spends time, the better he will get. Somehow up till now, the mental application hasn't been right. He needs to sit back and widen his horizon if he needs to play the red-ball game. Test cricket is the ultimate challenge and that will define his career.
Is Rahul only a limited-overs specialist?
Players like Rohit Sharma and Yuvraj Singh have been extraordinary in ODIs and T20Is, but never got going in Test cricket. Outside the subcontinent, they couldn't handle the swinging conditions. Rahul's application shows that he is, unfortunately, following their footsteps. Given his performances in both South Africa and England, he needs to handle several issues before he can cement his place in Test squad.
Limited-overs format has affected Rahul's Test approach
The T20 playing Rahul is one of the best batsmen in the world. But has that attacking mode impacted his game? Unfortunately, the answer is yes. Rahul needs to go back to basics if he needs to perform in the longest format.