Test cricket shouldn't be altered, says Virat Kohli
Test cricket shouldn't be altered, says Virat Kohli
Jan 04, 2020, 04:10 pm
2 min read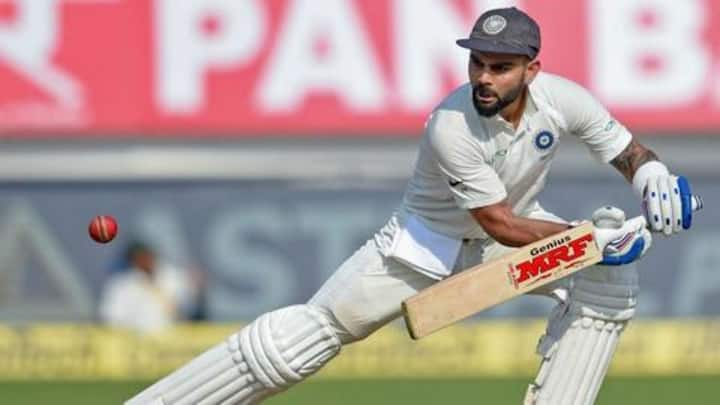 Indian cricket team captain Virat Kohli has always championed the cause of Test cricket. The celebrated batsman has lent his support to the longest format of the game and doesn't want it to be altered. Kohli expressed his views after being asked on the prospect of four-day Tests from the original five-day affair. Here's what he said.
After Philander and McGrath, Kohli says no to four-day Tests
The likes of Vernon Philander and Glenn McGrath had strongly voiced their opinion against four-day Tests. And now the 31-year-old Kohli has gone on the same direction. This topic came about with reports claiming the ICC is planning to introduce four-day Tests in the next Championship cycle post 2021. Kohli felt 5-day Test matches shouldn't be altered with.
Indian skipper Kohli backs five-day Test matches
"I don't endorse that at all," Kohli said in Guwahati ahead of the first T20I against Sri Lanka. "I don't think that is fair to the purest format of the game, how cricket started initially. Five-Day Test matches are the highest of Tests you can have at the international level. According to me, it shouldn't be altered."
Kohli opens up further on Test cricket
Kohli shared further details on what he felt. "D/N Test is the most that should be changed about Test cricket according to me," he said. "I am purely only talking about getting the numbers in and the entertainment. The intent otherwise won't be right. Then you'll speak of three-day Tests, where do you end? Then you will speak of Test cricket disappearing."
This is what Philander and McGrath said about 5-day Tests
"I hope five-day Test cricket doesn't come to an end. There is only one format and that's Test cricket. T20 cricketers come and go and the names come and go, Test cricket is the ultimate. Hopefully we can still see five-day Test matches," said Philander recently. Meanwhile, McGrath said, "I'm very much a traditionalist I like the game the way it is."